Cathy & Jesse Marion Art Gallery Exhibition Calendar
Cathy and Jesse Marion Art Gallery
Visiting Artist Program lectures take place in McEwen Hall, Room 209. Exhibition receptions are held in the lobby of Marion Art Gallery, Rockefeller Arts Center. Click here for a PDF of Fall 2018 & Spring 2019 VAP events.
All programs are free and open to the public. For more information or to schedule a group tour contact Barbara Räcker, Director, Marion Art Gallery at barbara.racker@fredonia.edu or 716-673-4897. Gallery hours are: Tuesday through Thursday, noon to 4 pm; Friday and Saturday, noon to 6 pm; Sunday, noon to 4 pm. The gallery is closed Mondays and major holidays.
Exhibitions are made possible by the Fredonia College Foundation's Cathy and Jesse Marion Endowment Fund.
Spring 2019
ARTISTS AS INNOVATORS:

Celebrating Three Decades of New York State Council on the Arts/New York Foundation for the Arts Fellowships


January 22 through March 10, 2019
Reception: Friday, February 1, 7 to 9 pm
Tony Oursler, #ISO, 2015
Artwork by: Elia Alba, Ida Applebroog, Daywoud Bey, Sanford Biggers, Wendell Castle, Tara Donovan, Carroll Dunham, Chitra Ganesh, Guerilla Girls, Barbara Kruger, Marilyn Minter, Christian Marclay, Lori Nix, Tony Oursler, Faith Ringgold, Martha Rosler, Dread Scott, Andres Serrano, Shinique Smith, Carmelita Tropicana, and Fred Wilson.
Visiting Artist Program Lecture
Dread Scott
Thursday, February 28, 8:30 pm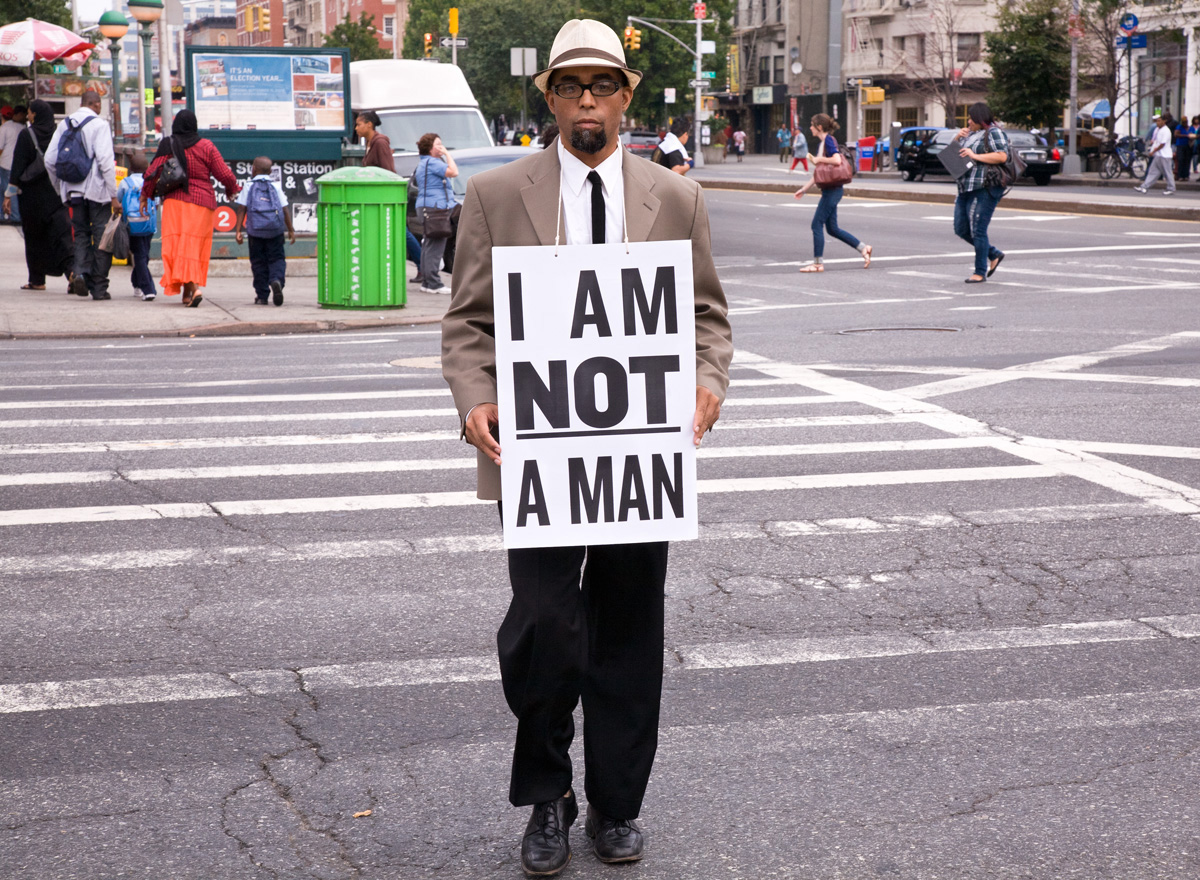 For almost three decades performance artist Dread Scott has relentlessly interrogated issues of ideology and power, often in terms of how they are experienced through the prisms of nationalism, race, and violence. His work also highlights the historical struggles toward justice and equality.
Department of Visual Arts and New Media Faculty Exhibition


March 22 through April 14, 2019
Reception: Friday, March 22, 7 to 9 pm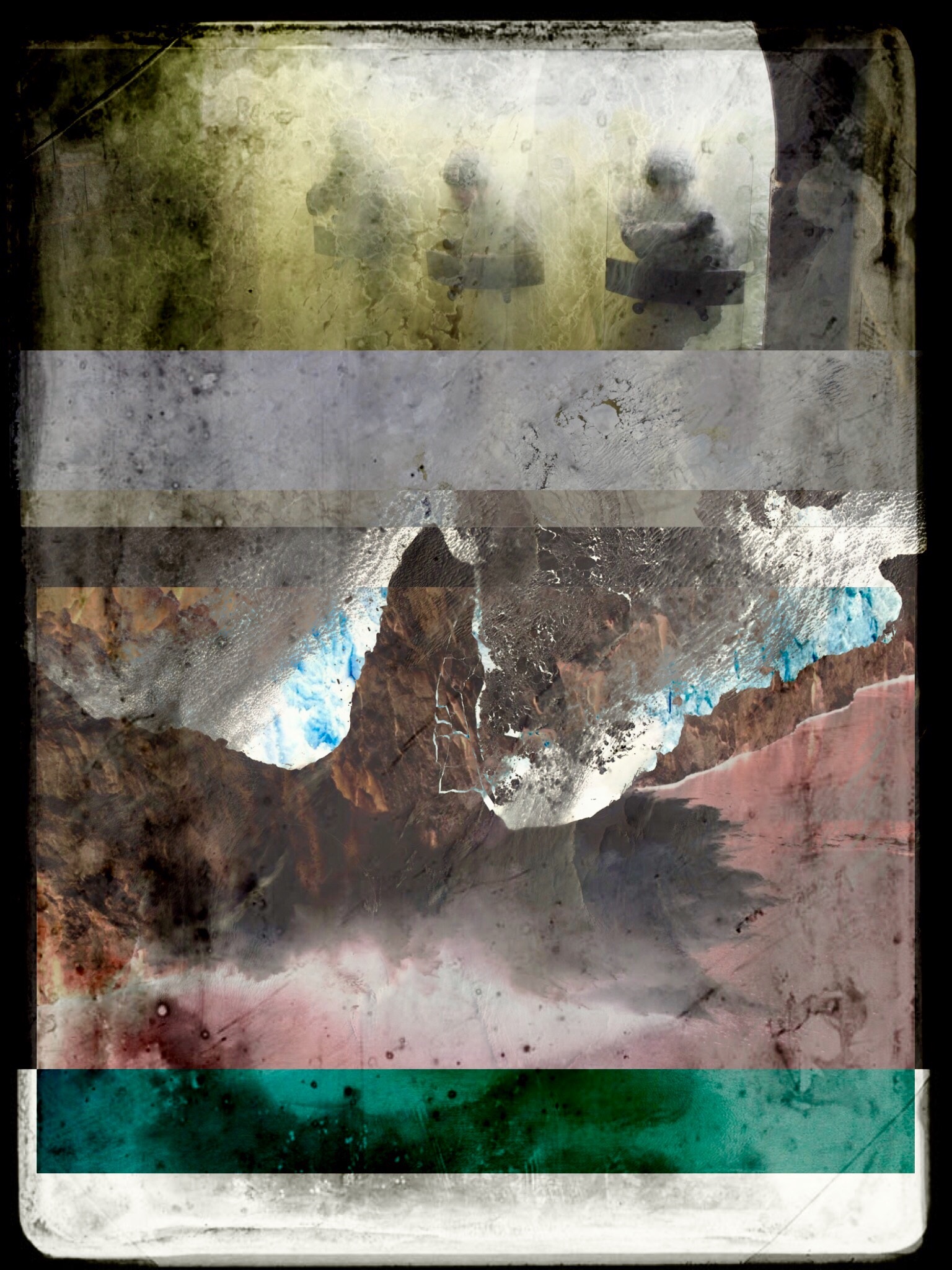 Liz Lee, Collapse Series, 2018

Alberto Rey, Glaucous Macaw, 2018

Jill Johnston, Darling Tenderloins, 2018
New work by current VANM faculty: Ray Bonilla, Bob Booth, Tricia Butski, Jason Dilworth, Debra Eck, Patrick Foran, Timothy Frerichs, Phil Hastings, Jill Johnston, Liz Lee, Stephen Komp, Alberto Rey, Hide Sadohara, Peter Tucker, and Douglas Vitarelli.
Visiting Artist Program Lecture
Ed Luce
Thursday, March 28, 8:30 pm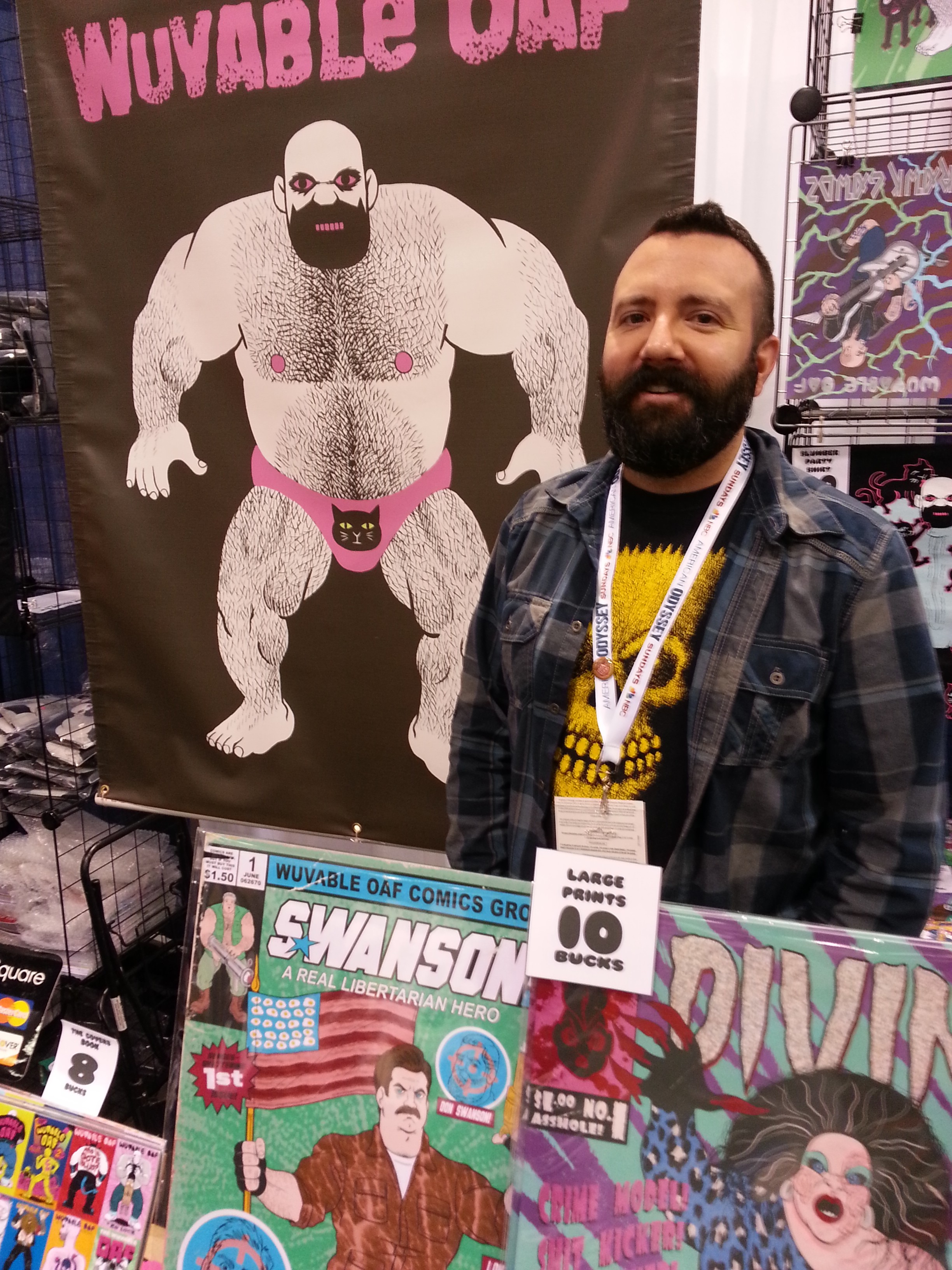 Fredonia alumnus Ed Luce is a cartoonist best known for his indie comic series Wuvable Oaf. The series focuses on Oaf Jadwiga, a bearish gay ex-wrestler looking for love.
Senior Show I: Phantasmagoric
April 19 through 25, 2019
Reception: Friday, April 19, 7 to 9 pm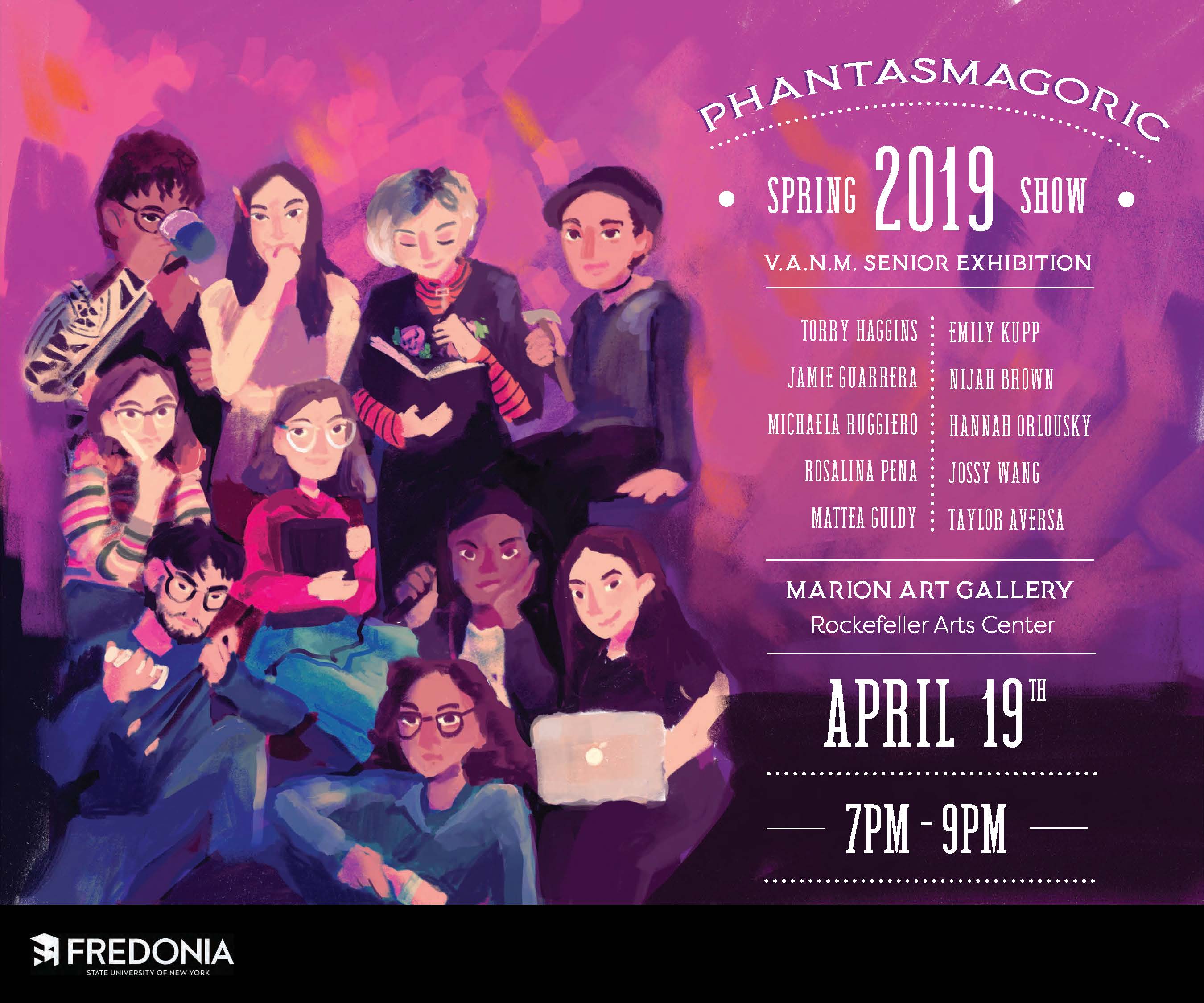 Taylor Avera, Drawing/Painting; Nijah Brown, Animation/Illustration; Jamie Guarrera, Drawing/Painting; Mattea Guldy, Animation/Illustration; Torry Haggins, Ceramics & Film/Video; Emily Kupp, Animation/Illustration; Hannah Orlousky, Graphic Design; Rosalina Pena, Sculpture; Michaela Ruggiero, Animation/Illustration; and Chun-Ta (Jossy) Wang, Drawing/Painting
Visiting Artist Program Lecture
Jonathan Katz
Thursday, April 25, 8:30 pm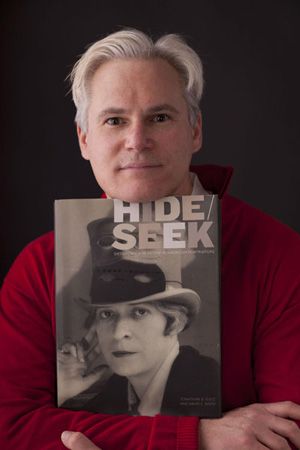 Jonathan Katz is a pioneering academic and gay activist who works at the intersection of art history and queer history. His recent work includes co-curating Hide/Seek: Difference and Desire in American Art, an exhibition at the Smithsonian National Portrait Gallery that broke ground by focusing on LGBTQ (lesbian, gay, bisexual, transgender and queer) issues. Katz directs the University of Buffalo's PhD program in visual studies.
Senior Show II: Tessellate
May 3 through 9, 2019
Reception: Friday, May 3, 7 to 9 pm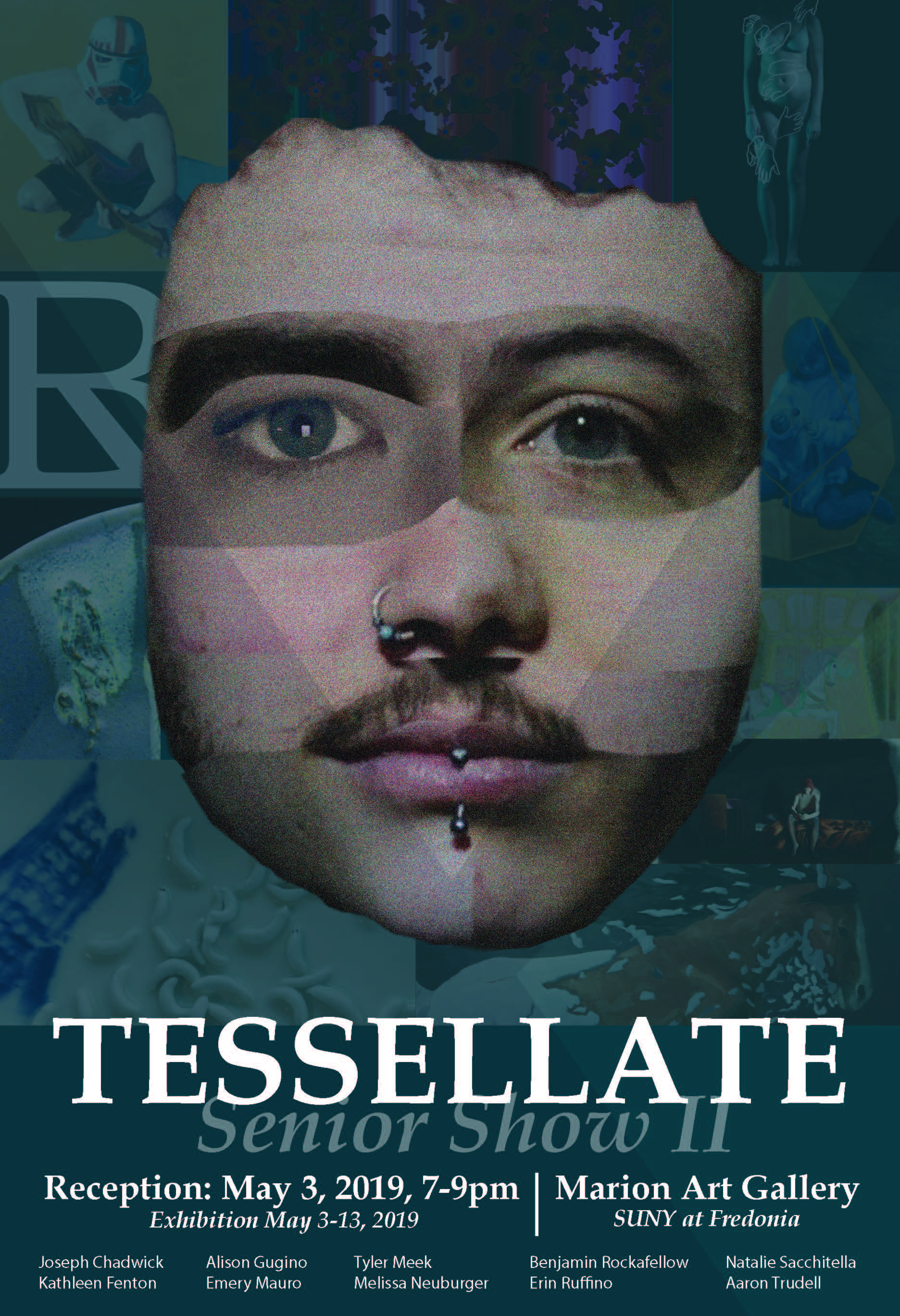 Joseph Chadwick, Drawing/Painting; Kathleen Fenton, Animation/Illustration; Alison Gugino, Photography & Drawing/Painting; Emery Mauro, Ceramics & Sculpture; Tyler Meek, Animation/Illustration; Melissa Neuburger, Animation/Illustration & Film/Video; Benjamin Rockafellow, Graphic Design; Erin Ruffino, Drawing/Painting; Natalie Sacchitella, Ceramics & Graphic Design; and Aaron Trudell, Animation/Illustration