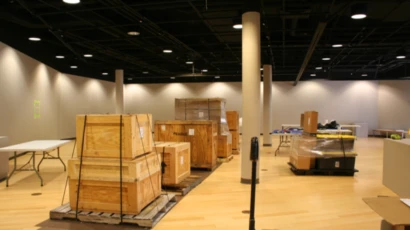 Past Exhibitions at the Marion Art Gallery
Unless otherwise noted, exhibitions were organized by the Marion Art Gallery. Exhibition publications are available free of charge.
For information about the Marion Art Gallery please contact Barbara Räcker at Barbara.Racker@fredonia.edu.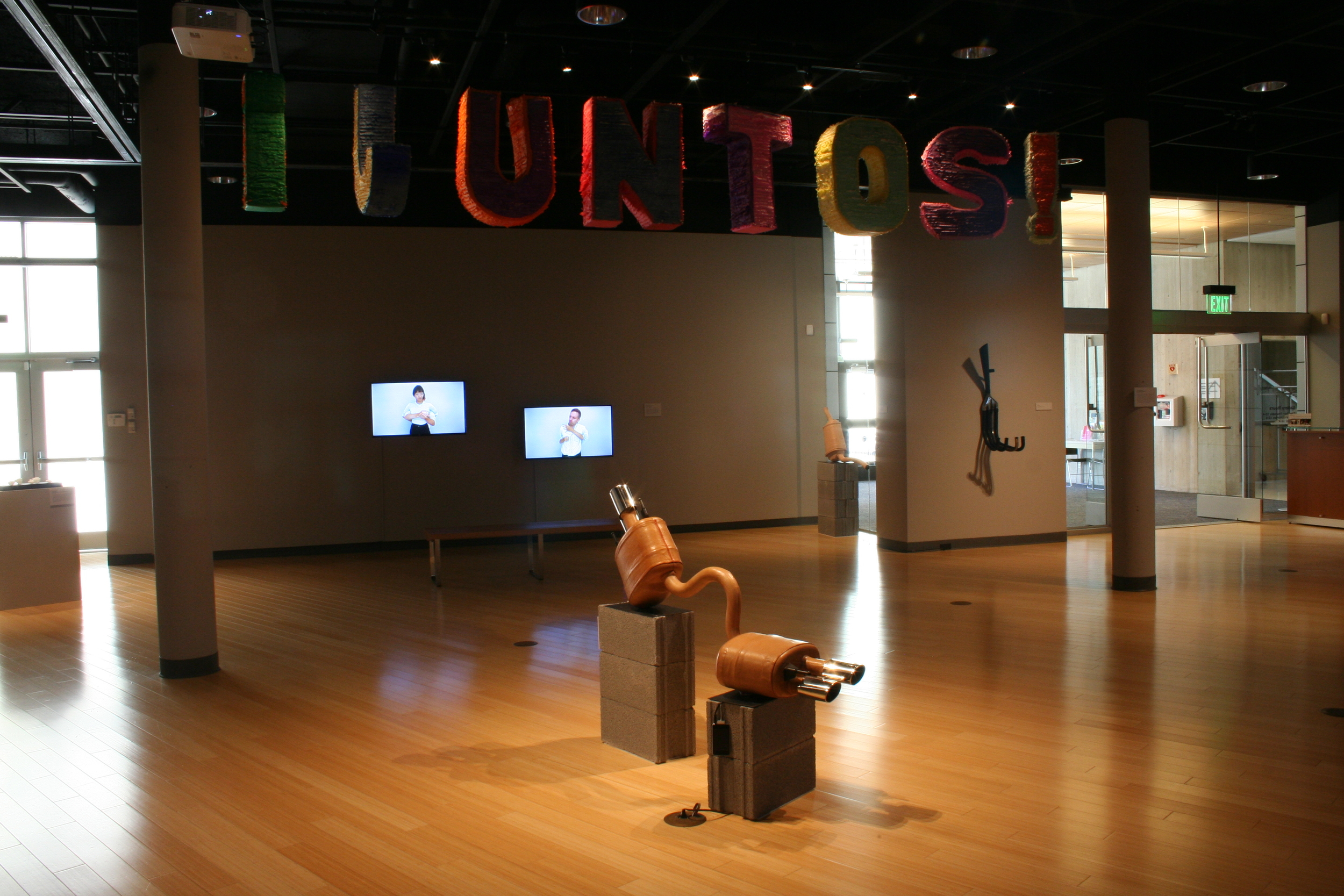 Mis/Communication: Language and Power in Contemporary Art 
February 28 through April 16, 2023
Frédéric Bruly Bouabré | Jesse Chun | Jisoo Chung | Angelina Joshua and Jake Duczynski | Dahn Gim | Dulce Soledad Ibarra | Christine Sun Kim and Thomas Mader | Benjamin Lundberg Torres Sánchez | Kim Schoen | Martine Syms | Clarissa Tossin | Han Yohan 
Mis/Communication was curated by Amy Kahng and originated at Stony Brook University. The artists in this exhibition examine issues such as the global dominance of English and the societal tendency to censure other languages, dialects and linguistic practices. They consider spoken and written language as defined by national or cultural linguistic traditions like Korean, Spanish and Portuguese; Bete and Marra indigenous languages; and American Sign Language, performative body language, academic speak, and automated speech recognition systems.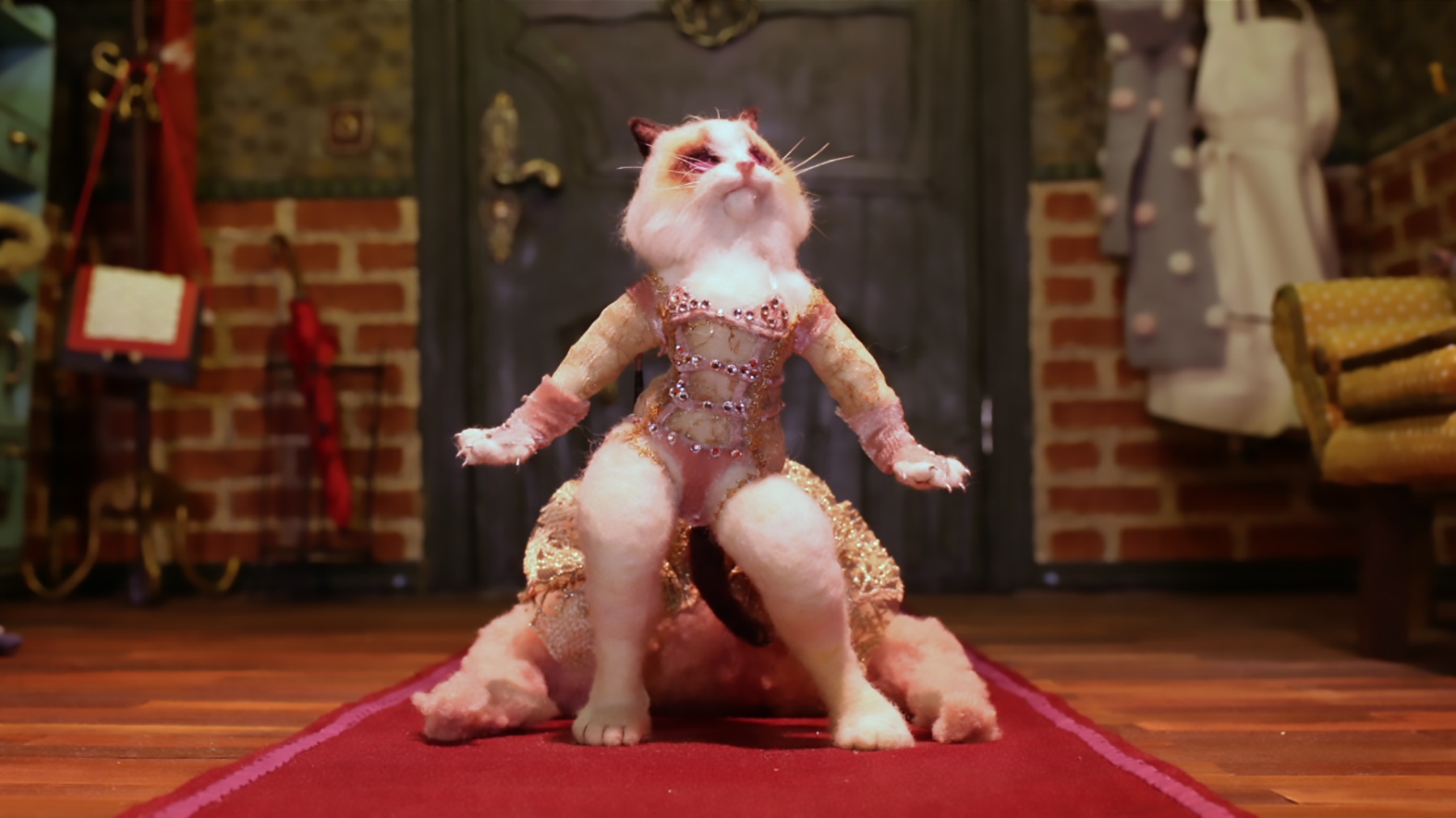 Independent Motion: Twelve Animated Films from Around the World 
August 30 through October 9, 2022
Exhibition catalog with essay by Yvonne Grzenkowicz / 40 pages / 19 color plates / design by Jason Dilworth
"In every style and medium, successful animation brings together motion, clarity, timing, and design to create the illusion of life. It can entertain, inform, and even inspire us to consider our own place in the universe," writes Yvonne Grzenkowicz. "Animation is about the study of humanity as much as it is a study of technique. It is about both observation and keyframe. These twelve animated pieces each contain moments of reflection on elements of the human condition while simultaneously sweeping us away with artistry." The exhibition featured 2D, 3D, stop-motion, and virtual reality animated films by: Remus Buznea & Kyriaki Kyriakou, United Kingdom; Igor Coric, Serbia; Sashko Danylenko, Ukraine / United States; Nelson Fernandes, Portugal / Spain; Carol Freeman, Ireland; Matisse Gonzalez, Bolivia / Germany; Emily Hubley, United States; Bas Jensen, Netherlands; Joe Loftus, Ireland; Carol Silverman, United States; Rory Waudby-Tolley, United Kingdom; and Jie Weng, China. Independent Motion was an original exhibition coordinated by the Marion Art Gallery and curated by Yvonne Grzenkowicz, Founder and Executive Director of Animation Nights New York (ANNY).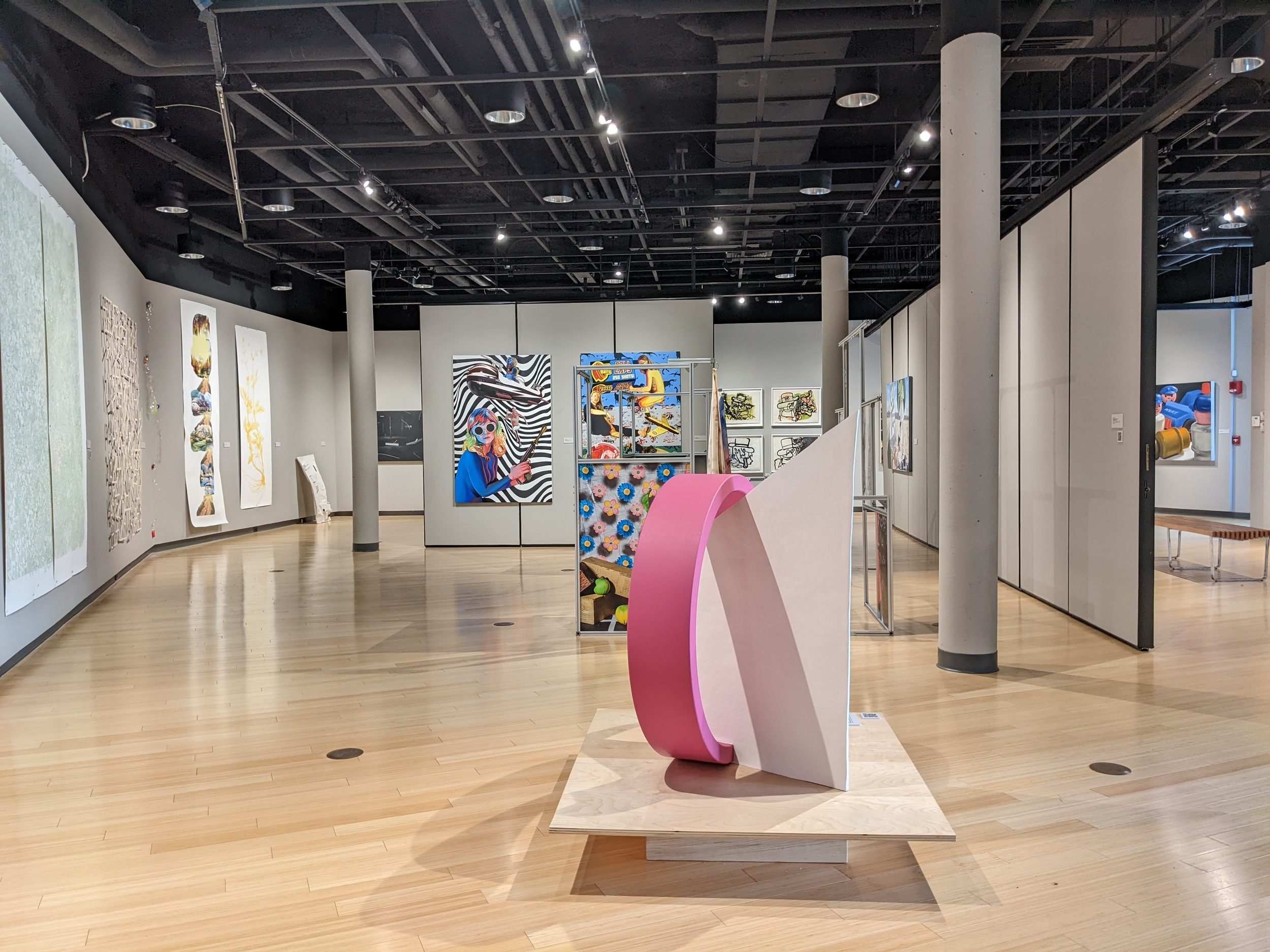 New Shapes from Old Tropes
February 22 through April 10, 2022
Exhibition catalog with essay by John Massier / 86 pages / 35 color plates / design by Jason Dilworth
Familiar, constant and even conventional, the tropes of figuration and landscape nonetheless persist through time and outside of fashion to maintain their quietly dominant positions, even in the most contemporary of art approaches. Springboards from the familiar to the strange or even occasionally markers of deviation, these genres repeatedly demonstrate that well-used is not well-worn. Each of the artists in New Shapes from Old Tropes utilizes either figuration or landscape as a point of departure to serve their own iconoclastic visual languages. Curated by John Massier, the exhibition featured 13 artists from the Buffalo, New York area: Bruce Adams, Nando Alvarez-Perez, Julia Bottoms, Kyle Butler, A.J. Fries, Pam Glick, George Afedzi Hughes, Richard Huntington, Joan Linder, Margaret Schrecongost, virocode, and Rebecca Wing.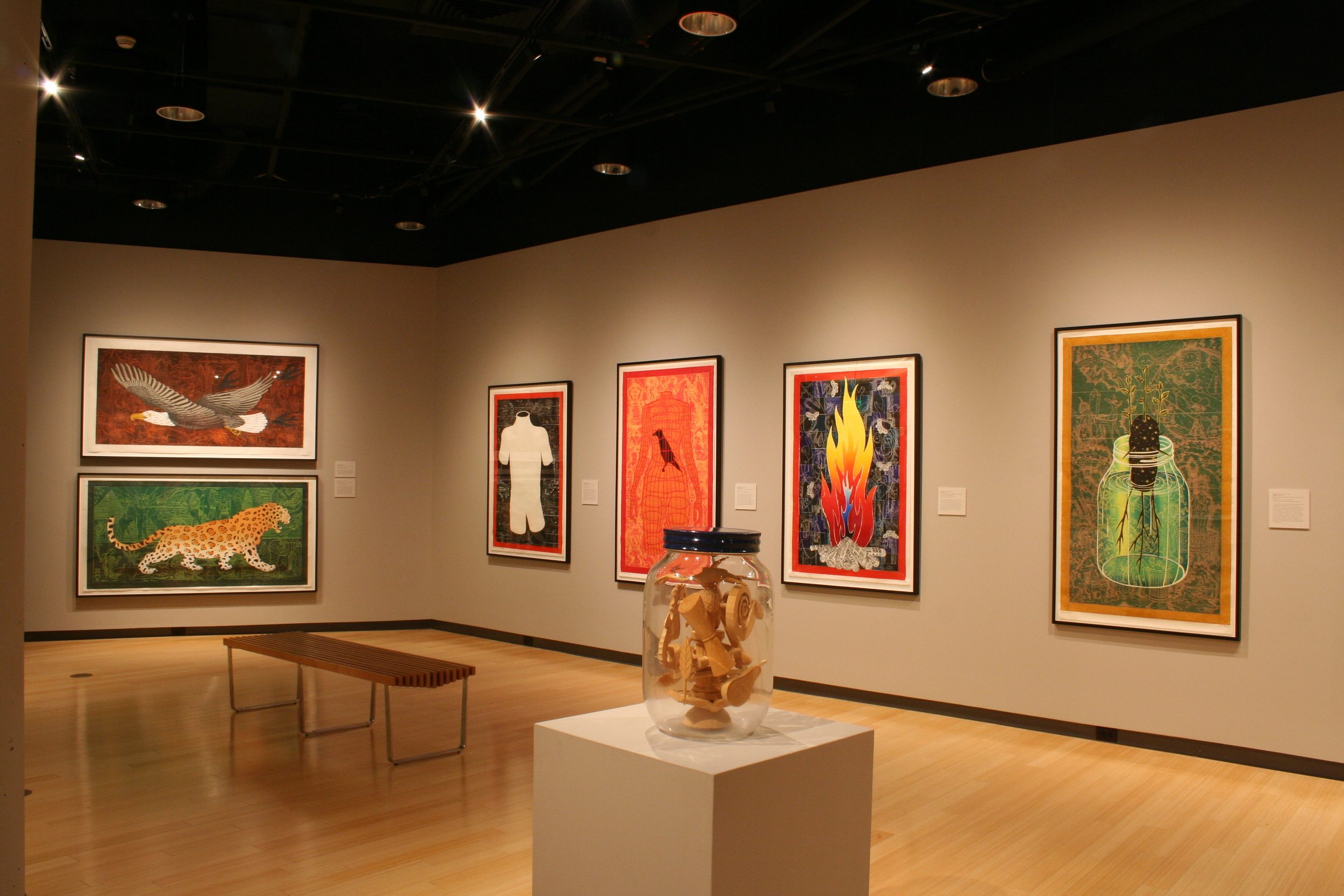 John Buck Prints and Sculptures from the Collection of Jordan D. Schnitzer and His Family Foundation
August 31 through November 19, 2021
Exhibition catalog with essay by Linda Tesner / 15 pages / 14 color plates / design by Jason Dilworth
John Buck's powerful imagery, underscored by his unusual printmaking techniques and mastery of wood carving, prompts viewers to consider socio-political issues such as greed, war, sexism, racism, war, environmental degradation, and species extinction. This exhibition featured five sculptures (panels, glass jar, and free-standing) and 27 woodblock prints dating from his first woodblock print in 1980 to 2016. Curated and organized by the Jordan Schnitzer Family Foundation, Portland, OR.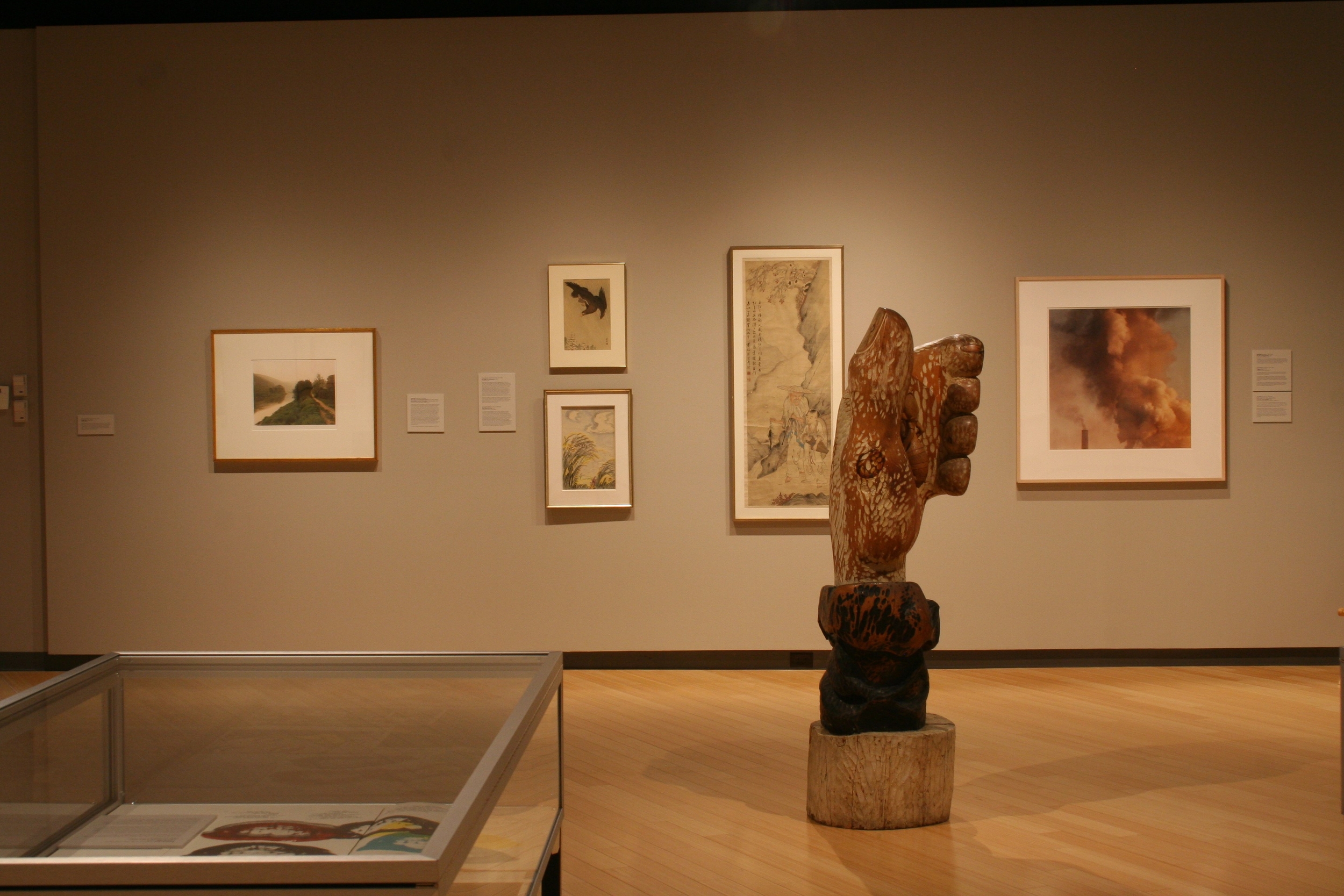 Living with Art: Selections from the Frederic P. "Nick" Norton Collection
March 6 through April 11, 2021
Former Arkwright Town Supervisor and retired attorney Nick Norton caught the collecting bug from his father F. Paul Norton. Together they amasses a major collection of prints which make up the Norton Family Print Collection at the Albright Knox Art Gallery. This exhibition featured an eclectic mix of Eastern and Western art, from traditional masks to modern furniture and contemporary photographs, that Nick Norton lives with and has cherished for decades.
Dos Mundos: (Re)constructing Narratives
Organized by En Foco, Inc., Bronx, NY
January 19 through February 28, 2021
Dos Mundos featured 36 photographs by 12 artists that center stories at the fringe of public attention: hidden sanctuaries, subcultures, painful identities, far-away homes, spirituality, transcendence, broken promises, and all too easily ignored social ecologies. Participating artists were: Damarys Alvarez, Laylah Amatullah Barrayn, Tau Battice, Cinthya Santos Briones, Yu-Chen Chiu, Anthony Hamboussi,Daesha Harris, Erika Morillo, Danny Peralta, Antonio Pulgarin, Roger Richardson, and Aaron Turner.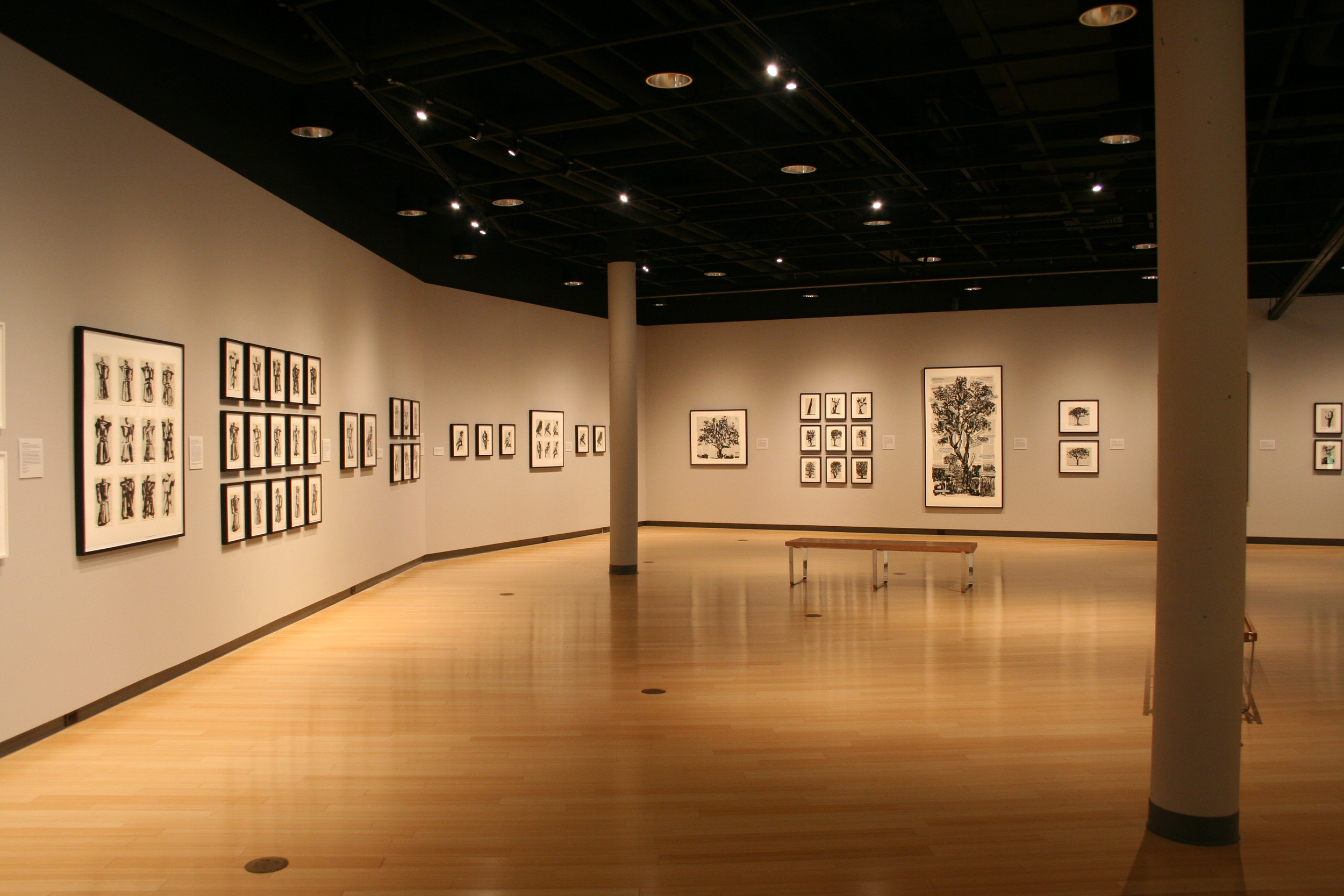 William Kentridge: Universal Archive
organized by Gund Gallery, Kenyon College
August 18 through October 11, 2020
75 linocuts from the Universal Archive series. The prints began as drawings in India ink, executed using both what the artist calls a "good brush" as well as a "bad brush," one with damaged bristles that produced less controlled marks. Kentridge, together with master printer Jillian Ross and her team at the David Krut Workshop in Johannesburg, then translated the drawings into linocuts, a technique capable of capturing the fluidity of line in a manner similar to that of drawing.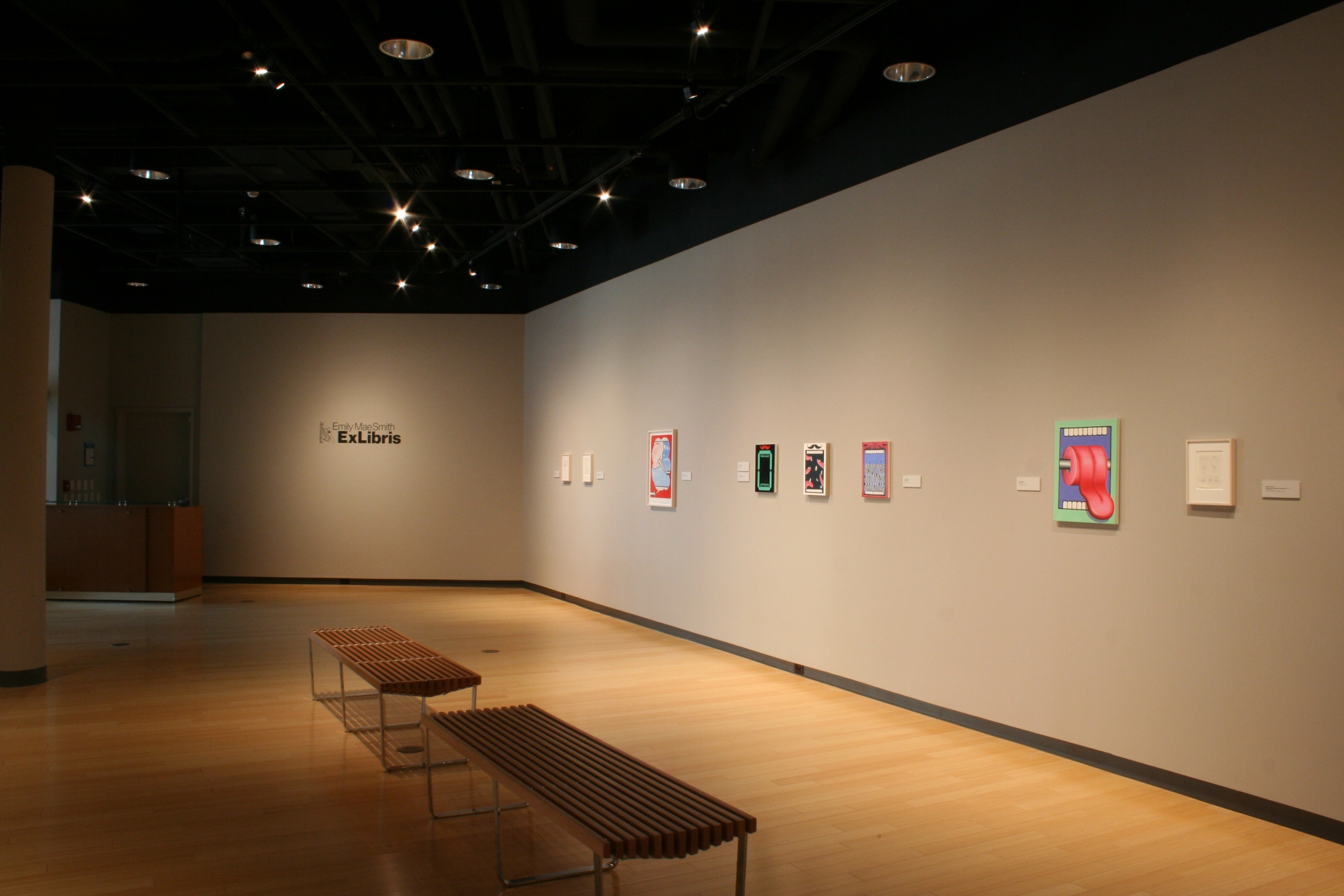 Emily Mae Smith: Ex Libris
March 17 – April 12, 2020
Exhibition Catalog with essay by Lucia Love / 26 pages / 20 color plates / design by Jason Dilworth
Internationally renowned artist Emily Mae Smith uses humor and art historical references to comment on current socio-political (especially feminist) issues. Among her influences are Pre-Raphaelite paintings, the Surrealist and Pop Art movements, and Disney movies. The exhibition included 12 paintings, 14 drawings and 2 screenprints from seventeen private collections in the NYC area.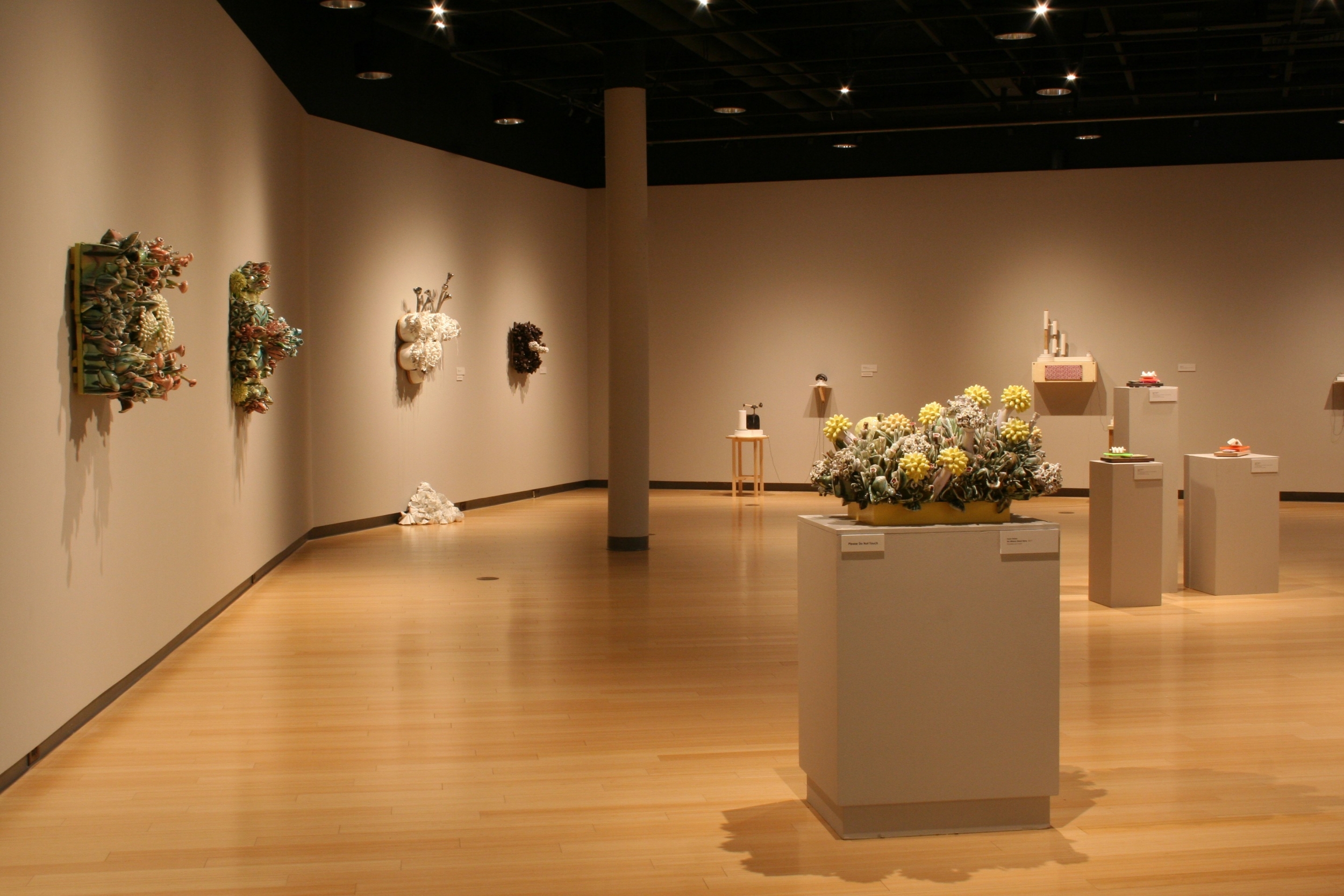 Contrasts in Clay: Susan Beiner and Kwok-Pong Tso
January 31 – March 8, 2020
Exhibition Catalog with interviews by Barbara Räcker / 36 pages / 42 color plates / design by Jason Dilworth
Susan Beiner's wild and unruly botanical compositions contrast with Kwok-Pong "Bobby" Tso's sleek machines and architectural models. Yet both ceramic artists create objects that are not what they seem. Works by Pong included 7 vessel-like forms from the Repress Series, 9 mixed media objects from the Tool Make Tool series, and 6 installations from the Moment of "Re"inventing-"Culture Assembly" series. Works by Beiner consisted of six porcelain reliefs, among them the eight-foot long Synthetic Reality, and one pedestal piece.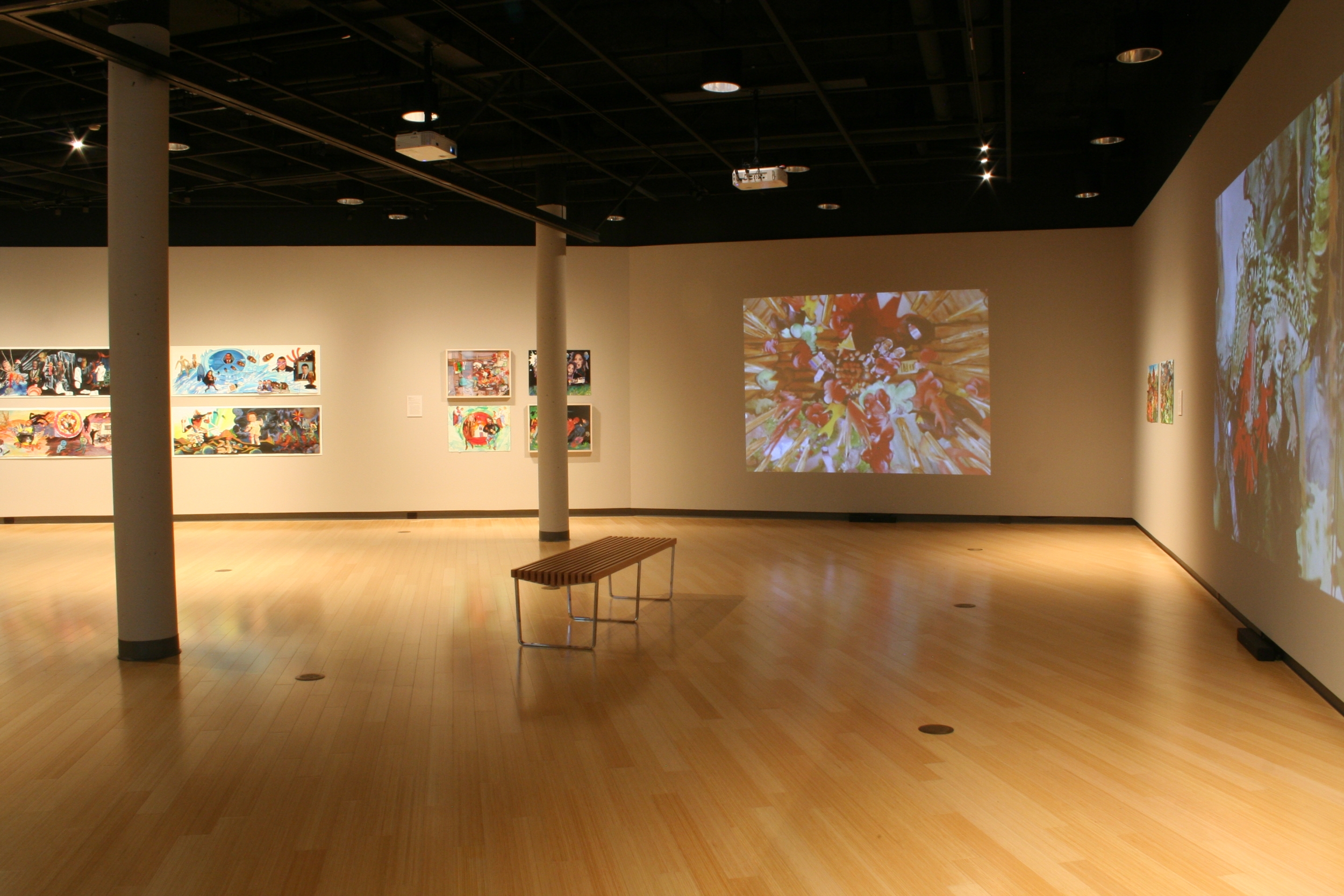 Martha Colburn: Imagined Histories
September 3 – November 22, 2019
Exhibition Catalog with essay by Leonor Faber-Jonker / 48 pages / 10 color plates / design by Jason Dilworth
Martha Colburn crafts frenetic stop-motion films using puppets, collages, paint-on- glass techniques, and idiosyncratic music. With her "surrealist satires" and "reimagined histories" Colburn addresses serious topics such as oppression, war, violence, and drug addiction. The exhibition included the animations Join the Freedom Force, Western Wild…or how I found Wanderlust and met Old Shatterhand', Triumph of the Wild, Dolls vs Dictators, and Myth Labs together with collages created by Colburn for the films.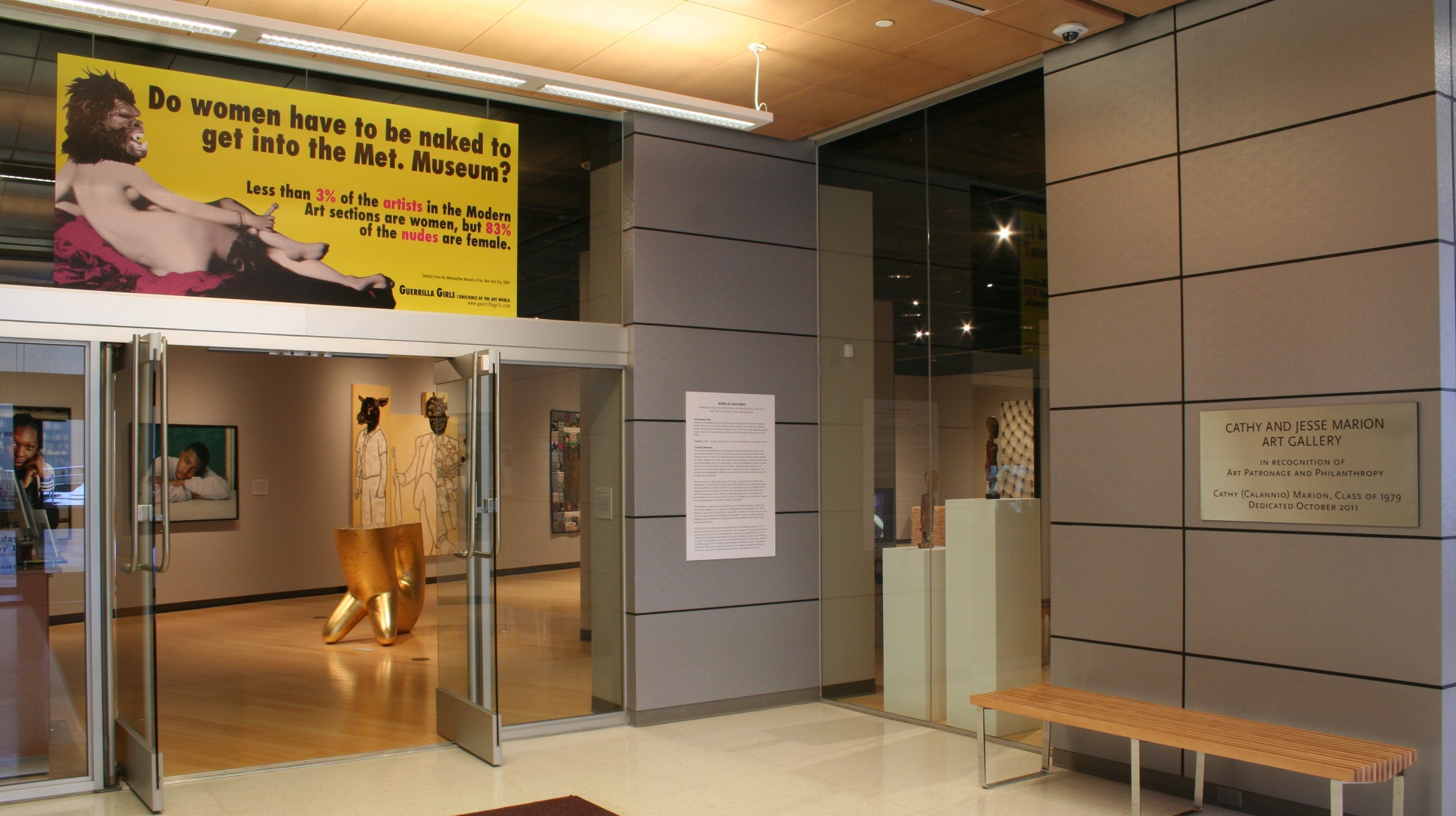 Artists as Innovators: Celebrating Three Decades of NYSCA/NYFA Fellowships
Organized by the New York Foundation for the Arts
January 22 – March 10, 2019
Catalog published by NYFA
Artwork by: Elia Alba, Ida Applebroog, Daywoud Bey, Sanford Biggers, Wendell Castle, Tara Donovan, Carroll Dunham, Chitra Ganesh, Guerilla Girls, Barbara Kruger, Marilyn Minter, Christian Marclay, Lori Nix, Tony Oursler, Faith Ringgold, Martha Rosler, Dread Scott, Andres Serrano, Shinique Smith, Carmelita Tropicana, and Fred Wilson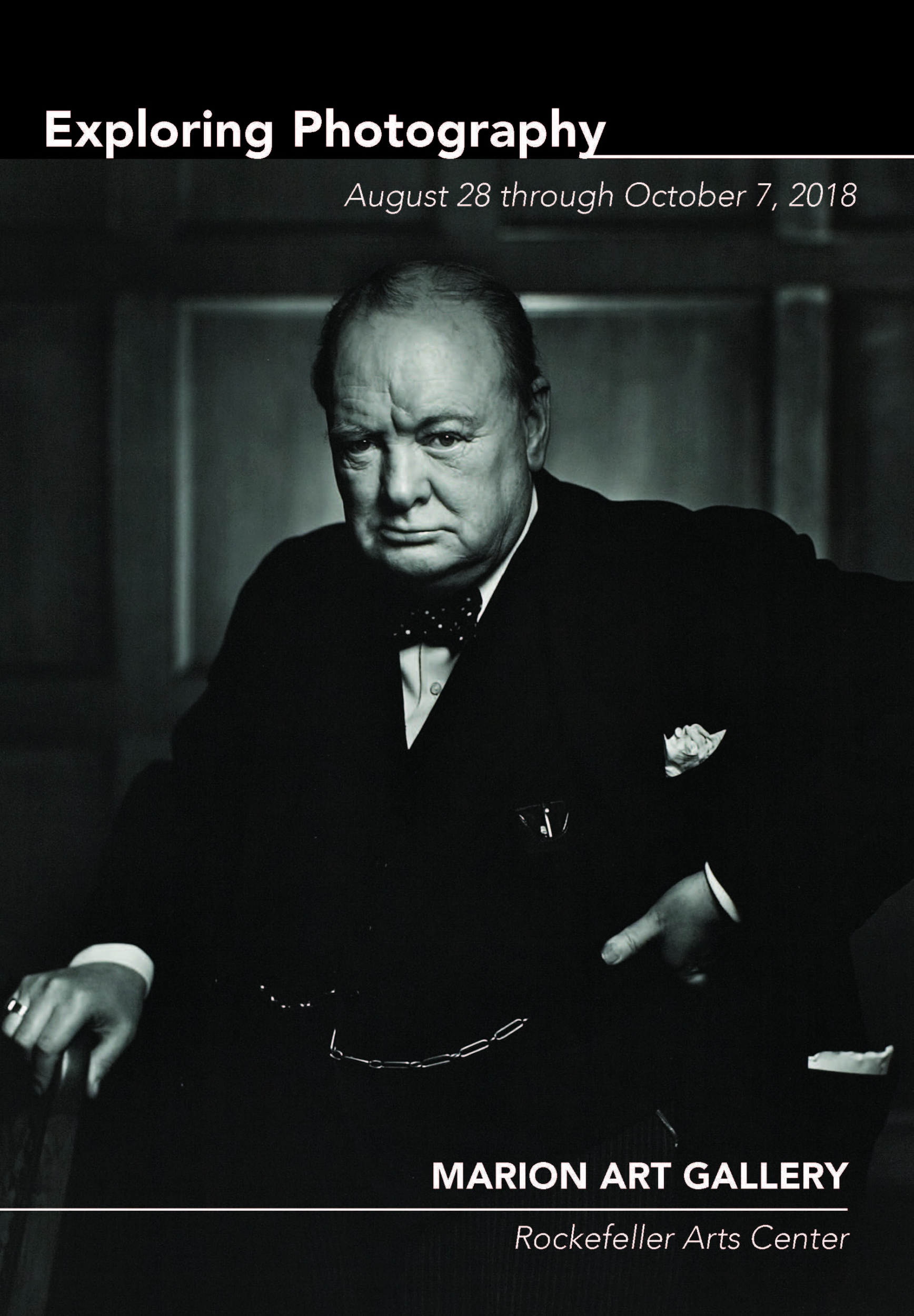 Exploring Photography
Organized by the Louisiana State University Museum of Art
August 28 – October 7, 2018
Fifty-five photographs from the collection of the LSU Museum of Art by photographers such as Berenice Abbott, Diane Arbus, Ruth Bernhard, Darryl Curran, Judy Dater, Henry Gilpin, Suda House, Yousuf Karsh, Victor Landweber, Lisette Model, Robert Von Sternberg, Melanie Walker, and Edward Weston.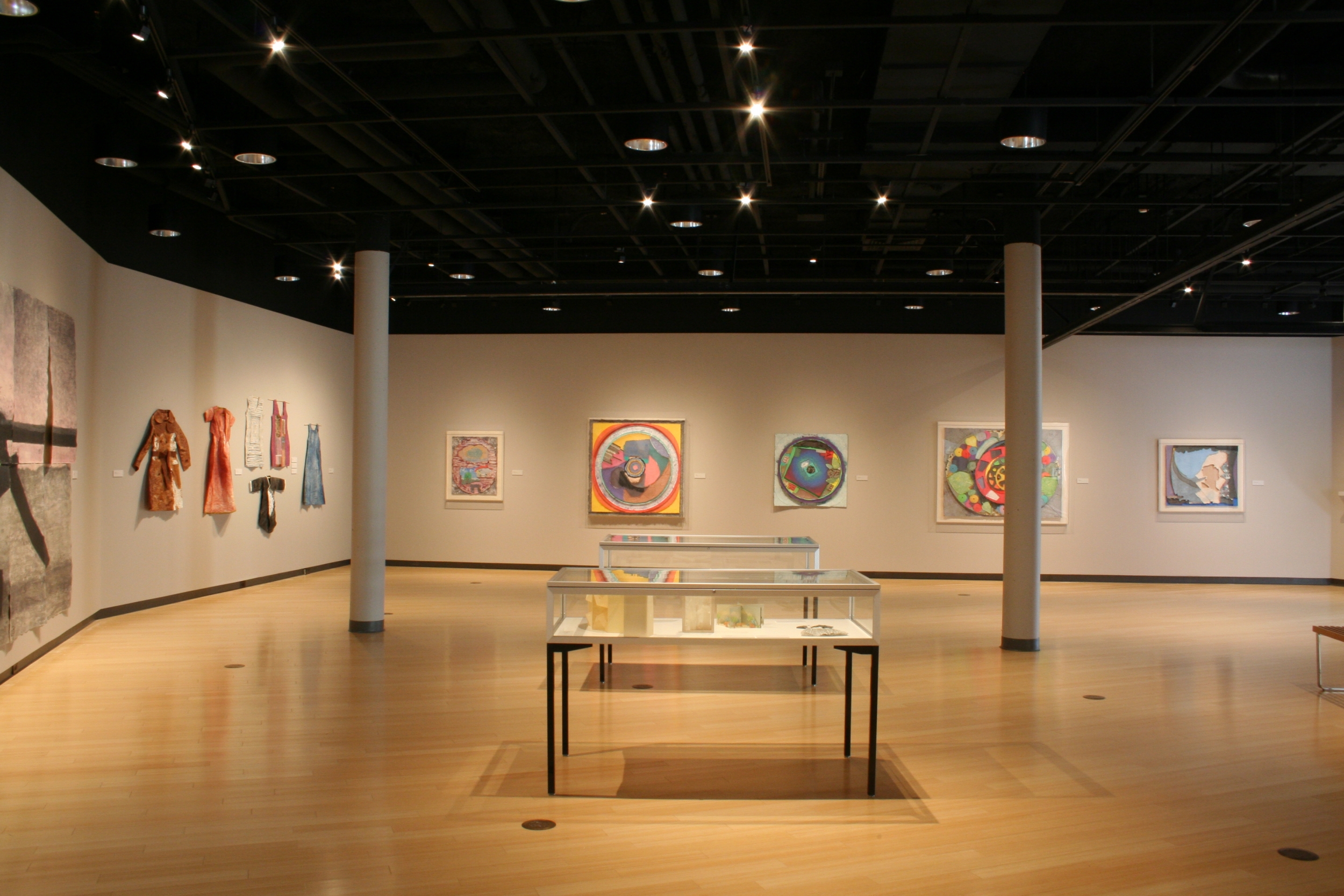 Knowing Paper: Five Contemporary Artists Using Paper as their Expressive Medium
March 2 – April 8, 2018
Curated by Timothy Frerichs, Professor of Art in the Department of Visual Arts and New Media, this exhibition includes artist books, paper sculpture, pulp paintings, and cast paper constructions by: Tom Bablo, Aimee Lee, Bridget O'Malley, Radha Pandey, and Peter Sowiski.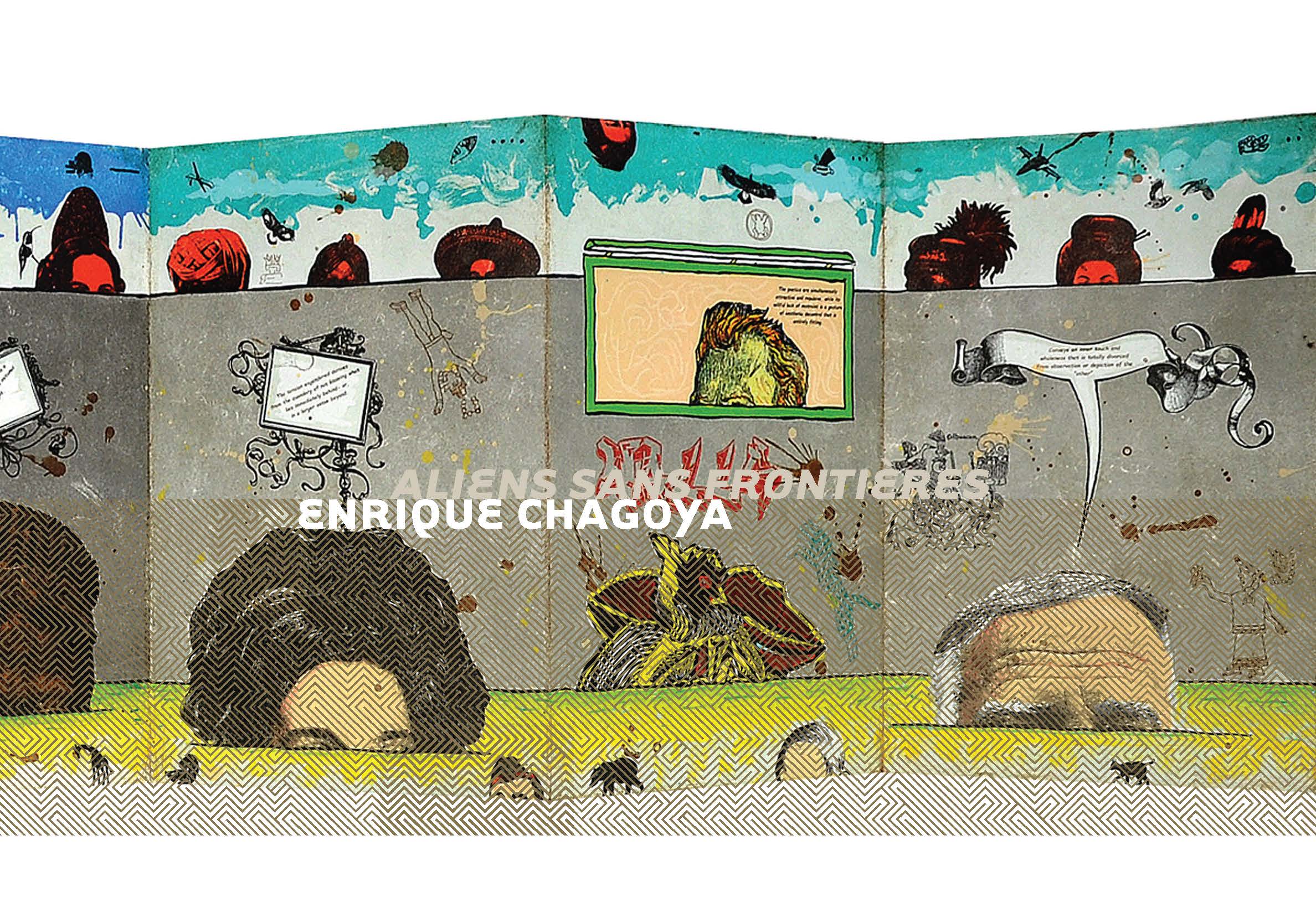 Enrique Chagoya: Aliens Sans Frontières  
January 19 – February 25, 2018
Exhibition Catalog with interview by Barbara Räcker / Spanish and English / 80 pages / 50 color plates / design by Megan Urban and Jason Dilworth / translation by Juan De Urda Anguita
Melding roles of artist and cultural historian, Enrique Chagoya creates alternative interpretations of current events. This exhibition featured large paintings which turn the tables on Modernist appropriation, etchings from his Recurrent Goya series, and Illegal Alien codex books. Lenders were Enrique Chagoya and Anglim Gilbert Gallery, San Francisco.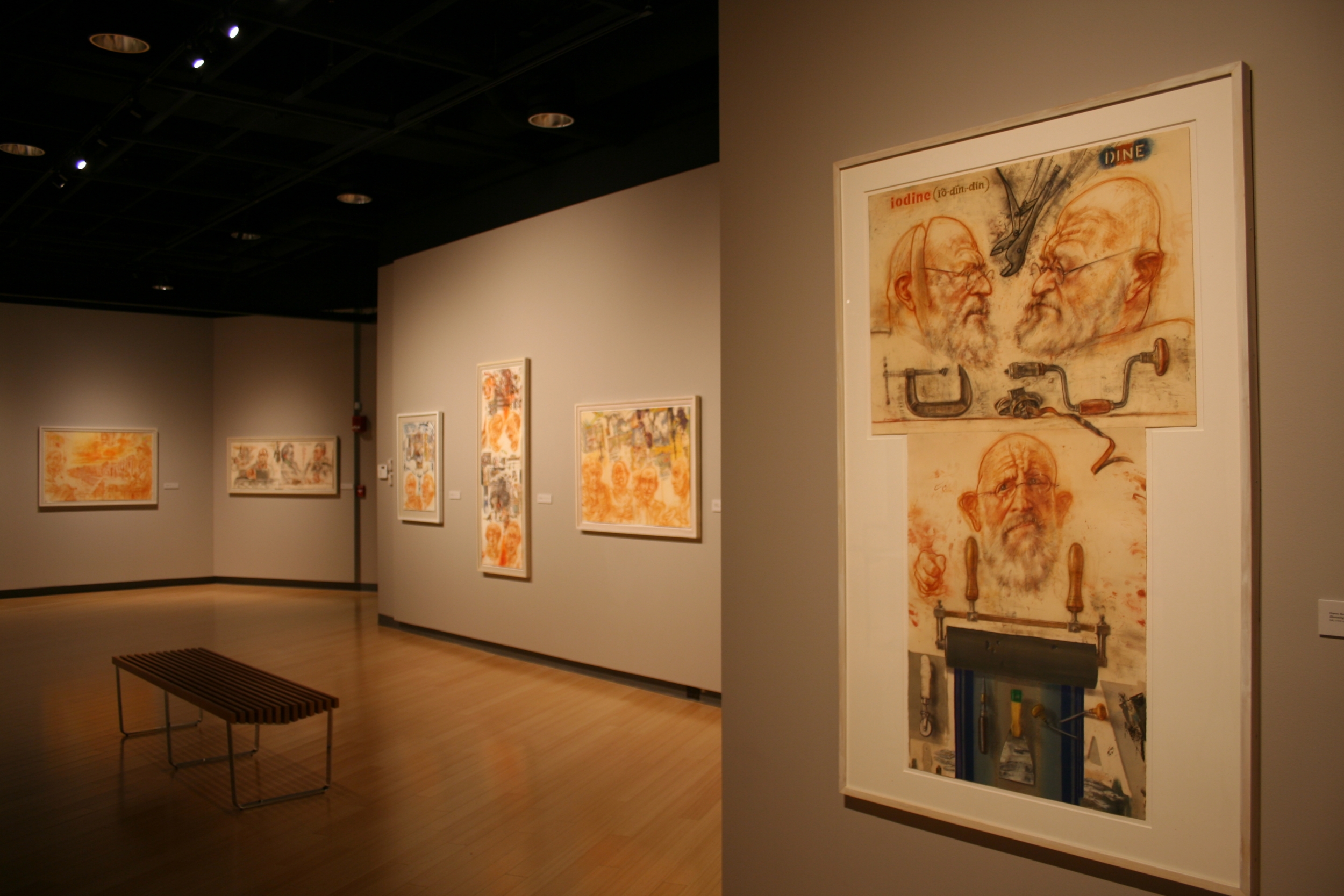 Harvey Breverman: A Decade of Drawing, 2005-2015
(Idiosyncratic Amalgams and Disparate Composites)
October 17 – November 17, 2017
Exhibition Catalog with essay by Howard R. Wolf / 20 pages / 13 color plates / design by Jason Dilworth
This exhibition featured forty-eight portraits of famous writers, poets and artists, as well as architectural scenes from cities around the world, by University at Buffalo Distinguished Professor Emeritus Harvey Breverman. His recent large drawings utilize montage and assemblage to create unpredictable and idiosyncratic juxtapositions.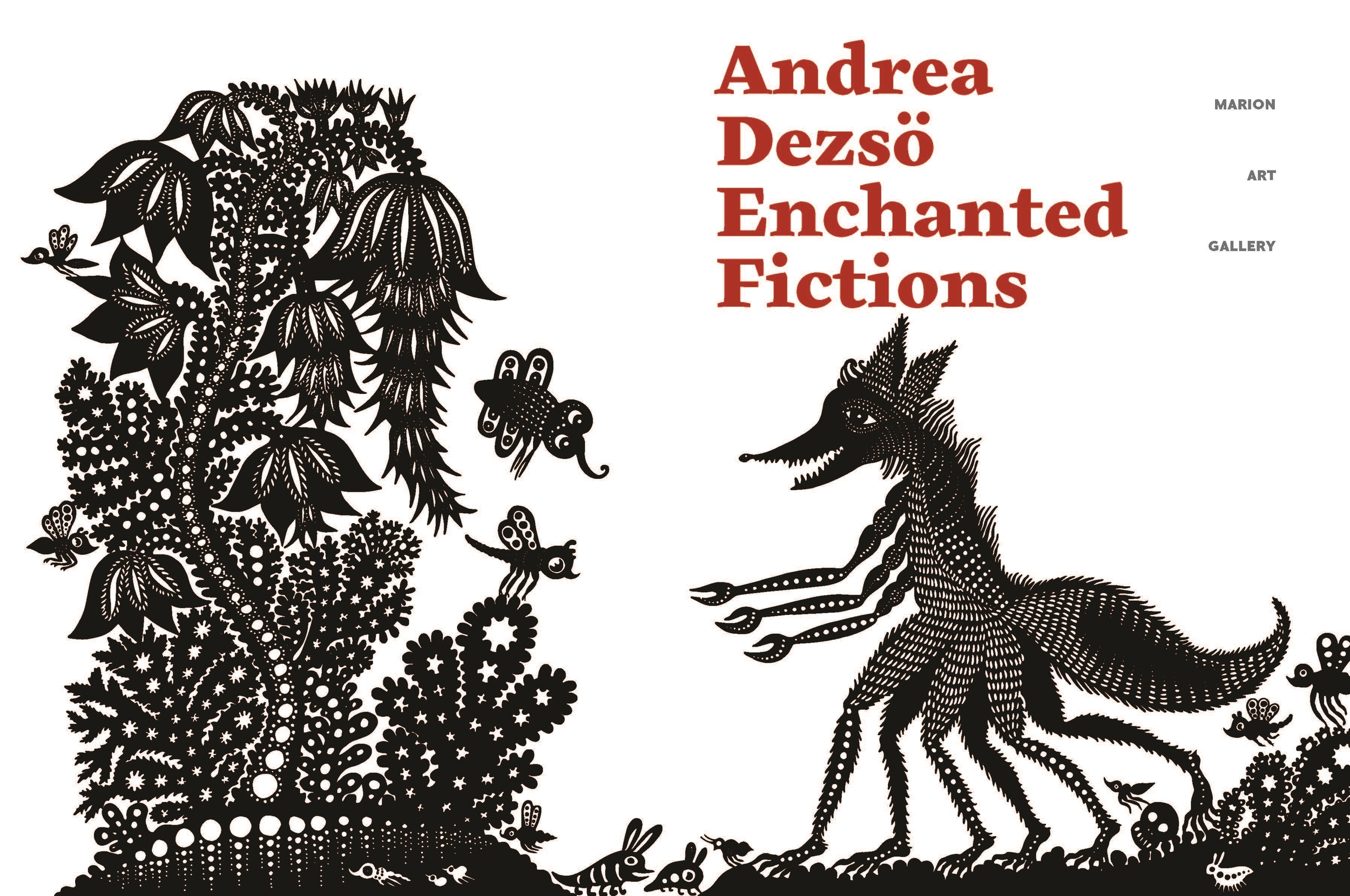 Andrea Dezsö: Enchanted Fictions
September 5 – October 8, 2017
Exhibition Catalog with essays by Jill Johnston and Dr. Leesa Rittelmann / 16 pages / 22 color plates / French fold (poster) cover / design by Jason Dilworth
While growing up in the harsh communist regime of Romania Andrea Dezsö began creating her own worlds filled with wishful flights to charmed lands of dark beauty and haunting iconography. Her multi-layered tunnel books, whimsical lithographs, and silhouette illustrations blend folklore with a personal vision and contemporary sensibility. Lenders were Andrea Dezsö and Pucker Gallery, Boston. Curated by Jill Johnson, Associate Professor of Animation and Illustration and Dr. Leesa Rittelmann, Associate Professor of Art History.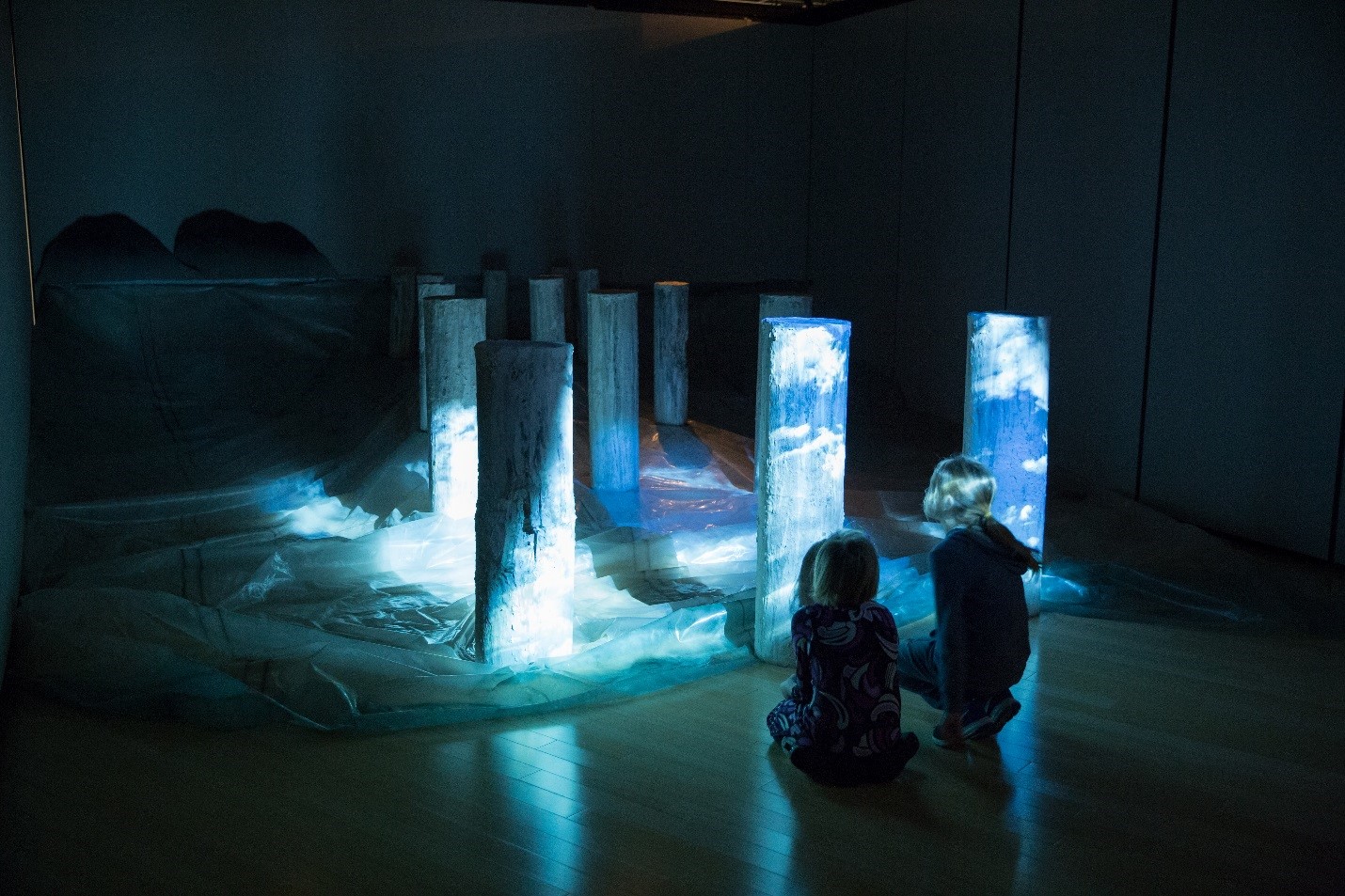 Sharbani Das Gupta: Out of Step
January 27 – February 26, 2017
Brochure
Out of Step touched on the extraordinary environmental challenges of the moment. On another plane it contained a personal interrogation, examining the inherent paradox of being an artist activist, where the very undertaking of creativity can add to the ecological toll of life. Das Gupta's large-scale, mixed media and ceramic installation In Hindsight is about manmade dead zones like the floating trash island in the Gulf of Mexico. It was also influenced by the prediction that by 2050 there will be more plastic in the oceans than living creatures. Das Gupta juxtaposed the installation with a series of intimate pieces referencing the many ironies of the Chernobyl disaster zone, irradiated and human free, yet verdant, and full of life.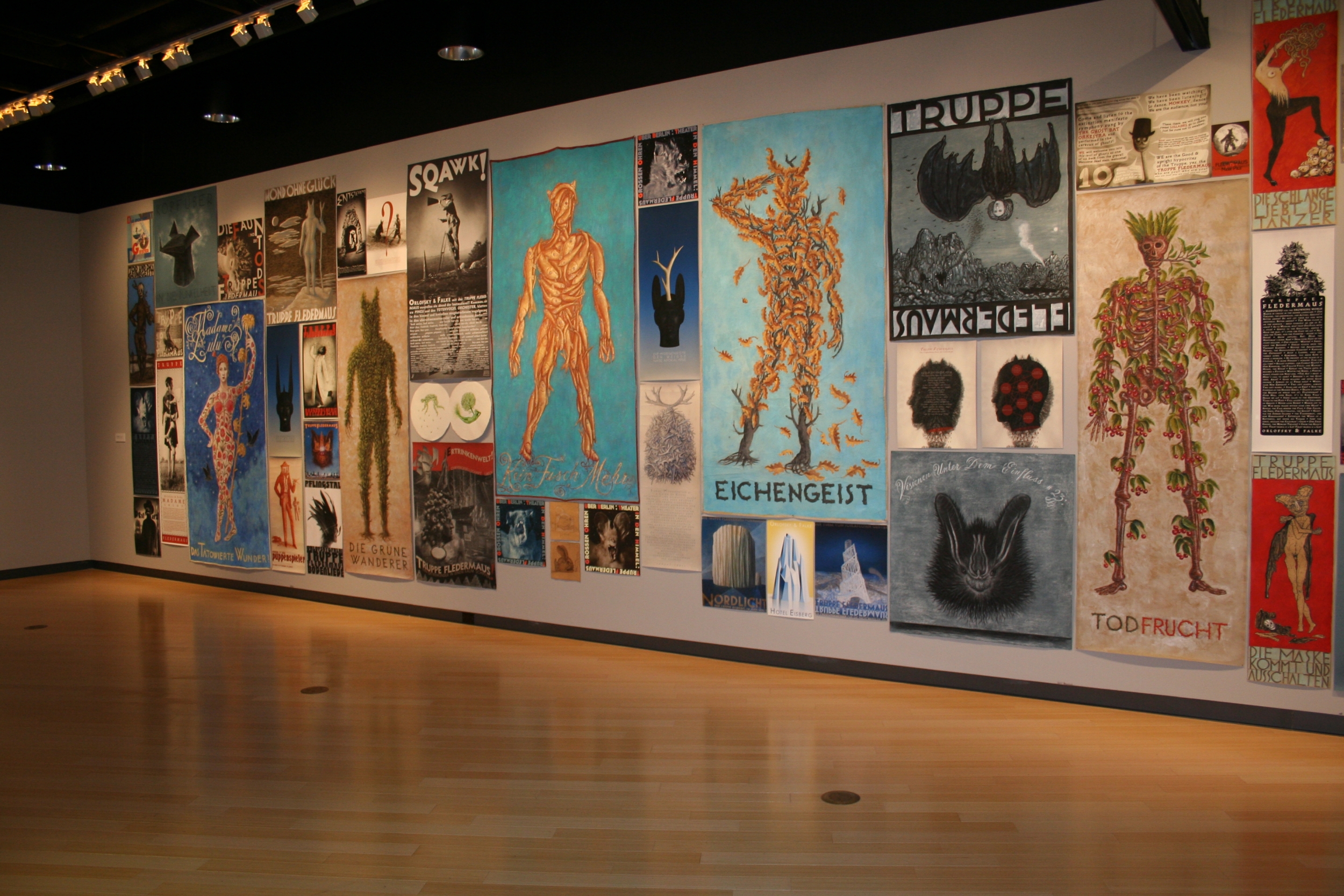 Kahn and Selesnick: Truppe Fledermaus and the Carnival at the End of the World
September 16 through November 18, 2016
Exhibition Catalog with essays by Sarah Falkner and Barbara Räcker / 3 accordion fold, 10 panel booklets / 27 color plates / design by Jason Dilworth / Second Prize, Exhibition Catalogues, 2017 AAM Publications Design Competition
75 arched-top, black and white and color photographs dating from 2012 to 2015 and three large format photographs from Dreams of a Drowning World. A wall of posters, both drawings and prints, advertised the fictitious troupe. The exhibition also featured Kahn & Selesnick's latest book projects. A book mockup and page layouts gave visitors an opportunity to consider the process of designing and publishing art books. Nicholas Kahn and Richard Selesnick are a collaborative artist team who have been working together since they met while attending art school at Washington University in St. Louis in the early 1980s. Both were born in 1964, in New York City and London respectively. They work primarily in the fields of photography and installation art, specializing in fictitious histories set in the past or future.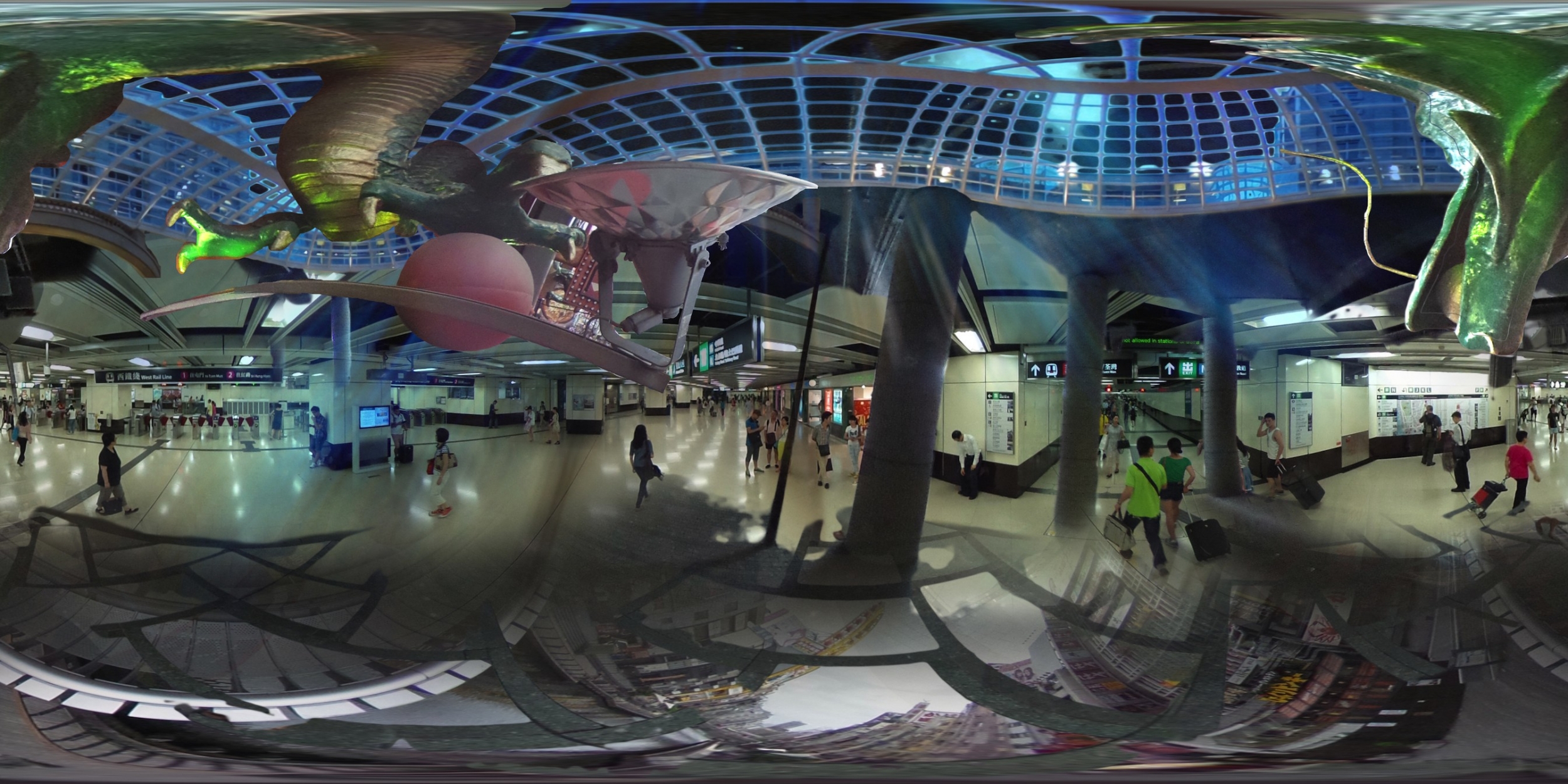 Near and Far: Sala Wong and Peter Williams
March 4 – April 10, 2016
Brochure
Near and Far consisted of a selection of site-based digital, interactive and video artworks created by Sala Wong and Peter Williams between 2007-2015. Each piece in the show depicted the inevitability of change and the immensity of closeness. The artists' ongoing research into urban spaces and information culture explores how we recalibrate ourselves to globalized, conglomerate realities and how the notion of "immediate surroundings" is changing in the age of augmented reality and locative media.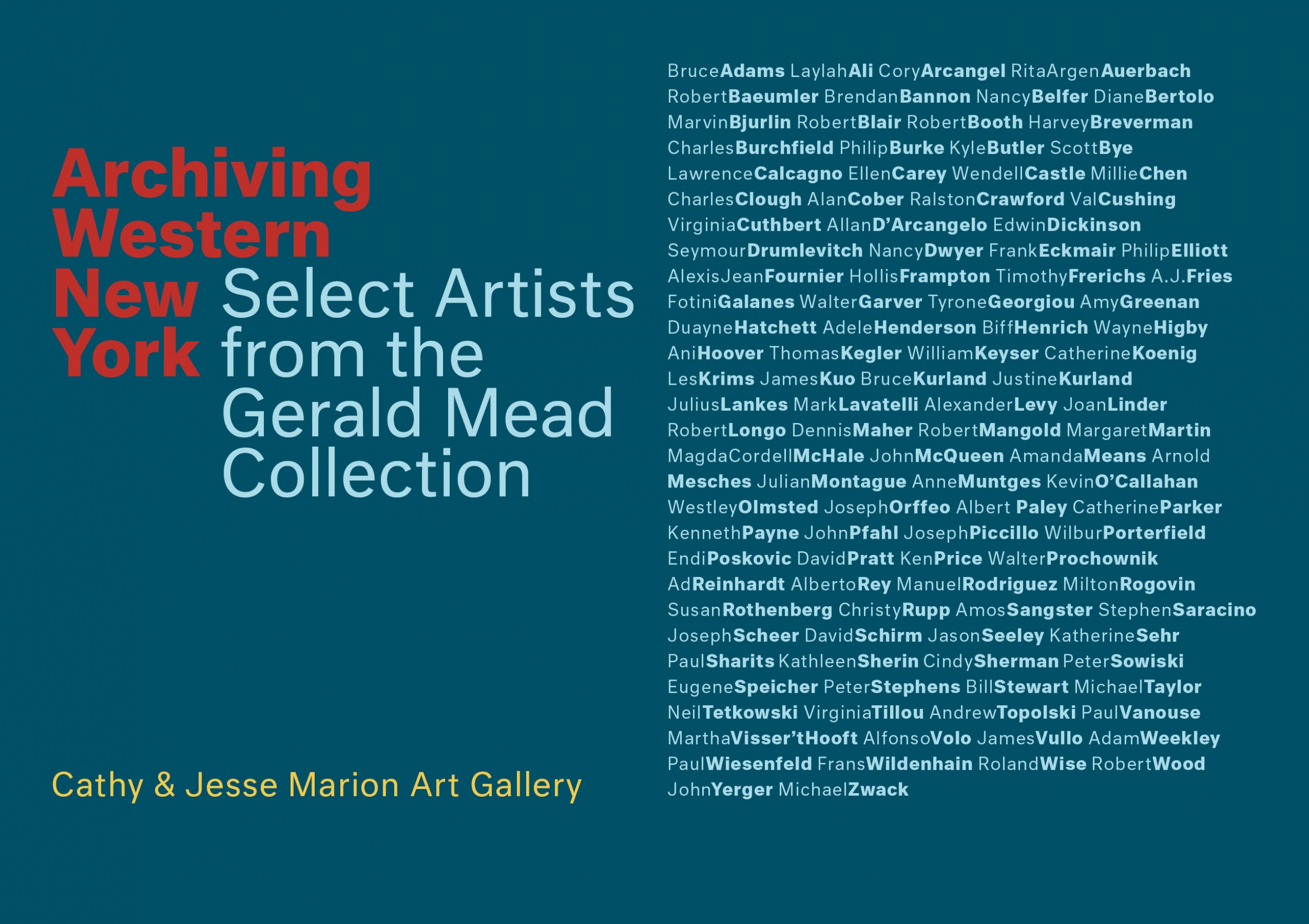 Archiving Western New York: Select Artists from the Gerald Mead Collection
January 26 – February 28, 2016
Exhibition Catalog with essay by Michael J. Beam / 42 pages / 114 color plates / design by Jason Dilworth
The exhibition included 112 works in an array of mediums by 112 artists including: Laylah Ali, Charles Burchfield, Allan D'Arcangelo, Nancy Dwyer, Robert Longo, Ken Price, Robert Mangold, Magda Cordell McHale, Ad Reinhardt, Susan Rothenberg, Cindy Sherman, and Martha Visser't Hooft. Over the past thirty-three years Mead has enthusiastically amassed a collection of over 1000 works of art by over 900 artists who are associated with Western New York through birth or residency.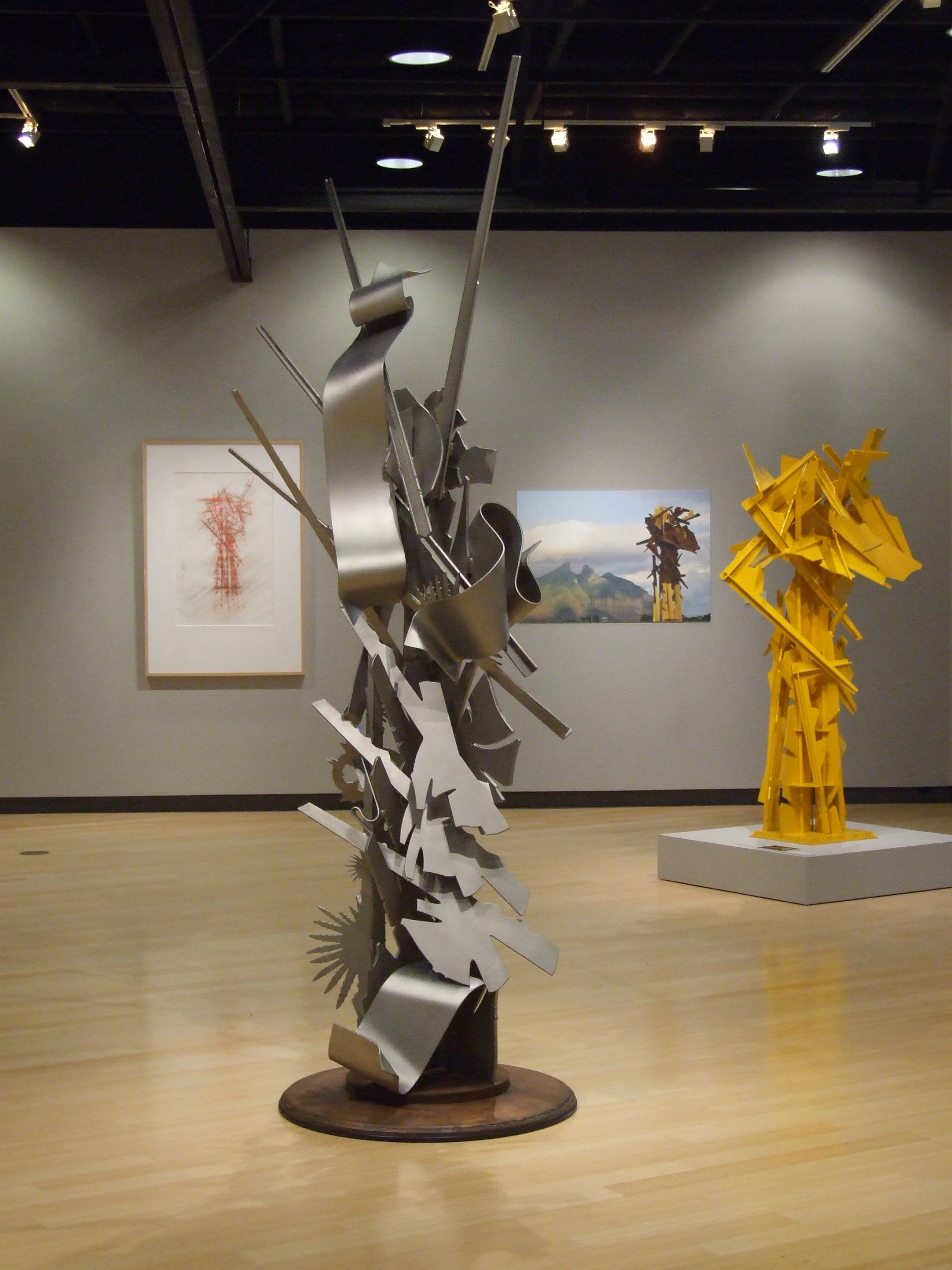 Albert Paley: Humanizing the Material
September 1 – October 18, 2015
The exhibition included cardboard and steel maquettes for projects that span ten years: Tribute to Volunteerism, 2004, Lake Mirror Park, Lakeland, Florida; Evanesce, 2009, Monterrey, Mexico; Makalii, 2012, University of Hawaii at Hilo; Regeneration, 2013, Cedar Rapids Public Library, Iowa; and Progression, one of thirteen monumental sculptures Paley created over a period of only two years for Manhattan's 2013 Sculpture on Park Avenue program. Paley began his career as a goldsmith. In 1974 he was propelled to the national spotlight after creating a forged gate for the Smithsonian's Renwick Gallery. He has since become internationally recognized after more than fifty site-specific works, two PBS documentaries, twenty major publications, and inclusion in permanent collections of major museums across the United States and Europe.