Cathy and Jesse Marion Art Gallery
The Cathy and Jesse Marion Art Gallery in the Michael C. Rockefeller Arts Center is an educational and cultural institution dedicated to exhibiting and interpreting modern and contemporary art. Gallery programs embrace Fredonia's mission to enrich audiences through scholarship, artistic expression, and community engagement.
The Marion Art Gallery features group and solo exhibitions of contemporary art by regionally to internationally renowned artists. Catalogs accompany major exhibitions. Programming includes gallery talks, lectures, workshops, and seminars by artists and scholars. The Marion Art Gallery also educates and inspires students through invaluable experiential opportunities, a biennial art student showcase, and three annual senior thesis exhibitions.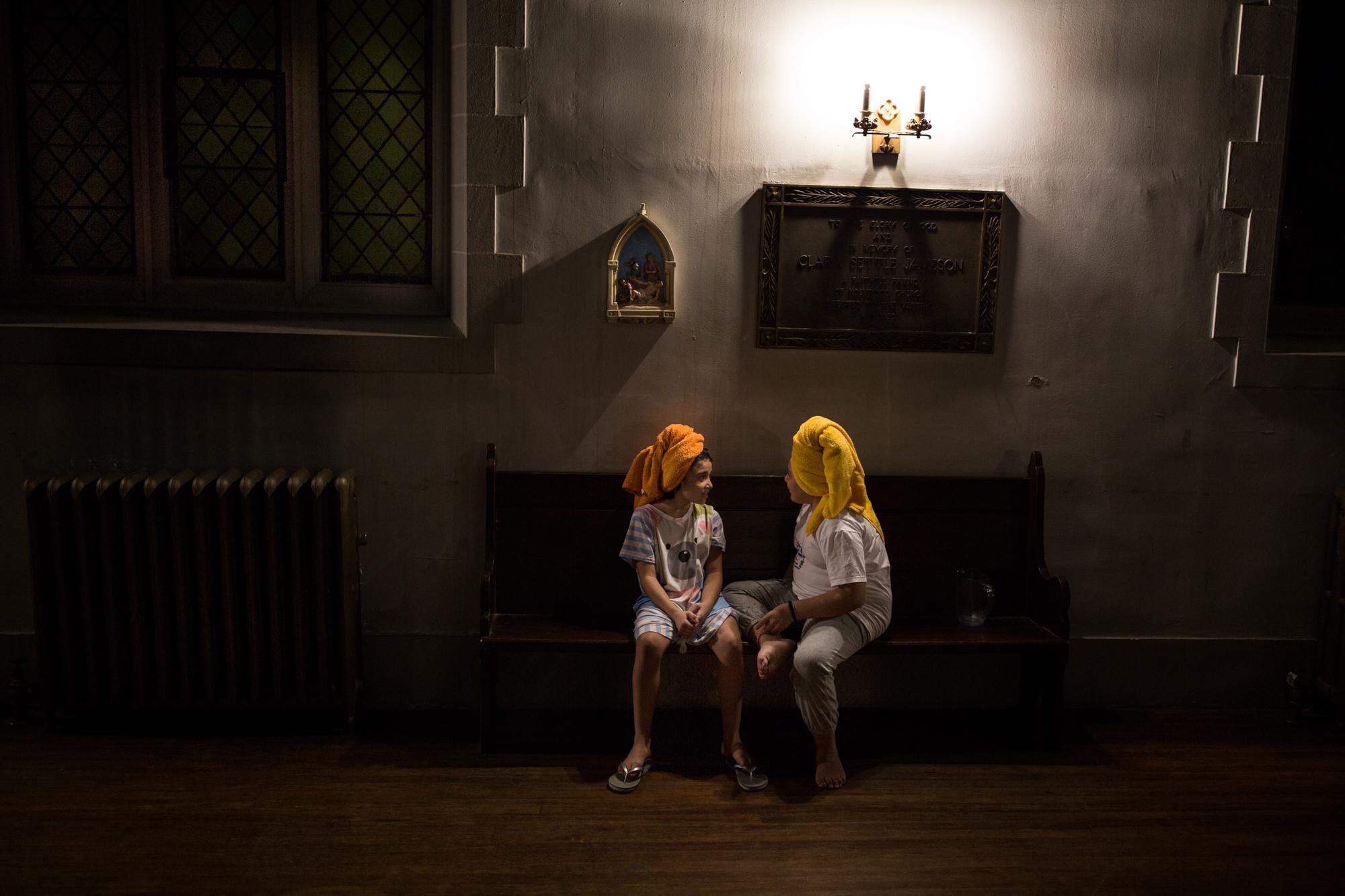 Cinthya Santos-Briones, After an afternoon shower Dulce Carvajal and her sister, New York, NY, 2017, from the Living in Sanctuary series

RECONSTRUCTING NARRATIVES STUDENT PHOTO COMPETITION
Theme
The theme Reconstructing Narratives comes from the En Foco traveling exhibition Dos Mundos: (Re)constructing Narratives on display in the Marion Art Gallery January 19 through February 28, 2021. We encourage students thinking about entering the competition to visit the exhibition for inspiration. Gallery hours are: Tuesday-Thursday 12 to 4 pm; Friday & Saturday 12 to 6 pm; Sunday 12 to 4 pm; closed Mondays.
View more photographs from Dos Mundos
We invite you to contribute to this critical conversation through photographs—portraits, social landscapes, still lifes, or altered historic photographs—that address inequities in your life or others' daily lives. This could relate to the pandemic, racial injustice, disparities in health, economic inequality, etc.
Eligibility
Open to all current students at the State University of New York at Fredonia
Rules
* There is no entry fee.
* Maximum of three entries per person.
* All entries must be digital with a minimum resolution of 1375 x 2125 pixels or 300 ppi.
* A short statement (no more than four sentences), explaining how the images relate to the theme, as outlined above, must accompany the images.
Exhibition
The Marion Art Gallery staff will choose at least one photograph from each entrant and print and mount it for an exhibition in the Marion Art Gallery lobby. The exhibition will be on display March 23 through May 9, 2021.
Entrants may pick up their photograph after May 9 at Rockefeller Arts Center, room P55 (office next to the gallery) M-F 9:30 am to 4:30 pm.
Cash Awards
The following awards will be chosen by Marion Art Gallery staff: first place $500, second place $300, third place $100, honorable mention $50 (2), for a total of 5 cash awards.
Where to Send Image Files, Statement, and Contact Information
Please send image file(s), short statement, and contact information (name, address, and telephone number) to Barbara.racker@fredonia.edu. If the attachments are over 3 MB, please use a dropbox such as WeTransfer.
Deadline
11:59 pm on February 28, 2021
Questions
Contact Marion Art Gallery Director Barbara Räcker at Barbara.racker@fredonia,edu or 716-673-4897.
Disclaimer
The Marion Art Gallery reserves the right to cancel the competition after February 28 should we not receive a minimum of 25 entrants.
2020/2021 MARION ART GALLERY ADVISORY COMMITTEE
SUNY Fredonia
Phil Hastings, Associate Professor, VANM
Jaivanni Henegan, student, VANM
Dave Kinkela, Interim Associate Dean and Associate Professor, History
Joe McFall, Associate Professor, Psychology
Michael Sheehan, Assistant Professor, English
Megan Urban, Associate Professor, VANM
Community Members
Michael Barris, Assistant Professor of Optometry (retired) and art connoisseur
Sara Michalak, artist
Mackenzie Sheldon, art teacher Fredonia Middle School and alumna
Marion Art Gallery Staff
Barbara Racker, Director
Hyla Stellhorn, Exhibition Coordinator
GALLERY HOURS
Tuesday through Thursday: noon to 4 pm
Friday and Saturday: noon to 6 pm
Sunday: noon to 4 pm
Closed Mondays and major holidays