Upcoming Events - Writers @ Work
Spring 2021:  Young Alumni Changemakers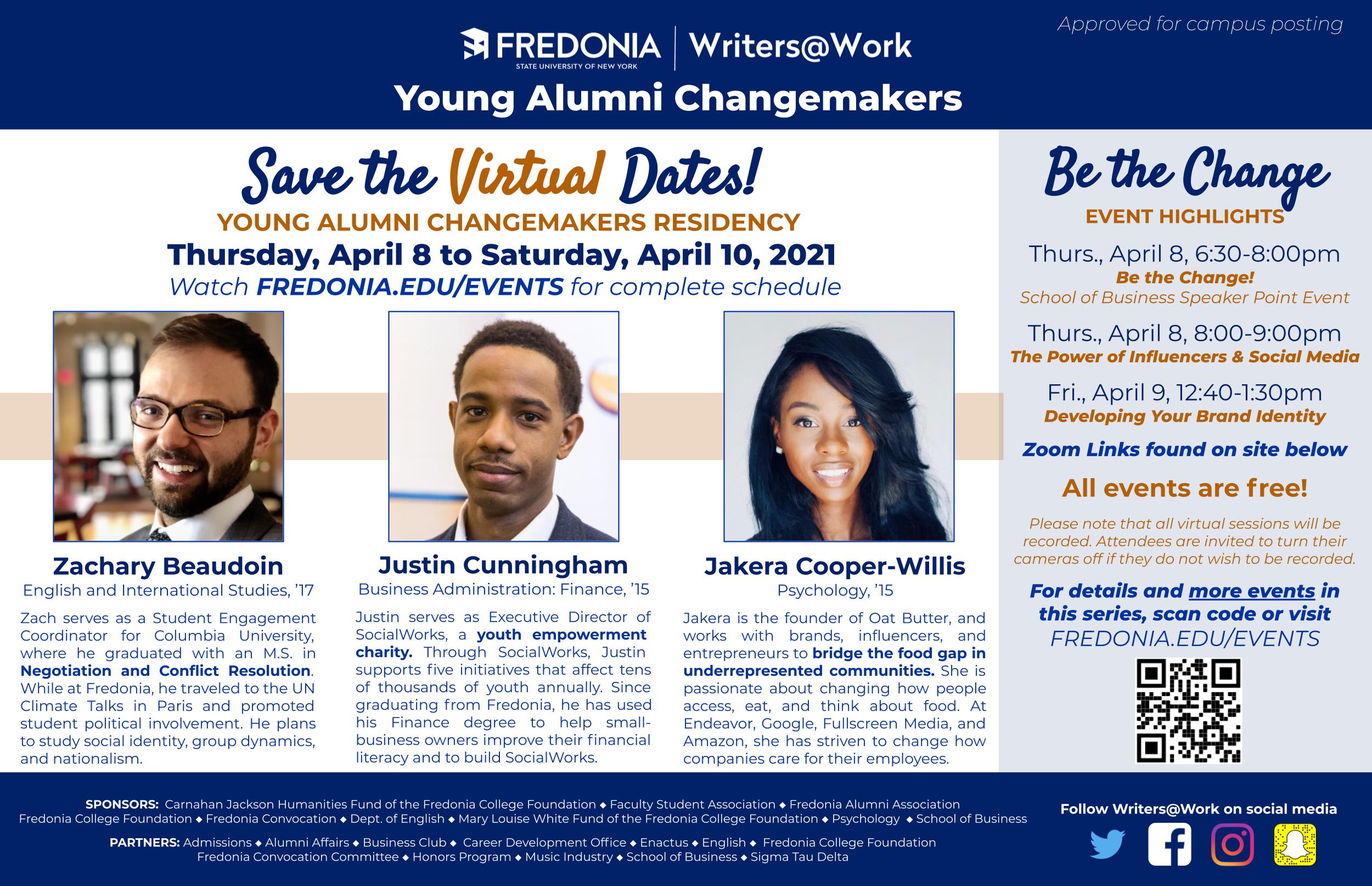 ALUMNI ZACHARY BEAUDOIN, JUSTIN CUNNINGHAM, AND JAKERA WILLIS RETURN TO FREDONIA
FOR FREDONIA VIRTUAL CONVOCATION EVENT

SPONSORED BY WRITERS @ WORK
A Fredonia Convocation Virtual Event
The State University of New York at Fredonia will welcome back alumni Zachary Beaudoin (English and International Studies, '17), Justin Cunningham (Business Administration—Finance, '15) and Jakera Willis (Psychology, '15) for a three-day virtual residency collaboratively organized by Writers @ Work, Fredonia Convocation, the School of Business, the Department of English, the Intercultural Center, the Department of Psychology on Thursday, April 8 through Saturday, April 10. All events are virtual and free.
The residency focuses on the young alumni's success in creating change—as young entrepreneurs, as social visionaries and as emerging civil servants. Special emphasis will be placed on the role of writing—for multiple audiences, platforms and purposes—in proposing and implementing change.
At the "Be the Change" open virtual forum on Thursday, April 8 at 6:30-8:00 p.m., the three alumni will share their current projects, how they got started on their careers  and how SUNY Fredonia helped them get there. 
In a planning conversation for this event, the alumni shared their perspectives on  how Fredonia helped them to turn a big idea into a practical reality. 
Mr. Beaudoin said, "When I joined Fredonia, I was searching for something beyond my small farm town. What I found was a world of opportunity and a community of supporters who still mentor and encourage me in my endeavors."
Mr. Cunningham said, "It's all about stepping stones, and one of those for me was Chautauqua Hall and Fredonia's campus. I look forward to sharing my experience and helping students make the most of theirs."
Ms. Willis discussed how excited she was to share what she experienced at Fredonia and the challenges and opportunities of being an entrepreneur with a social mission.
Immediately following this event, on Thursday, April 8 at 8:00-9:00 p.m., Mr. Cunningham and Ms. Willis will present a panel discussion called "The Power of Influencers and Social Media." This public event will focus on how to leverage the power of social media and influencers to advance the goals of a business.
"Not every influencer can be influential," said Mr. Cunningham. "Learn how I use social media and influence to power social good."
On Friday, April 9, from 12:40-1:30 p.m., Sigma Tau Delta and the Business Club will co-host a public event called "Developing your Brand Identity." This event features break-out room discussions in which the three alumni focus on how to build personal and organizational brands, create social awareness and increase civic engagement. 
Alumni will also visit classes remotely and will participate in virtual panel discussions alongside current Fredonia students at the Go Big Blue Day on Saturday, April 10. 
Note that all virtual sessions will be recorded. Attendees are invited to turn their cameras off if they do not wish to be recorded.
Mr. Beaudoin serves as a Student Engagement Coordinator for Columbia University, where he graduated with an M.S. in Negotiation and Conflict Resolution. While at Fredonia, he traveled to the UN Climate Talks in Paris and promoted student political involvement. He plans to pursue a PhD studying social identity, group dynamics, and nationalism.
Mr. Cunningham serves as Executive Director of SocialWorks, a youth empowerment charity. Through SocialWorks, Justin supports five initiatives that affect tens of thousands of youth annually. Since graduating from Fredonia, he has used his Finance degree to help small business owners improve their financial literacy and to build SocialWorks.
Ms. Willis is the founder of Oat Butter, and works with brands, influencers, and entrepreneurs to bridge the food gap in underrepresented communities. She is passionate about changing how people access, eat, and think about food. At Endeavor, Google, Fullscreen Media, and Amazon, she has striven to change how companies care for their employees.
Writers @ Work is an alumni writers-in-residence series featuring both well-established and emerging writers, editors, and publishers in a range of professional and creative genres. The series seeks to connect Fredonia's alumni, students, faculty, and community members while bringing attention to the diverse ways writing and the humanities make a difference in the world. 
Writers @ Work is sponsored by the Faculty Student Association, Fredonia Alumni Association, Fredonia College Foundation, Fredonia College Foundation's Carnahan Jackson Humanities Fund and Mary Louise White Fund. This residency is additionally funded by the following sponsors: Fredonia Convocation, the School of Business, and the Department of English. The series is made possible by a partnership with Admissions, Alumni Affairs, Business Club, Career Development Office, Enactus, English, the Fredonia College Foundation, the Fredonia Convocation Committee, Honors Program, Music Industry, the School of Business, and the departments of Business Administration, English, and Psychology.
Writers @ Work Upcoming Events