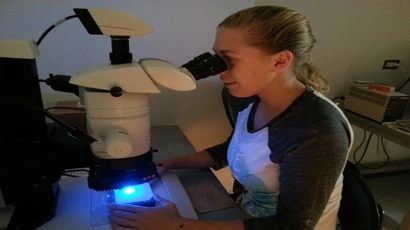 Molecular Genetics Program at Fredonia
The Molecular Genetics program prepares students for a variety of career goals involving Cell and Molecular Biology. The Molecular Genetics program differs from the Biology program in that students focus their studies on the foundations of modern experimental biology including biochemistry, genetics, and cell biology. These principles are critical for understanding how organisms develop, respond to signaling, and interact with their environments.
The Fredonia Difference
Fredonia's Molecular Genetics students receive a strong interdisciplinary foundation in biology, chemistry, physics, and mathematics, followed by specialized upper level courses in cell and molecular biology. The curriculum includes hands-on laboratory training on the most modern instrumentation and techniques available.
Career Opportunities for Molecular Genetics
Geneticist
Technical positions in:
Biotechnology
Healthcare industry
Forensic laboratories
Health Professions
Students interested in health professions Medicine, Dentistry, Veterinary, Optometry, or Pharmacy often select the Molecular Genetics program.
$82,150
good career choice
There is a high median annual salary for molecular geneticists, biochemists, and biophysicists.
97%
placement rate
Fredonia's molecular genetics graduates are finding success working in science or medicine.
Why Molecular Genetics at Fredonia?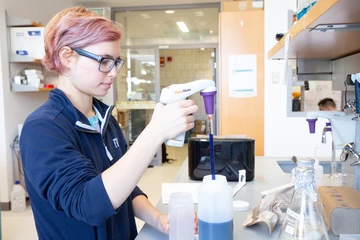 Technology
Molecular biologists must understand how to use complex lab equipment, such as cloning kits and DNA synthesizers. Fredonia gives you that opportunity.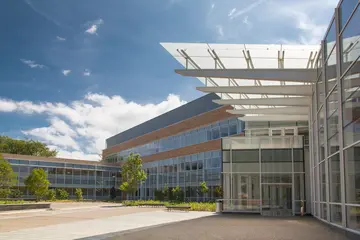 Setting you up to succeed
The 'Studying for Success' course helps students develop time management, organizational and study skills. Required lectures and labs are kept small to ensure students can work closely with their instructors.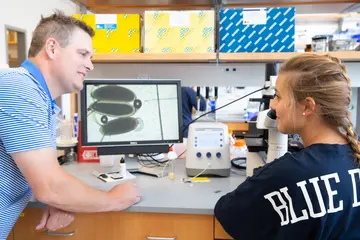 High quality education
Faculty come from world-renowned universities; they teach the same courses at Fredonia taught at those institutions.
Sample Courses
BIOL 380 Cell and Molecular Biology
A cell biologist must not only be able to examine structures within a cell, but must understand the underlying molecular processes that govern the formation and regulation of those structures, as well as the interaction of those structures with each other and the environment both inside and outside the cell.
BIOL 435 Developmental Biology
A study of animal development integrating descriptive, experimental, cellular, and molecular studies of gametogenesis, fertilization, cleavage, gastrulation, induction, and maturation. Labs examine development from an historical perspective.
BIOL 437 Molecular Genetics Laboratory
You will learn techniques that biologists use to study and manipulate the physiology, biochemistry, and genetics of a cell at a molecular level. This course is designed to help students build their molecular "toolkit" and teach them how to bring the concepts learned in lecture courses to bear on a research project.
Program Additional Links
What does a 4-year degree look like?
What are all the required and elective courses offered to obtain this degree?
Molecular Genetics in the news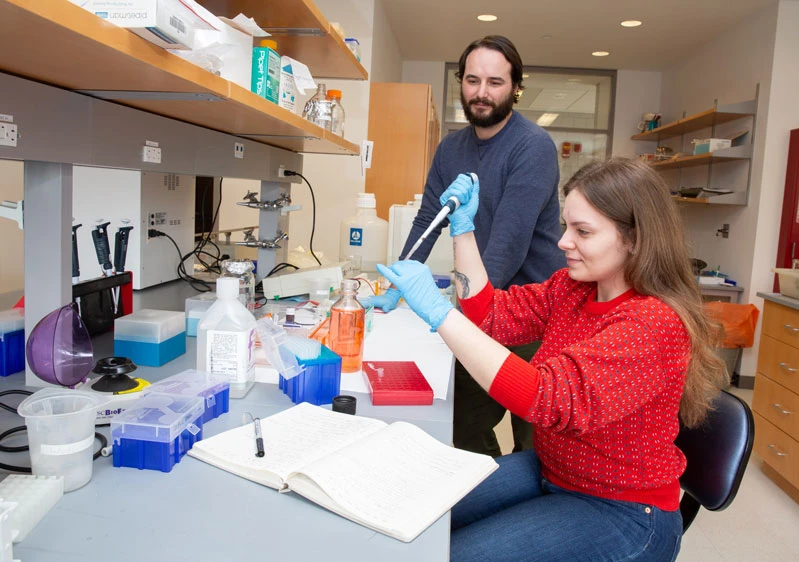 Gabrielle Cruz, a junior from Fredonia majoring in Molecular Genetics, is one of just over 400 students nationwide chosen to receive a $7,500 Goldwater Scholarship for the 2023-2024 academic year.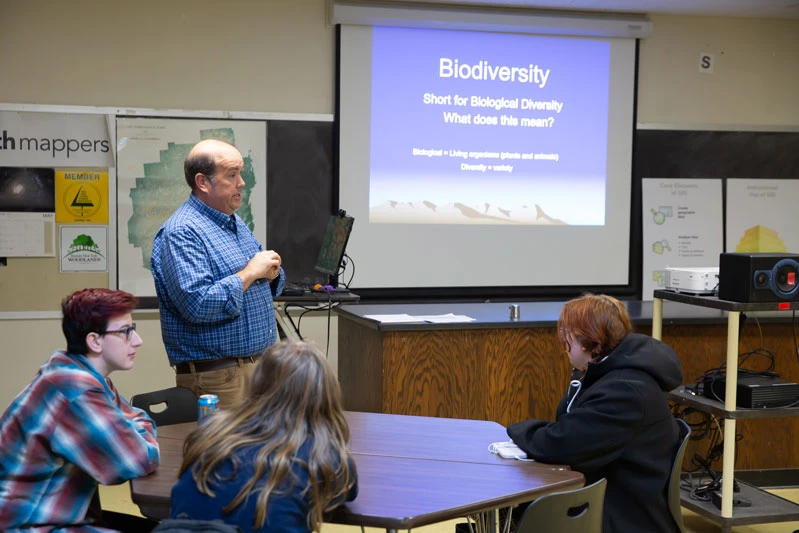 There are more Honors courses in science, technology, engineering and mathematics than ever before at SUNY Fredonia – a far cry from the Spring 2016 semester, when Honors courses in STEM disciplines were mostly limited to College Core Curriculum General Education.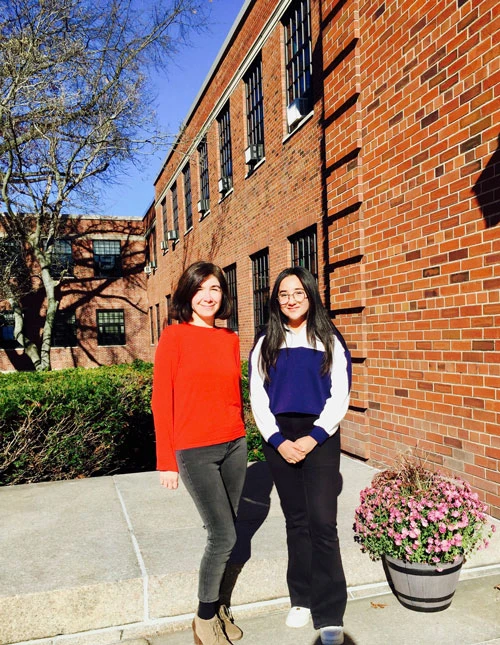 Zainab Ahmed, a junior from Lahore, Pakistan, majoring in Molecular Genetics, was nominated by Department of English Associate Professor Iclal Vanwesenbeeck for the October Honors Student of the Month award.