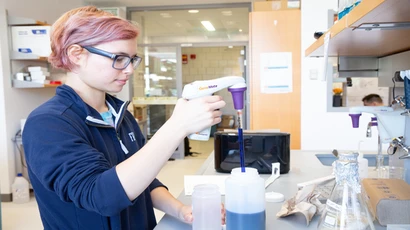 Biology Multi-Award Master's Program at Fredonia
Fredonia has developed a multi-award program in Biology intended for students with specific career goals that require advanced degrees. It is also designed for those who haven't chosen a profession and want to do advanced research or perform an additional internship before applying to graduate or medical school or other health professions program. In the first three years, the course sequence mirrors the four-year bachelor's track. Undergraduate and graduate courses are scheduled in the fall and spring semesters of the fourth year; graduate courses comprise the fifth year. 
The Fredonia Difference
Reducing the number of years to earn both degrees is a clear economic advantage. Students pay the less expensive undergraduate tuition rate for graduate-level courses. Like the existing M.S. program, the B.S./M.S. program provides two academic tracks: thesis and comprehensive exam. The B.S./M.S. program makes it possible to incorporate research at the undergraduate level into a master's thesis to prepare students for careers in biology that require training beyond the bachelor's degree, such as industry, research or Ph.D. programs. The comprehensive exam option is geared for students entering medical school, dental, pharmacy or other health professions schools to enhance their credentials.
Career Opportunities for Biology Multi-Award
Medical professional
Ph.D. programs at research universities in biomedical or biological sciences
Professional careers in the public and private sectors
Technical work in education, industry, government
Instructors at two-year college levels
A more affordable degree
Earn your master's in five years instead of the traditional six years.
$60
million
Fredonia's state-of-the-art Science Center contains over $4 million in new equipment and instruments.
Enter as a student, leave as a scientist
Program prepares for Ph.D. programs and professional careers
Sample Courses
BIOL 243 Organismal Biology
The goal of the course is to develop an expanded knowledge of organismal biology. Coverage will include evolution, population genetics, and taxonomy.
BIOL 590 Graduate Seminar
Presentation of detailed study of topic of current interest in the biological literature.
BIOL 511 Graduate Research Methods
We will address the nature of scientific reasoning, principles of research design, elements of scientific data, statistical analyses, and effective presentation of results.
Program Additional Links
What does your accelerated 5-year multi-degree look like?