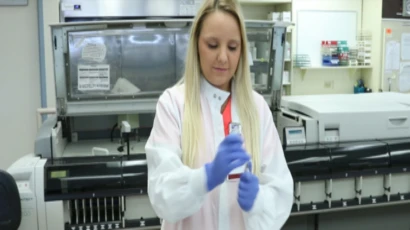 Medical Laboratory Science Program at Fredonia
Want your work and career to change the world? Fredonia's Medical Technology program prepares you for laboratory and biomedical work that could treat or even cure disease. You will gain practical experience in your final year as you complete a clinical rotation in a National Accrediting Agency for Clinical Laboratory Sciences (NAACLS) accredited hospital program. Fredonia is affiliated with three regional clinical programs at UPMC Chautauqua, Rochester General Hospital, and Saint Vincent Hospital. Fredonia's medical technology program is also accredited by the American Medical Association Council on Health Education (AMACHE). Unlike many medical technology programs, students graduating from Fredonia are eligible for NYS Department of Education licensure.
The Fredonia Difference
You will study three years at Fredonia and spend one year in an accredited clinical hospital program in Rochester, Jamestown, or Erie, Pa. Entrance to the clinical program is highly competitive and based on a minimum 3.0 GPA and letters of recommendation. The clinical year consists of study in a hospital laboratory where students are supervised and instructed by medical technologists and physicians. After successful completion of the internship, students receive clinical certification from the hospital, 30 university credits, and a bachelor's degree.
Career Opportunities for Medical Laboratory Science
Clinical laboratory scientist
Medical technologist
Hospital laboratory scientist
Biomedical research scientist
Forensic laboratory technician
Pharmaceutical industry scientist
Pharmaceutical sales representative
Medical instrumentation sales representative
Computer corporation sales representative
100%
passing rate
Fredonia Medical Technology students pass the Board of Registry Examination on first attempt (national rate is only 83%).
Full-year clinical internship
Students intern at one hospital for their entire senior year and become very well established in one setting, better preparing students for their careers.
$56,000
average starting salary
Graduates are being hired with only a bachelor's degree required. Many receive sign-on bonuses up to $10,000!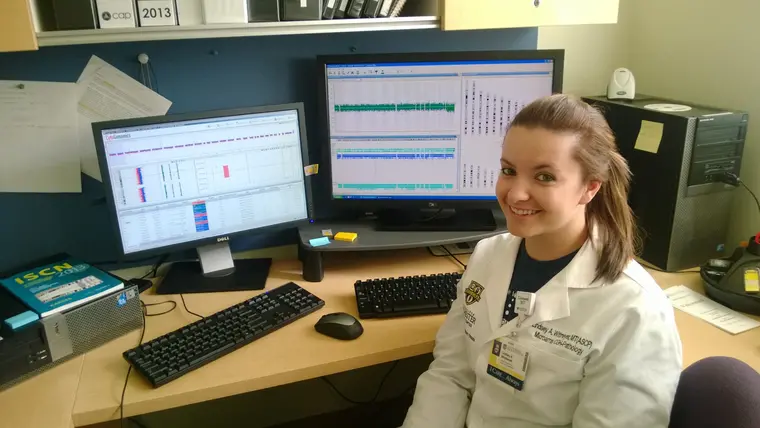 "One of the best parts of my education is the way the Fredonia Biology faculty went out of their way to make sure I had the optimal educational experience needed to become a successful scientist."
Lindsey is a Medical Technologist in the Microarray CGH Laboratory at the University of Rochester Medical Center
Lindsey A. Wittmeyer
B.S. Medical Technology
Class of 2012
Why Medical Technology at Fredonia?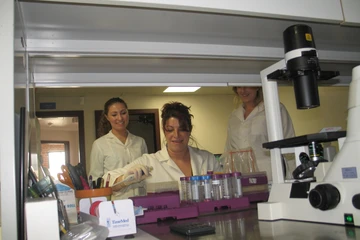 Immediate employment
Fredonia students receive multiple job offers 3 months before graduation, and have made a decision before Commencement.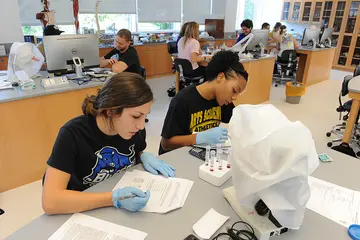 Unique courses
Along with expected courses in Microbiology, Anatomy & Physiology, Fredonia offers unique courses that most other college Med Tech programs don't, like Immunology, Hematology, Parasitology, and Introduction to Clinical Sciences.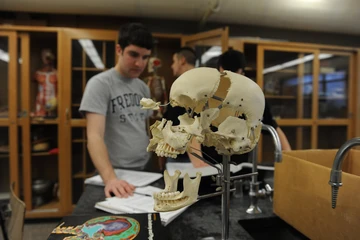 High quality education
Faculty come from world-renowned universities; they teach the same courses at Fredonia taught at those institutions.
Sample Courses
BIOL 245 Human Anatomy and Physiology I
From discussions of concepts of physiological control and levels of organization, this course concentrates on the components of the musculoskeletal system, the integument and an extensive description and analysis of neural and endocrine systems of control.
BIOL 338 Microbiology
The course includes a basic study of microbial taxonomy, morphology, biochemistry, and reproduction. Great emphasis is placed on medical microbiology, infectious diseases, microbial genetic regulation, and the application of microorganisms in recombinant gene technology.
BIOL 453 Basic Hematology
Introduction to the study of blood, its cellular components, and various blood diseases. Laboratory exercises include a variety of manual techniques involved with blood cell counts and determinations.
Program Additional Links
What does a 4-year degree look like?
What are all the required and elective courses offered to obtain this degree?
Medical Technology in the news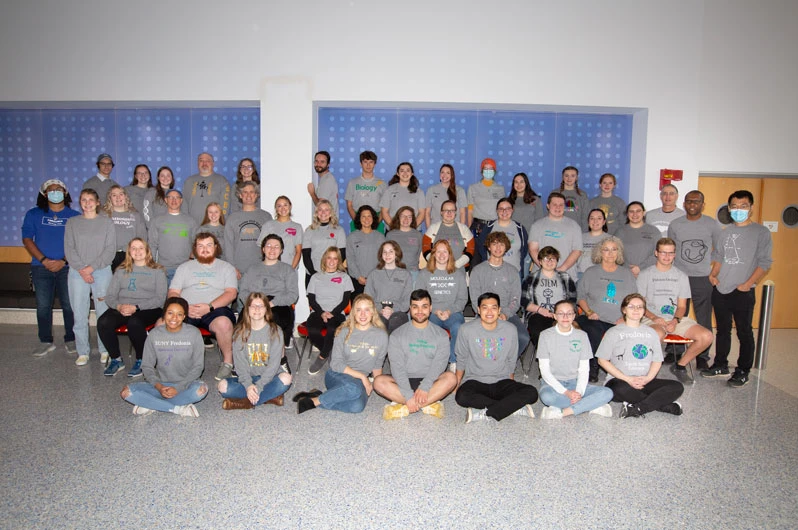 There was a sea of gray, so to speak, throughout the Fredonia Science Complex on STEM T-Shirt Day on Nov. 1, with students and faculty wearing STEM T-shirts adorned with their own designs and messages based on their areas of study.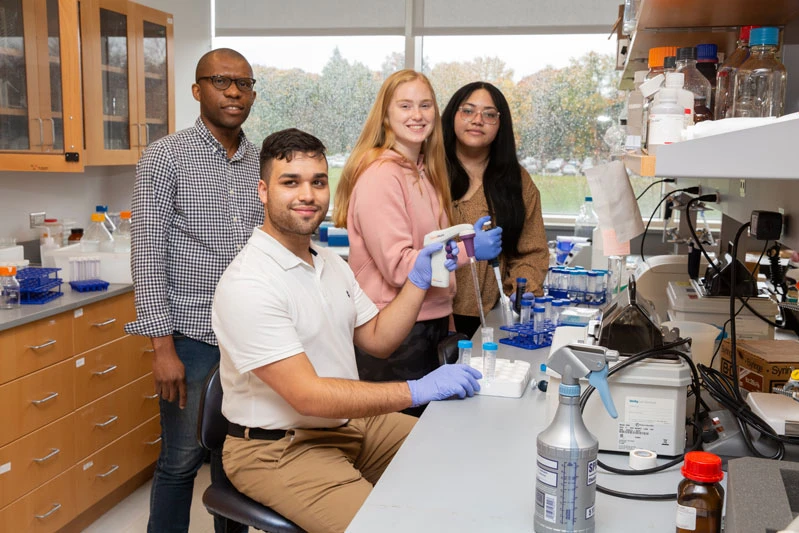 The role of immune cells in driving inflammation and mortality in severe cases of COVID-19 was the focus of a research study, compiled by Department of Biology Assistant Professor Emeka Okeke and three science students at the SUNY Fredonia, that has been published in the prestigious journal Frontiers in Immunology.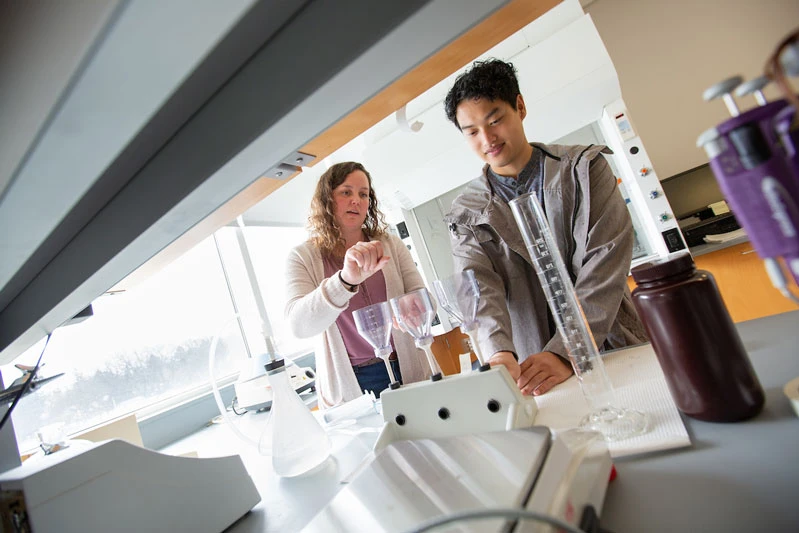 What is STEM T-shirt Tuesday? It's a day – Tuesday, Nov. 1 – for science students and faculty, along with staff and administrators, to wear a STEM-themed shirt for a day.