STEM T-shirt Day draws big turnout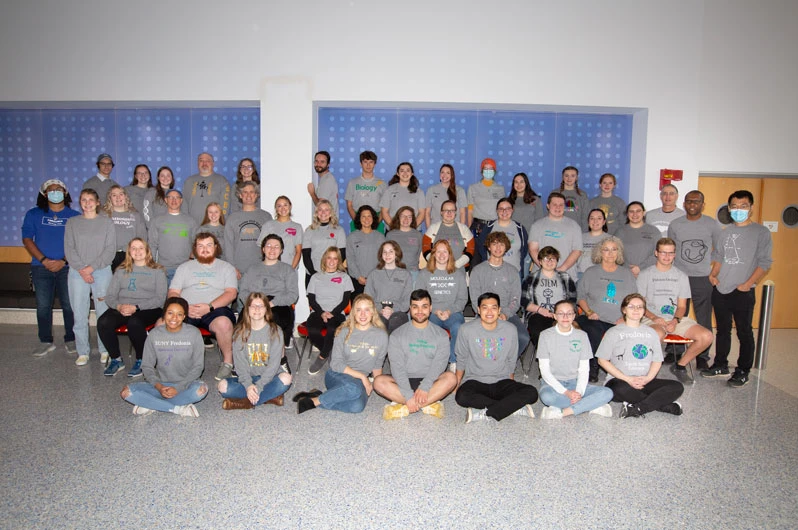 There was a sea of gray, so to speak, throughout the Fredonia Science Complex on STEM T-Shirt Day on Nov. 1, with students and faculty wearing STEM T-shirts adorned with their own designs and messages based on their areas of study.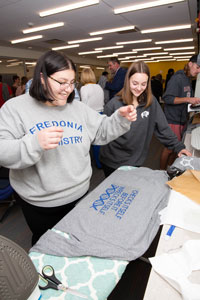 "I think it went very well; we had a lot of people come and make their shirts and a lot of people come for the group picture," said student Emilia Driscoll, who organized the STEM shirt promotion with Paige Eversole. "We were very busy the entire shirt-making time, seven full hours or closer to eight hours," she added. "People seemed to enjoy it."
The Houghton Hall Reading Room was transformed for more than a full afternoon into a shirt-design operation, outfitted with computers and Cricut Maker vinyl cutting machines, along with clothes irons and portable ironing boards used to adhere the designs to the shirts.
"A lot of people were excited to see what their shirt was going to look like," Ms. Eversole added. "It was exciting to see their designs come to life." Eversole and Ms. Driscoll are both Molecular Genetics majors.
Upwards of 200 t-shirts were made available the week before for students, faculty, administrators and staff to create their own designs. Among those joining students in that assembly line-like operation were President Stephen H. Kolison Jr., Provost David Starrett and Dean of the College of Liberal Arts and Sciences Andy Karafa, along with several dozen faculty and staff in the STEM disciplines.
"The Med Tech cohort did very similar shirts that came out super cute. And some people took a funnier route, which was good to see because science doesn't have to be serious all the time," Driscoll, who also has a Chemistry minor, said. The shirt design by Medical Technology students included test tubes arranged to form Medical Technology, along with words "Bacteriophage" and "We're going viral."