Fredonia Harp Day
Fredonia Harp Day: Sunday, May 7, 2023
(In-Person! following SUNY Covid guidelines)
Registration Deadline: April 7, 2023
Registration Fee: $25
includes lunch & Harp Day t-shirt
Notes:
$12 extra lunches are available (for non-participating companions)
vegetarian options will be available
Join us for Fredonia Harp Day, specifically designed for harpists of all ages and all levels. This no-stress day includes harp ensemble rehearsals & performance, special guest recital by an American Harp Society National Competition winner, lunch (included), t-shirt, and a chance to meet and mingle with other harpists! Play as many or as few of the pieces as you like ... Harp Ensemble repertoire will be sent when registration is received (the earlier you register, the more time you will have to practice!).
NEW Masterclass Opportunity!
Are you a HIGH SCHOOL student interested in being considered to perform for the masterclass? Indicate your interest on the registration form (no additional cost). Space is limited; applicants will be notified if they will perform by April 10.

About Fredonia Harp Day
All ages and all levels welcome
No-stress and informal
Harp ensemble rehearsals and performance
Play as many or as few of the pieces as you like
Original Harp-Art Gallery with prizes!
Special guest recital and masterclass by AHS Concert Artist, Elizabeth Yeoh-Wang
Make new harp friends!
Hosted by Fredonia harp professor, Sonja Inglefield, all events will take place at the Fredonia
School of Music. Mason Hall is a harp-friendly building with plenty of handicap access. Music
stands and chairs are provided. If you prefer to use a bench, please bring one along with your
harp, music, and a tuning key. Display your original harp-art in our gallery for a chance to win a
prize! 
Tentative Schedule
9:00am – check-in
9:30am – welcome and tuning
10:00 – ensemble rehearsal
11:30pm – lunch at Cranston Marché; change into Harp Day t-shirt
1:00pm – Recital: Elizabeth Yeoh-Wang
Made possible by an American Harp Society Winners Outreach Grant,
thanks to the Western New York Chapter of the AHS
2:00pm – ensemble rehearsal and group photo
3:30pm – re-tuning for the grand finale
4:00pm – grand finale ensemble performance and harp-art prizes – invite your friends and
family!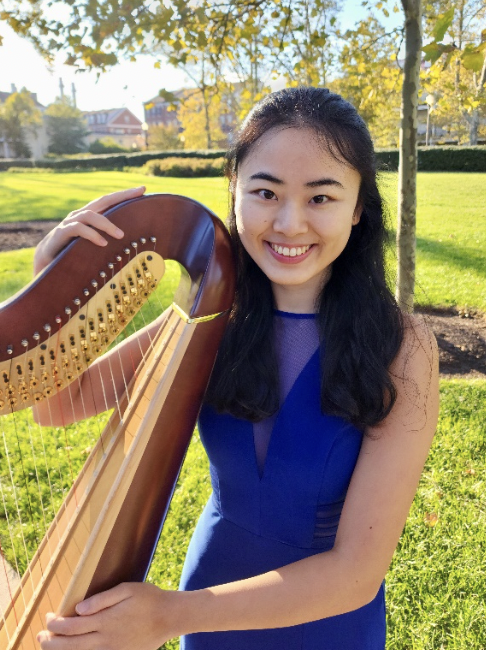 Elizabeth Yeoh-Wang
Elizabeth is a graduate of the five-year, dual-degree Harvard/New England Conservatory program, receiving a bachelor's degree in Computer Science from Harvard and a Master of Music degree in Harp Performance from NEC. She began playing the harp at age 9. She was a YoungArts Foundation Honorable Mention winner and received first prizes in the Intermediate II division of the American Harp Society competition and the Emerging Artist Division of the Young Artist's Harp Competition. In 2021, Elizabeth won first prize in the Young Professional division of the AHS competition and is honored to have the opportunity to travel and share music with AHS chapters as the 2021-2023 AHS Concert Artist.
Questions? Contact Sonja Inglefield
---