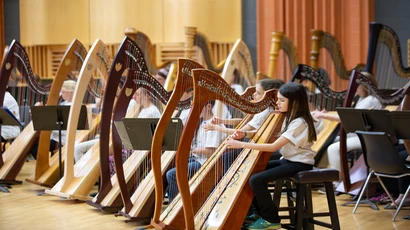 Fredonia Harp Day
Check back for registration link!
Sunday, April 28, 2024
Registration Deadline: April 1, 2024
Registration Fee: $30
includes lunch & Harp Day t-shirt
Notes:
$14 extra lunches are available (for non-participating companions)
vegetarian options will be available
Register early & have more time to practice!
Join us for Fredonia Harp Day, specifically designed for harpists of all ages and all levels. This
no-stress day includes harp ensemble rehearsals & a performance, a special guest recital to inspire you, lunch (included), a t-shirt, and the opportunity to meet and mingle with other
harpists! Play as many or as few of the pieces as you like … Harp ensemble repertoire will be
sent when registration is received – so the earlier you register, the more time you will have to
practice!

About Fredonia Harp Day
All ages and all levels welcome
No-stress and informal
Harp ensemble rehearsals and performance
Play as many or as few of the pieces as you like
Original Harp-Art Gallery with prizes
Special guest recital to inspire you!
Make new harp friends
Hosted by Fredonia harp professor, Sonja Inglefield, all events will take place at the Fredonia School of Music. Mason Hall is a harp-friendly building with plenty of handicap access. Music stands and chairs are provided. If you prefer to use a bench, please bring one along with your harp, music, and a tuning key. Display your original harp-art in our gallery for a chance to win a prize!
Tentative Schedule
9:00am – check-in
9:30am – welcome and tuning
10:00am – ensemble rehearsal
11:30pm – lunch at Cranston Marché (included with registration); change into Harp Day t-shirt
*1:00pm – Special Guest Recital
Made possible by the Western New York chapter of the American Harp Society, Inc.
2:00pm – ensemble rehearsal and group photo
3:30pm – retune the harps for the finale
*4:00pm – grand finale ensemble performance and harp-art prizes
(Events marked with a * are free for members of the general public to join the audience.)
Questions? Contact Sonja Inglefield
---