Sorel Visiting Artist
International Distinguished Professor of Composition, Dr. Chen Yi, will be in residence during the Fall 2022 and Spring 2023 semesters as the Inaugural Sorel Visiting Artist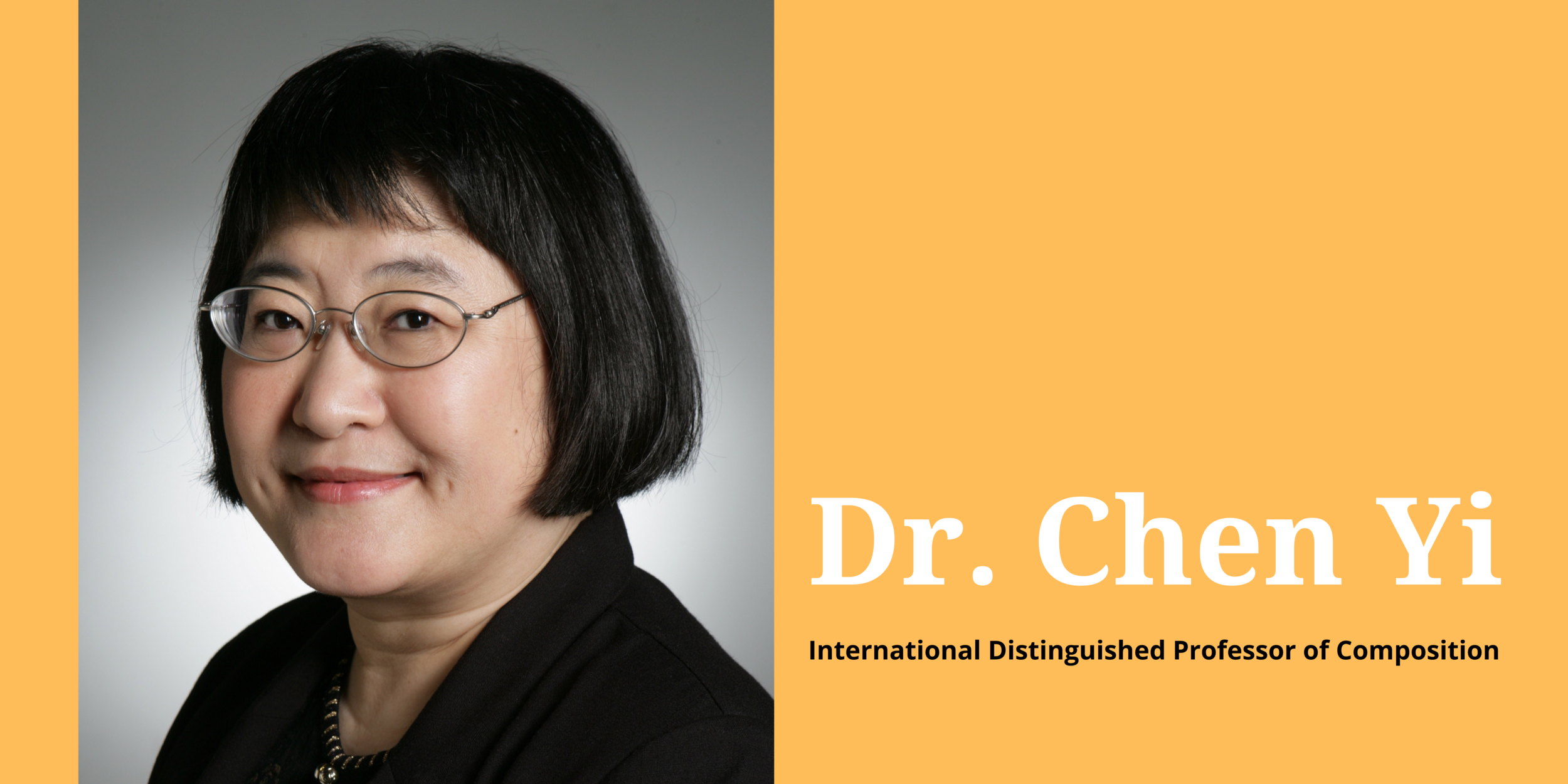 Inaugural Sorel Visiting Artist: Dr. Chen Yi
September 14-17, 2022

February 2-4, 2023
Internationally acclaimed composer Dr. CHEN YI visits SUNY Fredonia as the Inaugural Sorel Visiting Artist. A native of China, Dr. Chen's music features a vibrant interaction of the cultural references of both her youth in China and her career in the United States. She will be on campus in September 2022, and again in February 2023 to engage the campus and community through performances of her work, panel discussions, workshops, and more.
Born in Guangzhou, China, Dr. Chen transcends musical and cultural boundaries in her blending of Chinese and Western traditions. Dr. Chen's music has been commissioned and performed by many of the greatest artists and ensembles of our time including Yehudi Menuhin, Yo-Yo Ma, Evelyn Glennie, the Cleveland Orchestra, the BBC and Singapore Orchestras, the Seattle, Pacific and Kansas City Symphonies, and LA Philharmonic, the Staatskapelle Dresden and the St. Paul Chamber Orchestra. Recent commissions have included works performed by the Guangzhou Symphony, Hawaii Symphony, American Guild of Organists, China National Center for the Performing Arts, the Fifth Hong Kong Piano Competition, and the Chicago Center for Contemporary Music. Her music has been recorded on many labels including Naxos, Albany, Teldec, and the China Record company, among others.
Dr. Chen was elected to the American Academy of Arts and Letters in 2019, has served on the faculty of the Peabody Conservatory and is currently a Distinguished Professor at the University of Missouri Kansas City Conservatory of Music. She has received fellowships from the Guggenheim Foundation and the National Endowment for the Arts, the Lieberson Award from the American Academy of Arts and Letters, the Charles Ives Living Award, First Prize in the Chinese National Composition Contest, The Chamber Music Society of Lincoln Center's Stoeger Prize, the Lili Boulanger Award from the National Women Resource Center, the Herb Alpert Award, the Eddie Medora King Award, and the ASCAP Music Award.
A strong advocate for new music, American composers, Asian composers, and women in music, Chen Yi has served on the advisory or educational board of the Fromm Foundation, Chamber Music America, Meet the Composer, the American Music Center, the Guggenheim Memorial Foundation, and the Women's Philharmonic Advocacy, among others.
Dr. Chen has made significant contributions to the field of music education in the United States and China and was appointed as Cheung King Scholar Visiting Professor at the Central conservatory in Beijing by China's Ministry of Education in 2006, followed by a Distinguished Visiting Professorship at the Tianjin Conservatory. She established the first Beijing International Composition Workshop.
Thursday, September 15, 2022
CHAMBER MUSIC RECITAL
featuring works by Dr. Chen, performed by Fredonia School of Music faculty members at Lenna Recital Hall on the grounds of the Chautauqua Institution. This event is ticketed.
Program:
Tibetan Tunes: Professors Natasha Farny, cello, Eliran Avni, piano, Isabel Ong, violin

Romance of Hsaio and Ch'in: Professors Farny and Avni

Ancient Chinese Dances: Professor Andrew Seigel, clarinet and

Professor Anne Kissel, piano

Memory: Professor David Rose, viola

Yangko: Professors Isabel Ong, violin, Tiffany Nicely, percussion, Kay Stonefelt, percussion

Elegy and Mountain Song: Professor Sarah Hamilton, oboe

Monologue: the True Story of Ah Q: Professor Wildy Zuwalt, saxophone

Mediation: Two Songs "Know You how Many Petals Falling" and "Bright Moonlight": Professor Sarah Luebke, soprano and Professor I-Fei Chen, piano

The recital will also feature traditional and ancient Chinese selections performed by SUNY Fredonia alumna Wenzhuo Zhang on the traditional Chinese instrument, the yangqin, as well as the traditional Chinese "Lion Dance."
Student attendance is free and adult admission is through the Chautauqua Box Office.
CELEBRATORY DINNER at The Athenaeum
A celebratory dinner will follow the recital, also ticketed through the Chautauqua Institution, including a Q&A with Dr. Chen and Deborah Sunya Moore, Senior Vice President and Chief Program Officer at the Chautauqua Institution. Ticket info
Friday, September 16, 2022 at 6:00PM
Rosch Recital Hall
Free
PANEL DISCUSSION featuring Dr. Chen with panel participants Jessica Tong, Dr. Michael Markham, and Wenzhou Zhang discussing influences of Chinese music and culture within Dr. Chen's composition. Dr. Rob Deemer will moderate Q&A.
Saturday, September 17, 2022 at 8:00PM
Rosch Recital Hall
Free
CHAMBER MUSIC RECITAL
(program will be the same as the 9/15 recital at Chautauqua, see above)
Other activities of Dr. Chen's visit will include:
one on one work with student musicians who are preparing their own chamber music performances in February 1 – 4, 2023, when Dr. Chen returns for the second portion of her residency.

attending composition classes to work with young composers, visiting student music ensembles as they begin preparations for their February performances of her music, and meeting with international students on campus for informal conversations.
Thursday, February 2 at 8PM
PANEL DISCUSSION: Women in Music
Rosch Recital Hall
Friday, February 3 at 7:30PM
Celebrate the Chinese New Year with the Music of Chen Yi
King Concert Hall
Saturday, February 4 at 8PM
Chamber Music Concert of Chen Yi
Rosch Recital Hall
Events are free and open to the public
These events are possible thanks to a generous gift from The Sorel Charitable Organization, Inc. and in collaboration with Chautauqua Institution.