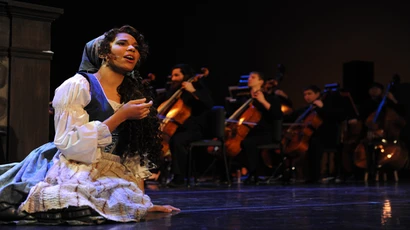 Audition Dates & Deadlines
2023-2024 Audition Request is LIVE!
Choose the power of Fredonia, and turn your passion into your profession.
Fredonia boasts a rich and diverse musical environment, with opportunities to perform, create, innovate, teach, and lead. Our faculty and alumni are award-winning ... our degree programs prepare you for real-world success ... our campus is modern, beautiful, and welcoming.
Auditioning for the Fredonia School of Music
The purpose of the audition is to gather evidence of both current ability and the potential to complete the preferred degree program. Thus, we look for pitch accuracy, correct and steady rhythm, physical coordination, the ability to make expressive musical statements, and disciplined work habits.
Applicants may choose to audition In Person (on campus), or submit a video audition
The school does not specify audition repertoire; rather, we encourage you to consult with your teacher to choose good literature that you can perform well.
Instrumental auditions must be unaccompanied. Voice auditions should include piano accompaniment--live or recorded (available at websites like Appcompanist.com)
Candidates for the Bachelor of Music degree in Performance are expected to demonstrate a higher level of proficiency than applicants for other programs.
Those auditioning via recorded video will select a date for a "follow-up session" (via Zoom), which will include sight-reading on your instrument, and an Aural Skills Test of sight-singing, rhythm matching, and pitch matching. We recommend that you practice these basic musicianship skills with a music teacher before your audition.
We also strongly encourage those auditioning via video to schedule a campus visit, if at all possible.
If you would like to attempt to place into a higher level of theory and/or aural skills, see the instructions and deadlines here.
Collaborative Piano applicants MUST choose the Feb 24 or March 23 date
2023-2024 Music Audition Schedule
November 4, 2023 (for spring 2024 enrollment)
January 27, 2024
February 3, 2024
February 10, 2024
February 24, 2024
March 23, 2024
For Campus-Wide Open House dates and registration:
www.fredonia.edu/visit
---
The School of Music receives many more applications than we are able to admit, so we strongly recommend auditioning before the final date.
---
Questions? Contact the School of Music office at music@fredonia.edu or 716-673-3151.