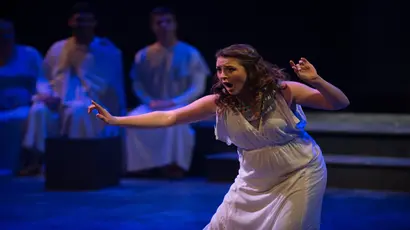 Opera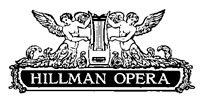 About the Program:

Fredonia provides students a variety of different experiences in the operatic tradition, including the Hillman Opera, which produces fully staged works accompanied by members of the College Symphony Orchestra, concert versions of opera with the Western New York Chamber Orchestra, scenes programs in the Historic Fredonia Opera House, and more. Recent productions include Lehar's The Merry Widow, Purcell's Dido and Aeneas, Menotti's The Medium, and John Adams' Little Women.
For over 60 years, the Hillman Opera has provided one of the only full opera opportunities for undergraduate singers in the country. In supporting opera at Fredonia and the region, the Hillman Memorial Music Association has played a long-standing and significant role in student professional development, the offering of high-caliber performance events to the campus and community, and supporting the future of the opera medium, as well as offering scholarships to worth School of Music students.
The Western New York Chamber Orchestra, a professional ensemble in residence at the School of Music, regularly programs a concert of all opera, either concert versions of full operas or significant scenes from masterworks of the operatic repertoire. These concert feature our students singing alongside young professionals, which is an excellent opportunity for the Fredonia student to learn and grow.
In addition, a student association group, Student Opera Theatre Association (SOTA), produces annual spring performances of opera scenes held at the historic 1891 Fredonia Opera House, as well as regularly hosting guest artists in master class and concert, making the opera program at Fredonia one of significant breadth and involvement.
Musical Theatre
Musical Theatre is a degree program in the department of Theatre and Dance. Productions are mounted by Theatre and Dance in collaboration with the School of Music. For more information about Musical Theatre, visit the department of Theatre and Dance.