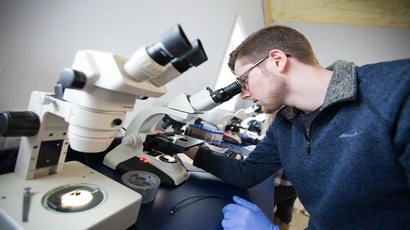 Biology Department
Welcome! The Fredonia Biology Department offers the most up-to-date facilities, cutting edge instrumentation and technology of any undergraduate biology department in New York State. Our award winning faculty blend outstanding instruction with research and professional learning opportunities for every student enrolled in our programs. All of this translates into an outstanding experience for our students.
Our curriculum is designed to engage students in the classroom and into the laboratory and field to learn science by doing it. Students do research with faculty in our state of the art facilities, and participate in internships, clubs, study abroad and a variety of extracurricular experiences. They perform internships at health care facilities to prepare for careers as health professionals.
We want students to find the career path that is right for them, to learn to think critically, to communicate effectively, and to a part of our collaborative learning community. Learn more and come join them!