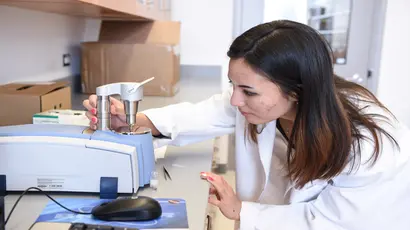 Health Professions Advising Program (HPAP)
Mission Statement
The Health Professions Advising Committee at Fredonia works to advise and support students preparing for a career in medicine, dentistry, optometry, and veterinary medicine. The committee assists students through course and career advisement, by disseminating information on internship and research opportunities, and by providing guidance on the preparation of a successful professional school application.
Overview
The Health Professions Advising Program at Fredonia assists students interested in attending Medical, Dental, Veterinary, Optometry and other health professional schools. The faculty and staff on the Advising Committee work with students interested in health professional careers. Please note: Medical Technology is a separate major and students interested in this major should contact the Biology Dept.
Please use the links in the top panel to find specific information. It is recommended that students start with the page on student activities.
All Fredonia students interested in attending medical, veterinary, dental or optometry schools should register with the Health Professions Advising Program. Please see Ms. Caldie Proper, the Biology Department secretary, in Room 221 of the Science Center.
Students can also contact Dr. Ted Lee, head of the Health Professions Advising Committee with any questions about the program. The Health Professions office is room 221C in the Science Center and Dr. Lee's academic office is in Room 212.
The Health Professions Advising Committee works with students to prepare and assist them with the application process. The committee conducts interviews with students in the spring semester.
Articulation Agreements
Click for pdf file with summaries of requirements for different universities.
Articulation agreements are in place for Lake Erie College of Osteopathic Medicine, SUNY Optometry, the New England College of Optometry, and the University of Buffalo School of Pharmacy and Pharmaceutical Sciences.
Health Profession Advising Committee members:
Thoedore Lee, Ph.D., Chair Distinguished Teaching Professor of Biology
Joy Bilharz, Ph.D. Emeritus Professor of Anthropology
Michael Clarkson-Hendrix Associate Professor of Social Work
KimMarie Cole, Ph.D. Associate Professor of English
Catherine E. Creeley, Ph.D. Assistant Professor of Psychology
Mark Janik, Ph.D. Associate Professor of Chemistry
Jonathan Kniss, Ph.D. Assistant Professor of Biology
Patricia Noel, Ph.D. Senior Lecturer of Biology