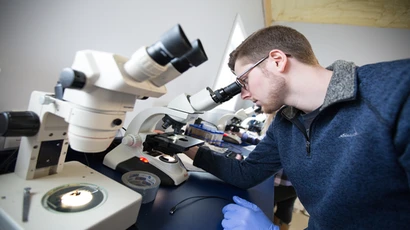 Biology M.S. Master's Program at Fredonia
Biology graduate students at Fredonia have the opportunity to hone their research and writing skills in order to further their professional goals.  In our Thesis option, you have the opportunity to focus on the area that INTERESTS YOU for your coursework and research. Thesis students write and defend their research proposal and final thesis with the goal of professionally publishing their research. In our Comprehensive Exam option, you will PREPARE FOR YOUR CAREER and can gain internship experience or final certification to teach in New York State. Comprehensive Exam students complete biology course work and may take elective courses from other departments.
The Fredonia Difference
Fredonia's new Science Center is a state-of-the art building designed with alumni input. The Science Center has markedly changed the way science is taught at Fredonia, with a cross-disciplinary, collaborative approach driving everything we do, from faculty instruction and laboratory research to field experiences and corporate/institutional partnerships.
Career Opportunities for Biology M.S.
Ph.D. programs at research universities in biomedical or biological sciences
Professional programs (e.g., medical school, dental school, etc.)
Professional careers in the public and private sectors
Technical work in education, industry, government
Instructors and laboratory coordinators at two-year and four-year college levels
Teaching at the middle school and high school levels in NYS (with final certification)
Sample Courses
Thesis and comprehensive exam options
The Master of Science degree has both a Thesis option program and a Comprehensive Exam option. Appropriate courses are chosen after consultation with the student's advisor and graduate committee. For Thesis students, the Department of Biology recommends in-depth study in the student's thesis area. For Comprehensive Exam students, the Department of Biology recommends broad training in biology including cell and molecular, ecology and evolution, organismal and population biology coursework.
Program Additional Links
What does a Graduate Degree in Biology look like?
What are all the required and elective courses offered to obtain this degree?