Graduate
Earning an advanced degree shows dedication and determination to challenge yourself.
An advanced degree is increasingly important in this changing world. Fredonia is prepared to help you earn an advanced degree on your schedule to help make your career aspirations a reality! Fredonia creates opportunities for graduate students to connect their academic work and professional aspirations by networking with faculty, professionals, alumni and peers. The faculty and professional staff help our graduate students strive to meet their highest goals by challenging them to research, write, publish, perform, innovate and teach, becoming lifelong contributors to their communities.
To schedule a personal tour to find out about Fredonia's graduate opportunities, just email graduate.studies@fredonia.edu.
Our admissions offices are located on the 6th floor of Maytum Hall, near the Central Street entrance to campus.
GPS address: 280 Central Avenue Fredonia, NY 14063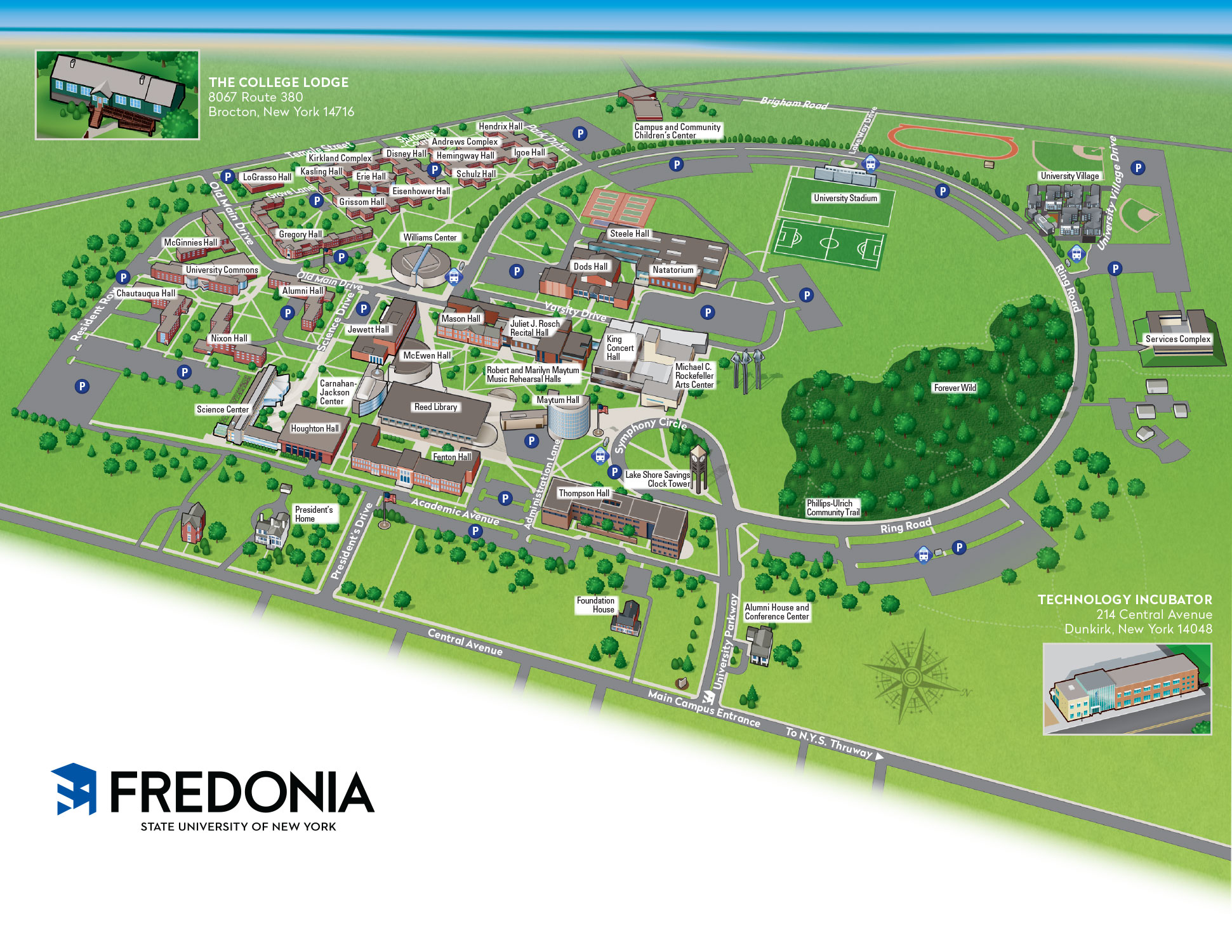 Graduate program deadlines
Speech-Language Pathology has an application deadline of February 1 for the following fall semester.
Cumulative GPA: 3.0 (May be offered conditional admission for lower GPA)
$75 application fee
Resume
Statement of Intent

Minimum: 1 page (no maximum)
Topic: Educational & professional strengths & goals
Address to: Admissions committee

Transcripts

Unofficial transcripts accepted for review
Upload to application
Institution name should appear on document

Two recommendation letters

Online (preferred):see application for details
Offline: both letter and form are required

Degree Requirements by Program
Some programs require additional processes for entry. Find the program you are interested in to read over the additional steps.
Biology
Must obtain approval from a thesis advisor (thesis track)
Education (all)
GRE Scores: May be admitted conditionally if taken within first semester
New York State teaching certification: Must submit within first semester
DASA training: Must submit within first semester
Music Performance, Theory/Composition, Music Ed. Recital Track
Speech-Language Pathology
Detailed information about the application process
TESOL and Language and Learning
Detailed information about the application process
International Requirements
The Financial Aid Office is committed to assisting graduate students in financing their graduate education at Fredonia. Our entire staff is welcoming, knowledgeable, and ready to help graduate students navigate the financial aid delivery system.
Steps to apply for financial aid
Go to fsaid.ed.gov to apply
Get a FSA ID and Password. A FSA ID and Password lets you apply, "sign" your online FAFSA, make corrections to your application information and more.
Collect the documents, including income tax returns, W-2 forms, and other records of income to apply. A complete list of what you need can be found here
Complete the 2019-20 Free Application for Federal Student Aid (FAFSA) as early as possible, preferably in October, in order to meet school and state aid deadlines. Apply online here. Fredonia's school code is 002844.

Detailed Financial Aid Information
Financial Opportunities
Scholarships, assistantships, fellowships