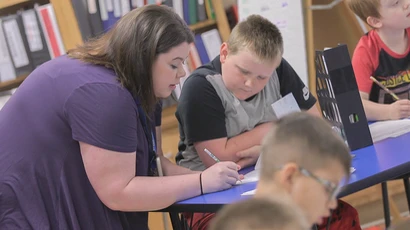 Curriculum and Instruction in Inclusive Education Master's Program at Fredonia
Fredonia's master's degree program in Curriculum and Instruction in Inclusive Education trains teachers in the philosophy of the Responsive Education Program, which is an organized yet complex model that correlates with themes characterizing current educational reform movements. If you believe that all children can learn, and that they can learn best by teachers who are responsive, our program will help you put that philosophy into action in your own classroom. The Curriculum and Instruction in Inclusive Education program is open to educators who possess initial certification in one or more of the following:
Early Childhood Education
Childhood Education (formerly Elementary Education)
Adolescence or Middle Childhood Education in English, French, Mathematics, Social Studies, Spanish, or the Sciences
Students with Disabilities
This program requires a minimum of 36 credit hours of graduate level courses.
The Fredonia Difference
The Master's in Curriculum and Instruction program is one of the largest graduate programs at Fredonia with over 100 students enrolled. Our field-based classes within the department allow students to experience what it really means to be an educator in today's world, while having the chance to work with local 'experts' on a professional level.
Career Opportunities for Curriculum and Instruction in Inclusive Education
New York State public school teacher:
Early childhood
Childhood education
Middle school extensions
Special education
Sample Courses
EDU 508 Teaching Exceptional Learners in Inclusive Settings
Addresses evidence-based instructional approaches, curriculum adaptation, placement options, and effective use of support services for exceptional learners, with an emphasis on instructional approaches to support them in inclusive settings and in the general education curriculum.
EDU 528 Technology in the Schools
The course is designed to introduce education personnel to the techniques and equipment involved in the use and development of computer-assisted instruction (CAI). A preliminary introduction to the microcomputer will be a part of the course.
EDU 562 Infant Development and Education
Focuses on nutritional and psychological influences on prenatal, infant, and toddler growth and development, inclusive of current research in infant development; childbirth; breastfeeding; infant simulation; intellectual development; attachment behavior; and infants in group care.
Program Additional Links
What are all the courses required to obtain a degree in Curriculum and Instruction in Inclusive Education?
What does a example degree look like?