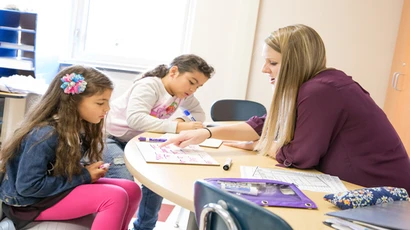 Teaching English to Speakers of Other Languages (TESOL - Online) Master's Program at Fredonia
Demand for English language teachers is growing as more children who speak languages other than English enroll in schools. Fredonia's online degree program offers you the opportunity to engage in the latest research-based teaching theories and methods, grounded in cultural and linguistic contexts, so you can become a successful, strong teacher informed in best practices for working with this special group of students.
If you are committed to life-enhancing multilingual and multicultural student learning, prepared to teach and learn with students from diverse linguistic and cultural backgrounds, and willing to meet rigorous professional standards, this program is right for you.
The Fredonia Difference
Students who complete the TESOL Advanced Certificate (AC) program are eligible for initial and/or professional New York State teacher certification in TESOL. The TESOL program requires a 20-day supervised field experience in a local school. Students are assigned to grades K-12 clinical field placements to enhance your professional value by ensuring that you'll be prepared to work in a variety of settings.
Career Opportunities for Teaching English to Speakers of Other Languages (TESOL - Online)
Public/private school teacher
Adult educator in a community setting
Springboard to Ph.D. or Ed.D. programs
Sample Courses
EDU 570 Using Educational Research to Improve Instruction
Assists educational practitioners to become knowledgeable consumers of research and evaluation reports by helping them critically analyze and evaluate research.
EDU 564 Linguistics for ESL Educators
Focuses on the nature of language and communication and the use of English in various linguistic and pragmatic contexts.
EDU 568 Foundations of Bilingual Education
The course provides the basic theories, issues, and concepts related to teaching bilingual students in P-12 classrooms.
Program Additional Links
More questions about Fredonia's graduate programs?