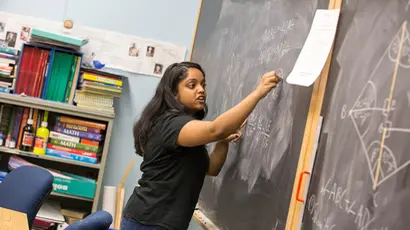 Math Education Master's Program at Fredonia
The M.S.Ed. Math Education graduate program is your pathway to an advanced degree in a high-need teaching field, securing your professional future in an area where you can make a difference.  Our 30 credit hour program nurtures the wonderment of mathematics' relationship to the world around us, giving you the tools you need to instill a lifelong love of learning in your students. Completion of this program meets the advanced degree requirement for individuals seeking Professional Certification in New York State to teach mathematics at the Middle Childhood level (grades 5 - 9) or at the Adolescence level (grades 7 - 12).
The Fredonia Difference
Fredonia graduate programs foster scholarly inquiry, professional research, ethical practice, artistic performance, and practical innovation, encouraging students and faculty to discover lifelong connections between their intellectual and creative aspirations and civic and global opportunities for engagement.
Our program provides graduates:
Expedited degree timeline and maximum flexibility. The program can be finished in one academic year when you attend full time. If you're a working professional, you can still finish your graduate degree part-time with convenient course scheduling to fit your busy life.
Extensive field experience. Work with veteran teachers to develop your teaching skills and professional style. You'll bring valuable experience to your classroom.
Collaboration with faculty and future colleagues. The department's "Fish Bowl" is a convenient location within steps of faculty offices, providing opportunities for discussions about pedagogy and the mathematics field.
Professional and networking experiences. You'll attend conferences and participate in outreach activities on campus and in the community, adding a depth of knowledge and breadth of professional contacts to your educational experience.
New York State Professional Teaching Certification (Grades 5-9 or Grades 7-12)
Career Opportunities for Math Education
Public School Mathematics Teacher
Private School Mathematics Teacher
Springboard to Ph.D. programs in Math Education
Why Math Education at Fredonia?
Field experience
Immediate, hands-on opportunities working in the field with students.
Math camp
Fredonia math education graduate students design and implement a math camp for middle school students called Camp COMETS.
Assistantships
Accepted applicants can apply for competitive teaching assistantships in the department, providing experience teaching in a university setting.
Sample Courses
EDU 570 Using Educational Research to Improve Instruction
Assists educational practitioners to become knowledgeable consumers of research and evaluation reports by helping them critically analyze and evaluate research.
EDU 529 Proactive Approaches to Classroom Management in Inclusive Settings
Focus on research-based positive approaches to the prevention of and intervention on academic and social challenges of P-12 students with disabilities. Principles of classroom structure and organization, classroom management, positive proactive behavior management, and school-wide discipline plans are emphasized, with a basis in current research.
EDU 642 Activity-Oriented Elementary Mathematics
Prepares teachers to teach elementary mathematics through laboratory and learner-oriented activities. Class members prepare laboratory materials, kits, and activity-type lessons for their own classrooms.
Program Additional Links
What does a Graduate Degree in Math Education look like?
What does an example degree look like?