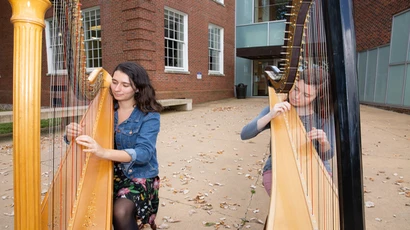 Music Performance Master's Program at Fredonia
Fredonia's Master of Music in Music Performance degrees assist current and future music performers in fine tuning their skills to the highest quality.  The Performance degree has several different tracks, including instrumental, conducting, piano, collaborative piano, and voice that range between 30 and 34 credit hours.
At Fredonia, your courses will be divided between performance training, theory/history and elective courses. A National Association of Schools of Music-accredited university, Fredonia has been educating musicians for over a century. Fredonia's nurturing, inclusive environment supports individual passion and paths, allowing you to develop your vision and career path with the assistance of our successful music faculty.
The Fredonia Difference
The Master of Music in Music Performance program offers five different tracks, including:
Instrumental
Conducting
Piano
Collaborative Piano
Voice
Each track requires at minimum successful completion of 30 semester hours of coursework or 34 semester hours for voice, which are divided between performance training, theory/history and elective courses. A comprehensive oral examination and recital culminate the program.
Career Opportunities for Music Performance
Springboard to advanced graduate programs in performance. Fredonia alumni have gone on to DMA programs at reputable universities
Many Fredonia Music Performance alumni are in teaching positions at the secondary and college level, or are active in freelance performance careers.
Alumni have gone on to pursue careers in the music field, utilizing the skills attained in performance.
62
Graduate Students
enrolled in School of Music
200
Concerts, lectures, and masterclasses
presented each year
20%
Assistantships
graduate students enrolled
Why Music Performance at Fredonia?
Student-centered campus
Fredonia is a student-centered campus offering innovative graduate degree programs, world-class faculty, and a conservatory edge … at a price that's within reach.
Guest artists at Fredonia
Yo-Yo Ma, Shanghai Quartet, Zuill Bailey, Arturo Sandoval, Dawn Upshaw, Roomful of Teeth, Michael Colgrass, Richard Goode, Keiko Abe, Peter Serkin, LAGQ, Mark O'Connor, Tafelmusik, Tallis Scholars.
Award-winning, acoustically superb
Juliet J. Rosch Recital Hall is home to hundreds of students, faculty, and guest artist recitals each year.
Sample Courses
MUS 624 Analytic Techniques
The application of analytical methods, including Schenkerian reductive analysis, to Western tonal music since the latter 17th century. Includes the study of musical forms in Western music and entails a significant prose writing component.
MUS 615 Graduate Diction for Singers
The purpose of the course is to review and expand the knowledge of the International Phonetic Alphabet, the recognized tool for pronunciation in the world of singing, and to address the rules that govern proper articulation and pronunciation of English, Italian, German, and French in both spoken and sung forms of these languages.
MUS 524 Techniques of Opera Coaching
Collaborative pianists will learn basic skills for working as a rehearsal pianist with a conductor and stage director, how to prepare an orchestral reduction of an opera score, and how to assist singers in the preparation of operatic roles. Collaborative pianists will prepare arias, recitatives, and ensemble pieces, and will be expected to sing vocal lines while playing the orchestral accompaniment as well as accompany guest singers in the class.