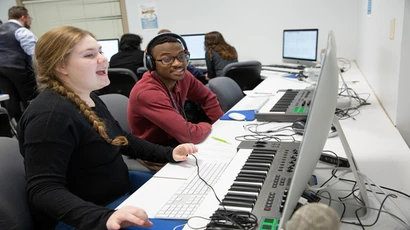 Music Composition Program at Fredonia
Fredonia's undergraduate composition program prepares you to pursue professional and academic careers in music composition and related fields. Being one of the strongest centers of new music in western New York for over 40 years, we encourage the exploration of your own musical voice while learning the art and craft of composing, songwriting, arranging, orchestrating, and creating. Our Music Composition courses offer instruction without a stylistic agenda; each student composer follows their own artistic direction while developing professionally competitive musical skills.
The Fredonia Difference
Fredonia's unique approach of collaborative integration across campus gives you the chance to work with artists from many different disciplines. You will collaborate with choreographers, filmmakers, theatre directors, and poets as well as singers, instrumentalists, recording engineers, and burgeoning educators.
As a music composition major, you will take private lessons in composition in addition to your instrumental/vocal studies, attend our weekly Composition Forum, and take courses in beginning composition, instrumentation, orchestration, choral arranging, composing for electronic media, scoring for film and video games, notation, styles & genres, repertoire & analysis, and entrepreneurship, culminating in a composition recital during your senior year. We have five annual student composer concerts that are open to both composition majors and non-majors to have works performed by student performers in our award-winning Rosch Recital Hall.
Career Opportunities for Music Composition
Composer
Songwriter
Private teacher
Artist manager
Arts administrator
100
Years of Excellence
Choosing Fredonia links you to an illustrious list of alumni who have made great careers in music education, performance, composition, and other related specializations.
350
concerts annually
Over 350 concerts and/or events in the School of Music each year, many of which are live-streamed.
35,000
Scores
Housed in Reed Library, along with 20,000 recordings and the opportunity to access materials around the world.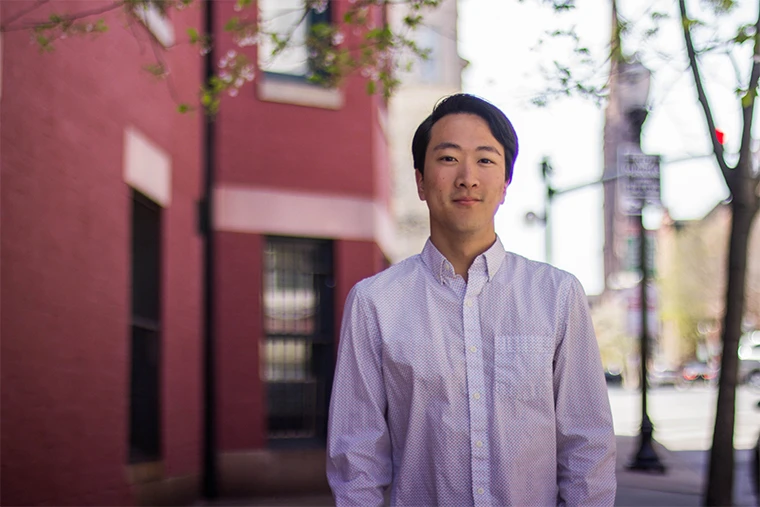 "The composition program at Fredonia provided me with a robust musical and professional foundation that continues to serve me to this day. The skills that I acquired both in and out of the classroom, such as learning how to communicate with and rehearse performers, collaborating across disciplines and departments, and managing an artistic business, have remained vital and applicable to everyday life as a working musician. The curriculum is well designed, covering all the essentials of compositional skills, as well as diverse, allowing students to delve into more niche subjects such as digital orchestration, and choral arranging. The opportunities I had at Fredonia prepared me well for the modern landscape of classical music."
After graduating in 2016 with a Bachelors of Music in Music Composition and Oboe Performance, Matthew continued his studies at...
Matthew Pellegrino
Music Composition
Class of 2016
Why Music Composition at Fredonia?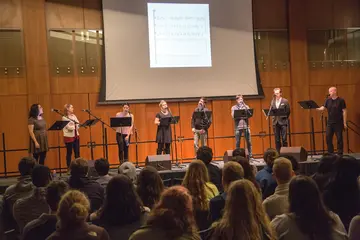 Ethos New Music Society
A student-run group that, for 40 years, has brought composers, performers, and ensembles to campus for concerts, lectures, masterclasses and reading sessions.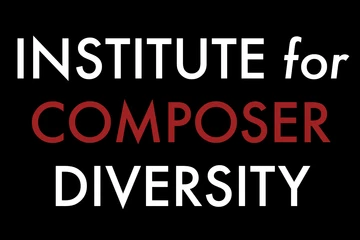 Institute for Composer Diversity
A nationally-recognized organization dedicated to the celebration of, education about, and advocacy for music created by composers from historically underrepresented groups through database resources and programming analysis.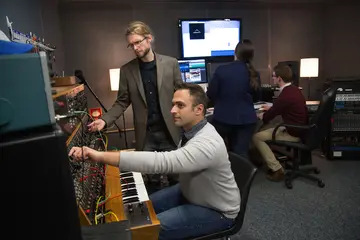 Fredonia Electroacoustic Music Studio
Our dedicated facility integrating a 1967 Moog Synthesizer with a state-of-the-art digital workstation allows our students to explore digital and analog technologies while studying scoring for film and video games.
Sample Courses
MUS 129 Beginning Composition
Introduction to composition, covering the various concepts inherent in composition, with an emphasis on creativity and performance. Students will be expected to begin to understand their own creative process and demonstrate their knowledge through composition projects.
MUS 441 Composition for Electronic Media: Digital
Electronic music composed and realized using a variety of computer-related techniques. Covers digital recording and synthesis using MIDI and other digital audio hardware/software. Emphasis on MIDI and audio sequencing. Related topics include electronic orchestration, computer assisted software and algorithms, and literature.
MUS 321 Composition Lab: Entrepreneurship I
The course will explore the entrepreneurial components of a career in music. The creation of a digital and written portfolio will complement the development of knowledge in areas of networking, marketing, public speaking, and time management.
Program Additional Links
What does a 4-year degree look like?
What are all the required and elective courses offered to obtain this degree?