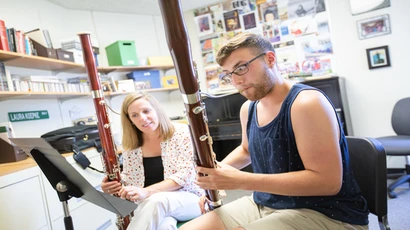 Music Performance Program at Fredonia
You've put in all the hours, woken up early or stayed up late for rehearsals, spent precious time and money on private lessons and equipment, and worked tirelessly for the opportunity to do what you love; perform. Fredonia's Music Performance program will foster your passions; playing or performing music, and doing so in public venues, allowing an audience to share your talents. Fredonia creates a place to take risks and see how far you can push yourself, with the support of faculty and peers who encourage you along the way to meet high standards of excellence. The Bachelor of Music in Performance is a concentrated course of study for those wishing to pursue a career as soloist, orchestral musician, opera singer, college-level applied music teacher, or other avenues as a professional musician.
The Fredonia Difference
As a music performance major at Fredonia, you will attend weekly recital seminars and participate in master classes with world-renowned guest artists, fostering a healthy competition among peers. Fredonia ensures considerable time on stage, including large ensembles, chamber music, and two solo recitals. Students in the program work one-on-one with our distinguished studio faculty on a principal instrument of study: piano, guitar, harp, voice, woodwinds, brass, strings, or percussion. Performance majors receive an average of four hours credit each semester for applied study, and are required to perform junior and senior recitals. Besides the music core courses required of all music majors, Performance majors must complete 6 hours of coursework in music theory and history, plus 14 hours of electives in music or other fields. Those who earn the B.M. Performance degree are fully qualified to enter quality graduate programs or pursue the musical career of their choice. Acceptance to the Music Performance program is by audition.
Career Opportunities for Music Performance
Soloist
Orchestral musician
Opera singer
College-level applied music teacher
100
Years of Excellence
Choosing Fredonia links you to an illustrious list of alumni who have made great careers in music education, performance, composition, and other related specializations.
35,000
Scores
35,000 scores housed in Reed Library, along with 20,000 recordings and the opportunity to access materials around the world.
100
Practice rooms
Most practice rooms have windows that look out on our beautiful campus.
Why Music Performance at Fredonia?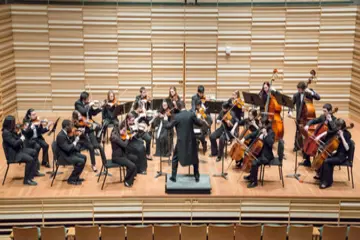 Ensemble concerts livestream
There are 350 concerts and/or events in the School of Music each year, many of which are streamed live online.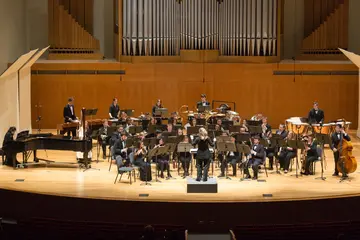 Facilities
Students have opportunities to perform in venues ranging from the majestic King Concert Hall to the intimate Rosch Recital Hall.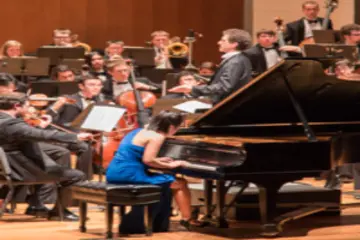 Concerto Competition
Provides an opportunity to perform as soloists with one of the school's major ensembles.
Sample Courses
MUS 231 Conducting I
Basic conducting technique with special emphasis on score reading and improved aural skills, rehearsal planning and efficient use of time, conducting leadership style, and ability to communicate effectively with an ensemble.
MUS 121 Aural Skills I
Course deals with various aspects of ear training including melodic, harmonic, and formal perception as well as sightsinging skills.
MUS 125 Applied Music Major
Weekly hour private applied instruction for music majors in Bachelor of Music in Performance and Bachelor of Music in Music Education degree programs.
Program Additional Links
What are all the required and elective courses offered to obtain this degree?