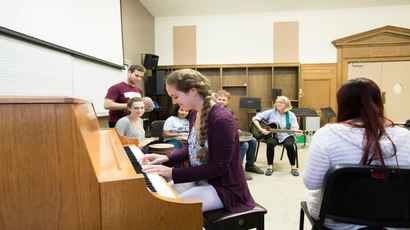 Music Therapy Program at Fredonia
Music therapy is one of the fastest growing fields in the music industry, and certified music therapists are recognized as important professional members of both healthcare and educational teams. Music therapy combines your passion for music and drive to help others improve, maintain, and restore health and well-being in their lives. The Bachelor of Science in Music Therapy program at Fredonia provides professional training for entry-level music therapist employment in all areas of music therapy: psychiatric institutions, developmental centers, special education programs, nursing homes, general health-care hospitals, correctional facilities, and private practice. Students complete an intense four-year program plus a clinical internship of at least six months. Upon completion of all degree requirements, students are eligible for professional membership in the American Music Therapy Association (AMTA), to sit for the Certification Board for Music Therapists (CBMT) exam, and to become a Board Certified Music Therapist (MT-BC). Your training will emphasize flexibility as a performer and interpreter of music, creating a unique career path with great potential for growth and fulfillment.
The Fredonia Difference
Fredonia's Bachelor of Science in Music Therapy is one of the most comprehensive in the country, based on the belief that an effective music therapist is a proficient and knowledgeable musician who successfully integrates psychological and clinical skills into practical work. Our music therapy program curriculum, approved by the American Music Therapy Association (AMTA), embraces the standards of music therapy education and the professional competencies of the AMTA.
We are proud to announce our new Master of Music degree in Music Therapy program. Music therapists have the opportunity to advance and deepen their music therapy skills and knowledge as they prepare to become New York State Licensed Creative Arts Therapists. Undergraduate students of Fredonia may move seamlessly into the Masters program and complete their Bachelor and Master degrees in as little as 5.5 years.
Career Opportunities for Music Therapy
Board-certified music therapist
Private practice
Group practice
School therapist
Senior living facility therapist
Why Music Therapy at Fredonia?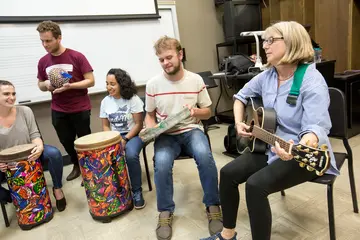 Master's in 5+
Undergraduate Music Therapy students of Fredonia may move seamlessly into the new Masters program and complete their Bachelor and Master degrees in as little as 5 1/2 years.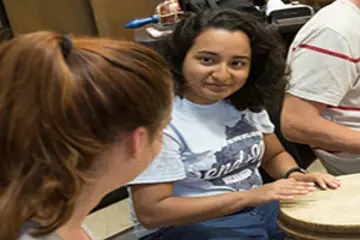 18 month completion
Alternatively, music therapists who have completed an undergraduate degree in music therapy at Fredonia or elsewhere and are Board Certified may complete their curricular requirements in 18 months full-time or as part-time students at their own pace.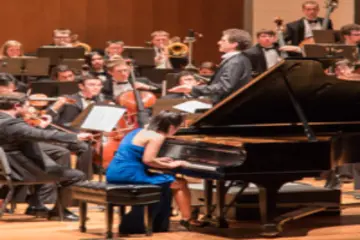 Show your work
Music Therapy majors have the same opportunities to compete for performance honors as all other majors, including Concerto Competition and the prestigious Performer's Certificate.
Sample Courses
MUS 137 Diction for Singers
A two-semester sequence intended to give singers an understanding of the International Phonetic Alphabet (IPA) and a thorough application of IPA symbols to the sounds of Italian, German, French, Latin and English diction.
MUTY 211 Clinical Placement and Seminar I
Seminar designed to address knowledge of American Music Therapy Professional Competencies in Clinical Foundations. Structured experiences include weekly field placements in area nursing homes, documentation and supervision appropriate to students' first clinical experience.
MUTY 215 Music Therapy Repertoire
Designed to address the development of American Music Therapy Association Competencies in foundational knowledge and repertoire of Music and Music Therapy experiences in singing, playing instruments, movement, listening, and creating.
Program Additional Links
What does a 4-year degree look like?
What are all the required and elective courses offered to obtain this degree?