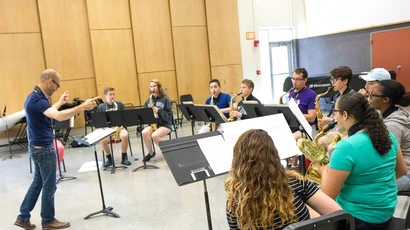 Music Education Master's Program at Fredonia
Fredonia's Master of Music in Music Education degree has provided emerging educators the opportunities to grow both as musicians and teachers. For generations, Fredonia has educated many of New York's most successful music teachers.  Music has been part of Fredonia's DNA since its earliest phases as an institution in the 19th century, and the depth and reputation of the program has grown steadily. As a student in the program, you will learn the necessary skills and abilities to become an expert teacher.
At Fredonia, your courses will be divided between music education coursework, theory, history, literature, performance, and research. A National Association of Schools of Music-accredited university, Fredonia has been educating musicians for over a century. Our nurturing, inclusive environment supports individual passion and paths, allowing you to develop your vision and career path with the assistance of our successful music faculty.
The Fredonia Difference
Fredonia graduate programs foster scholarly inquiry, professional research, ethical practice, artistic performance, and practical innovation, encouraging students and faculty to discover lifelong connections between their intellectual and creative aspirations and civic and global opportunities for engagement. Fredonia offers a hybrid format with online and summer course options for working adults. Fredonia graduates are desired, with the vast majority of students being offered employment before graduation.
The program offers four different options for graduates to earn New York State Professional Teaching Certification. These include:
Recital Track - 30 Credit Hours, which requires an audition
In-Service Track - 36 Credit Hours
Final Project/Thesis Track - 30 Credit Hours
Fredonia also offers a non-certification track for students not interested in earning New York State Teaching Certification, such as international students or teachers working outside of New York State. The non-certification track is called Music Education Studies.
Career Opportunities for Music Education
Teach music in schools throughout the state of New York and beyond
Composers and performers throughout the United States and Europe
Faculties of major universities
Professional positions throughout the music and entertainment industry
1826
Fredonia Academy
Fredonia's School of Music continues a history of musical and teaching excellence that began with the founding of the original Fredonia Academy in 1826.
Nurturing and supportive
The school is a genuine point of pride for a relatively small university that is nurturing and supportive — and the beautiful campus provides an ideal environment for musicians to focus on their art.
Guest artists
A sample of guest artists at Fredonia Includes: Yo-Yo Ma, Shanghai Quartet, Zuill Bailey, Arturo Sandoval, Dawn Upshaw, Roomful of Teeth, Michael Colgrass, Richard Goode, Keiko Abe, Peter Serkin, LAGQ, Mark O'Connor, Tafelmusik, Tallis Scholars.
Why Music Education at Fredonia?
Work around your schedule!
Our program offers a hybrid format for working professionals.
Track record
Our music education program has a track record of graduating some of the best music teachers in New York State.
Student-centered campus
Fredonia is a student-centered campus offering innovative graduate degree programs, world-class faculty, and a conservatory edge … at a price that's within reach.
Sample Courses
MUS 521 Music Bibliography
An exploration of the resources and techniques needed for graduate studies in all areas of music. Students will learn to examine and critically evaluate music resources in both traditional and electronic forms, and will develop research strategies that can be adapted to many different areas of study.
MUS 624 Analytic Techniques
The application of analytical methods, including Schenkerian reductive analysis, to Western tonal music since the latter 17th century. Includes the study of musical forms in Western music and entails a significant prose writing component.
MUED 619 Foundations of Music Education I
Study of philosophical and historical foundations of music education, emphasizing current issues and developments. Particular application to curriculum and instruction in school music.