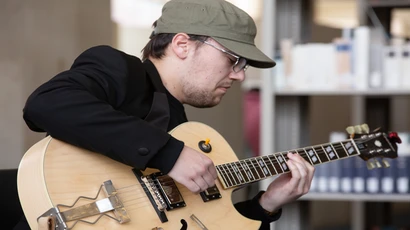 Music (B.A.) Program at Fredonia
You love music. You have a vision. You think outside of the box. Looking beyond the traditional degree programs not only provides you with options and flexibility, it provides the opportunity to create something that is uniquely YOU. Fredonia's new Bachelor of Arts in Music offers exactly that opportunity with five tracks of music studies to choose from: general, jazz, entrepreneurship, technology, and history & literature. Get the foundational training you need with the flexibility you want to create your own path. Whatever your dream, Fredonia will help you get there.
The Fredonia Difference
Fredonia is one of the best places to enter professional music training. Our reputation is built on a long history of excellence, consistency, trust, innovation, and insight from a faculty dedicated to teaching music studies. Immerse yourself in the rich resources of the School of Music while customizing an education tailored to your professional goals and your life passions. With our unique approach, you can blend arts, science, business, and education into a customized curriculum that prepares you for your career and life. Fredonia's nurturing, inclusive environment supports your individual path. Fredonia will guide you to your vision of professional success, aligned to your values and enriched by service.
Career Opportunities for Music (B.A.)
Music entrepreneur
Arts administration
Music business professional
Non-profit professional
75
Years
The student-run Fredonia Jazz Workshop is more than 75 years old and has created a legacy of jazz leaders worldwide.
Professional experiences
Field experience, internships, tours, master classes, and more provide invaluable experiences for our students as they progress towards professional lives in music.
170+
Student clubs
There are over 170 student clubs and organizations on campus, many of which are related to music. With groups ranging from opera to music therapy, improv to music education, there are opportunities for everyone.
Why BA in Music at Fredonia?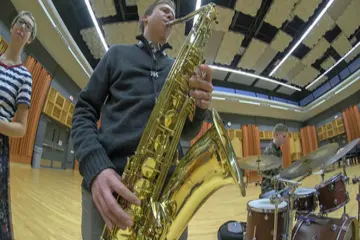 Five tracks to choose
The BA in Music program is extremely flexible and can be customized to your individual goals. Choose from general, jazz, entrepreneurship, technology, and history & literature.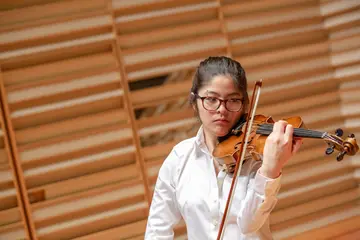 Celebrate individuality
Fredonia values and celebrates individuality and ingenuity. Whatever your dreams, Fredonia will help you get there!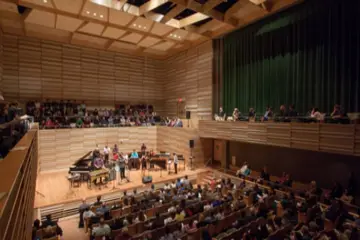 State-of-the-art facilities
At Fredonia, you will rehearse, perform, and study in state-of-the-art facilities across campus. One visit to campus and you will see the latest technology, paired with architectural and natural beauty.
Sample Courses
MUS 231 Conducting I
Basic conducting technique with special emphasis on score reading and improved aural skills, rehearsal planning and efficient use of time, conducting leadership style, and ability to communicate effectively with an ensemble.
MUS 121 Aural Skills I
Course deals with various aspects of ear training including melodic, harmonic, and formal perception as well as sightsinging skills.
MUS 263 Music History in Western Civilization I
Survey of Western art music from the medieval era to the classical period, focusing on primary composers and their works, and major style periods.
Program Additional Links
What does a 4-year degree look like?
What are all the required and elective courses offered to obtain this degree?