Music Composition Master's Program at Fredonia
Fredonia's Master of Music in Music Theory/Composition degree provides emerging composers with opportunities to grow both as creative artists and academic scholars. Our composers write music for ensembles and media and in a wide array of musical styles. More than half of our master's students continue on for graduate study at prestigious graduate schools like the Peabody Institute at Johns Hopkins University, University of Louisville, University of California at Santa Barbara, and the University of Kansas.
At Fredonia, your courses will be divided between composition lessons, theory, history, and research coursework and a graduate thesis and recital. Accredited by the National Association of Schools of Music, Fredonia has been educating musicians for over a century. Our nurturing, inclusive environment supports individual passion and paths, allowing you to develop your vision and career path with the assistance of our successful music faculty.
The Fredonia Difference
Fredonia's program features four esteemed faculty with experiences in many different musical fields. You will have the chance to work with a large number of talented performers, with five to eight composition concerts every year. We offer collaborative experiences with choreographers, filmmakers, illustrators, and poets. There are also opportunities to interact with world-renowned composers and performers from across the United States in conjunction with our student-run presenting organization, Ethos New Music Society.
Career Opportunities for Music Composition
Advanced graduate programs in composition and music theory
Film, music and arts administration
Music performance
Music teacher
50%
Graduates
in the last 15 years advanced to doctoral studies.
Competitive graduate assistantships
are available for graduate composers.
Ethos New Music Society
Graduate students are often involved in the Ethos New Music Society as well as the newly formed Composer Diversity Database.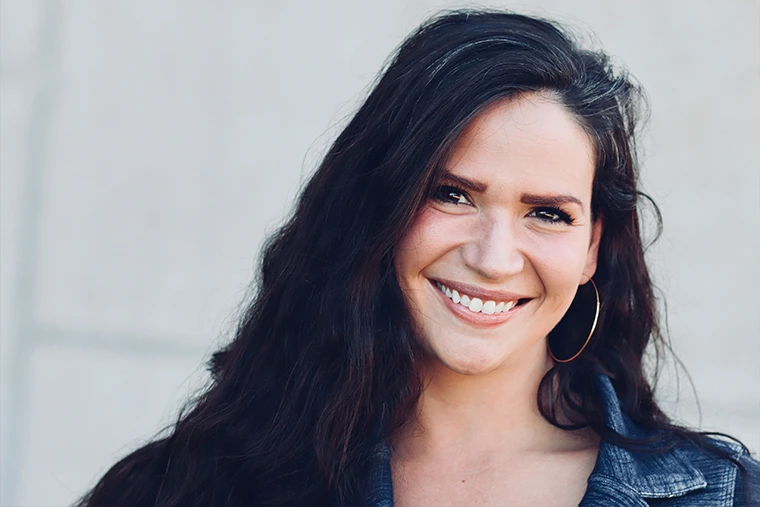 "My time as a master's student in the music composition department at SUNY Fredonia cemented my commitment to being a composer. The quality of instruction in composition lessons is high, and I was always impressed by what my fellow composition students were doing. The frequency of composer concerts is great, and I also valued the consistent presence and support of professors at those events, thereby creating a strong sense of community. The guest composers and performers we hosted were impressive, and the readings, masterclasses, and lessons I received with those guests exposed me to the world of new music beyond Western New York."
After graduation, Emily continued her studies pursuing a PhD in Music Composition and Theory at the University of California, Davis...
Emily Joy Sullivan
Music Composition
Class of 2016
Why Music Composition at Fredonia?
Student-centered campus
Fredonia is a student-centered campus offering innovative graduate degree programs, world-class faculty, and a conservatory edge … at a price that's within reach.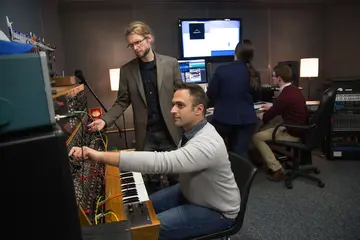 Digital and analog technology
The Fredonia Electroacoustic Music Studio is equipped with both the latest in digital technology as well as a vintage 1967 Moog synthesizer.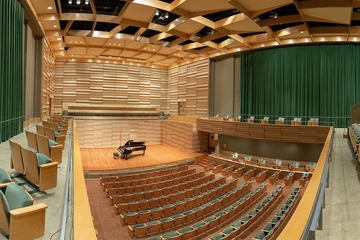 Award-winning, acoustically superb facilities
Juliet J. Rosch Recital Hall is home to hundreds of students, faculty, and guest artist recitals each year.
Sample Courses
MUS 521 Music Bibliography
An exploration of the resources and techniques needed for graduate studies in all areas of music. Students will learn to examine and critically evaluate music resources in both traditional and electronic forms, and will develop research strategies that can be adapted to many different areas of study.
MUS 653 Post-Tonal Analysis
The course introduces students to a variety of post-tonal music and analytic approaches. Repertoires covered include free-atonality, twelve-tone music, integral serialism, early electronic music, aleatoric music and indeterminacy.
MUS 609 Composition
Advanced free composition for graduate study, concentrating on individual creative musical inclinations of each student. Seminar and private study of 20th century creative concepts.
Program Additional Links
What does a Graduate Degree in Music Composition look like?
More questions about Fredonia's graduate programs?