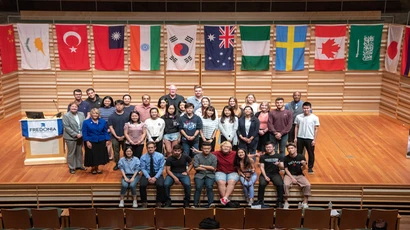 Fredonia Graduate Studies Welcomes International Students
Online Graduate Application
To be considered for admission to Fredonia, prospective graduate students must complete an Online Graduate Application and pay a $75 application fee.  You can learn more about requirements and costs below.
English Proficiency
Fredonia welcomes applicants of all proficiency levels. 
Regardless if you meet or do not meet our English language proficiency requirement there is an option for you. Our International Pathway Program offers on-campus English language instruction for students seeking to improve their English language skills.  To learn more, please contact Robyn Halicki (pathway@fredonia.edu).
Full Admission English Proficiency Requirements:
TOEFL: 79 (iBT) or
IELTS: 6.5 or
Duolingo English Test: 105 or
C1 Advanced (Cambridge English Advanced):  176 or
C2 Proficiency (Cambridge English Proficiency):  180 or
PTE: 53 or
Successfully complete the International Pathway Program or
If an applicant has earned a post-secondary degree in which their courses were taught in English, the English language proficiency requirement may be waived (e.g. Student has a bachelor's degree from a U.S. university)
Our school code for reporting the TOEFL and IELTS scores electronically is 2539. 
Transcripts
A transcript evaluation is required for transcripts originally printed in a language other than English and with original grading scales other than the 4.0 standard (you may obtain a transcript evaluation from any provider on this list). Unofficial transcripts may be uploaded to the application for review purposes. Please contact the Graduate Admissions office with questions about this requirement.
Recommendation Letters, Resume, and Statement of Intent
These are important aspects of the graduate school application for Fredonia.  The information provided allows us to learn more about you and provides evidence of your overall potential to succeed as a graduate student.
You must identify your recommendation providers on the online application. Recommendation providers may complete their recommendations online or may send the recommendation letter (with the required offline recommendation form) to the Graduate Studies office.
Other Application Materials
Depending on your program of study, you may be required to submit additional materials, such as GRE scores.  
International Applicant Forms
Please submit the following information AFTER you have been offered admission to the International Student Services office. More information about obtaining a student visa to study in the United States can be found here.
Passport with photo
 
FSA 4 Financial Statement 
All international applicants must submit evidence of full financial support for all expenses at Fredonia as a condition of being issued immigration documents for F-1 or J-1 status (i.e., the Certificate of Eligibility, form I-20AB or IAP-66). Applicants must submit the FSA-4 form signed by both the applicant and the applicant's financial sponsor and an original bank statement verifying the available funds. Both of these documents must be originals with original signatures and seals.
Costs 
Part-Time, Non-Resident Cost Per Credit Hour: $1,033.55; fully online program: $635
Full-Time, Non-Resident Tuition Cost: estimated at $25,490 per year
Full-Time, Non-Resident Living costs: estimated at $15,190 per year
*All first-semester international students will be assessed a one-time international fee of $180.
Total: $40,860        
If you have dependents, you need to show the following additional funds:
Spouse: $4,000
Child: $2,000
Digital Viewbook for International Students