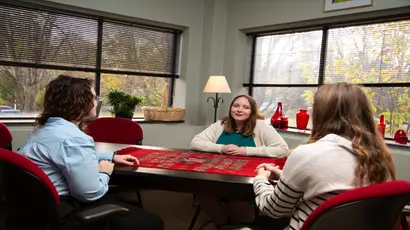 Clinical Mental Health Counseling Master's Program at Fredonia
The Clinical Mental Health Counseling (CMHC) program will begin this Spring semester, on January 22, 2024.
The Master of Science in Clinical Mental Health Counseling (CMHC) degree prepares individuals to be leaders and advocates in the field of mental health counseling and follows a nationally recognized curriculum aligned with national and state standards. The program's 63 credits include course content in professional orientation and ethical practice, social and cultural diversity, human growth and development, career development, trauma-informed care, helping relationships, group work, assessment, and research/program evaluation. Applicants are considered from any discipline, including psychology, social work, education, music and others.
The Fredonia Difference
The CMHC program is delivered in a low-residency, hybrid format, with students doing much of the course work online and doing their field work in clinical settings near their own home. This program format does not require a student to leave their current position to complete their graduate degree, which is typically a major barrier to post-baccalaureate study for students from historically underrepresented groups. Students will come to campus one weekend a month for in person classes with their professors, at the start and end of each course.
The SUNY Fredonia College of Education, Health Sciences, and Human Services is in the process of developing a campus-based counseling clinic equipped with state-of-the training equipment which allows for students to receive an immersive, comprehensive training experience including audio and video of review of sessions.
The CMHC program is taught by award-winning, international experts and leaders in the counseling field with clinical, teaching, and research experience.
Career Opportunities for Clinical Mental Health Counseling
counselor in private practice
counselor in public and private counseling agencies
counselor in government service agencies
counselor in family court systems
college counseling centers
counselor in substance abuse centers
Why Clinical Mental Health Counseling at Fredonia?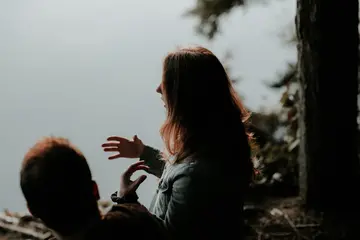 Low-residency hybrid program format
The low-residency hybrid format allows students to maintain their current professional responsibilities while also pursuing a Master's degree. Students do course work online, with field work in clinical settings near their home.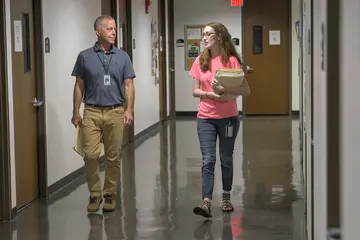 Faculty focus on students
Fredonia's student-focused approach to learning and campus resources provide a unique learning experience.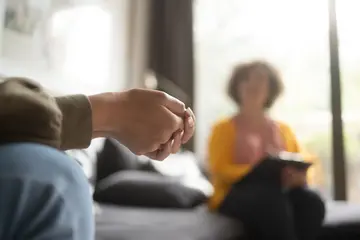 Learning from clinical mental health counseling experts
Program faculty are recognized leaders in the Counseling field and practicing clinicians which allows for real-life and practical examples of the course materials.
Sample Courses
CMHC 520 Professional Orientation and Ethics
This class provides an overview of the field of professional counseling. By participating in the course, students will accomplish the following learning objectives: (1) students will become familiar with the nature of the profession and its relationships to other human service professions; (2) students will become broadly familiar with the major theories of counseling and the techniques and strategies associated with each theory; (3) students will identify the various work settings where professional counselors are employed, and the roles and functions of counselors in each setting; (4) students will become acquainted with the major elements of the professional counseling process, from initial assessment through evaluation of services; and (5) students will identify the major issues and problems in the field at this time. (6) Students will also be exposed to some multicultural counseling content.
CMHC 540 Counseling Techniques
The major goal of this course is to provide students with an understanding and experience in the fundamental methods and techniques commonly employed in counseling and psychotherapy. Emphasis is placed on the counseling relationship, attending and listening skills, cognitive, affective, and behavioral counseling interventions, role-playing activities, and the concerns commonly expressed by beginning counselors.
CMHC 640 Theories of Counseling and Psychotherapy
Theory is intended to help guide practice. It presents practitioners with the opportunity to try achieving "something" with our clients. Something could mean helping people eliminate distressing symptoms in their lives, remove a sense of isolation, get rid of generalized anxiety, tap into ancestral spirits, or foster a connection with others, just as a few examples. Inherent in all theory are assumptions about people, like what is considered normal and virtuous versus abnormal and unacceptable, so there are values and beliefs wrapped up in the way we as practitioners view the world. Theory is as much about the practitioner as it is about the 'client,' consequently, it is essential that the act of helping is consistent with the will, ability, and motivation of the practitioner to strive for the best he or she can provide to the person in need. Theory is also about how environments inform the manner in which we live and function. How 'counseling' looked in Victorian Austria during Freud's time can't be compared to how it might look in modern-day Kampala, Uganda. These contextual issues are important to our learning. We will focus attention to how these issues of the interactions between people and contexts in urban settings are vital to adopting theories of practice.
Program Additional Links
What does a CMHC degree plan look like?
What are all the required and elective courses offered to obtain this degree?