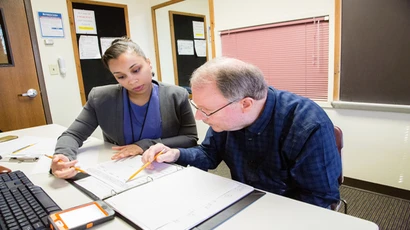 Speech-Language Pathology Master's Program at Fredonia
Take your next steps toward an advanced degree in a rewarding high-need field. Fredonia's  M.S. Speech-Language Pathology graduate program will help you develop the necessary skills to become a top-notch licensed speech-language pathologist.  You'll work with distinguished faculty, participate in research projects, and work with clients through placements with community-based organizations and in our on-campus clinic, the Youngerman Center for Communication Disorders.  Our students earn a minimum of 375 hours of supervised clinical practice, 325 of which are at the graduate level.
Professional Licensure Disclosure
Successful completion of SUNY Fredonia's M.S. program in Speech-Language Pathology is sufficient for meeting the educational requirements for licensure or certification in New York as a Speech-Language Pathologist. Successful completion of the program may also be sufficient for meeting the educational requirements for licensure or certification in other states, but this has not been determined by SUNY Fredonia. Enrolled students and prospective students are strongly encouraged to contact their states' certification entity to review all licensure and certification requirements imposed by that state. As there are many state and other jurisdictions, each with its own requirements, students should consult the American Speech-Language-Hearing Association, which is a centralized source for information about Speech-Language Pathology licensure criteria. 
The Fredonia Difference
Fredonia graduate programs foster scholarly inquiry, professional research, ethical practice, artistic performance, and practical innovation, encouraging students and faculty to discover lifelong connections between their intellectual and creative aspirations and civic and global opportunities for engagement.
What We Offer
American Speech-Language and Hearing Association (ASHA) accredited Speech-Language Pathology graduate program. The program will provide you with a nurturing, challenging, and inclusive environment that supports your individual passions and path. We will assist you along your path to professional success, aligned to your values and enriched by service.
Completion of New York State Department of Education academic and practicum requirements for initial and professional certification for Teachers of Students with Speech and Language Disabilities (TSSLD)
Completion of New York State Department of Education academic and clinical requirements for licensure in Speech Pathology
Completion of ASHA academic and clinic practicum requirements for the Certificate for Clinical Competency in Speech-Language Pathology (CCC-SLP)
Program details, requirements etc.
Career Opportunities for Speech-Language Pathology
Speech-language pathologist
Sample Courses
CDS 500 Child Language Disorders
This course examines the development, and assessment of language in infants, toddlers, preschoolers, and school age children; including an introduction in language intervention.
CDS 582 Fluency Disorders
Identifying aspects of fluent speech, normally nonfluent speech and disfluent speech. Discussion and application of parameters addressing the nature, characteristics, prevention, etiology, treatment, and contributing factors of stuttering. Addresses both the physiological and psychological aspects of stuttering.
CDS 589 Professional Issues
The course is aimed at preparing graduate students to understand factors that influence professional practice, including government and economic, professional delivery, setting-specific, and quality service. Standards of ethical conduct, certification, specialty recognition, licensure, and other relevant professional credentials are covered.
Program Additional Links
What does a Graduate Degree in Speech-Language Pathology look like?
More questions about Fredonia's graduate programs?