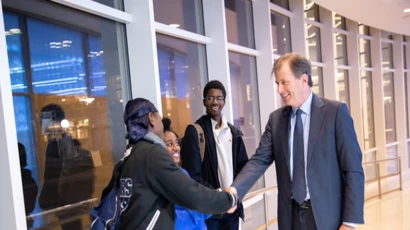 Writers @ Work: Randy Cronk, '72
Class of 1972
Founder of greatwriting.
Here is how Randy Cronk (BA, English '72, MBA, Clark University '83) defines his time at Fredonia:
"Learning, to grow and relate."
For over thirty years, Randy has put his learning and Fredonia experiences to work — as a writer, public relations executive and, most recently, as mentor to Fredonia students. At the Boston-based marketing writing practice he founded in 1990 — greatwriting, LLC — his current job, he says, is to "write for thought leaders looking to reach subject matter experts in the same or a different field as their own."
A successful writer and businessman, Randy studied both English and physics at Fredonia. He notes that "Fredonia's open door between STEM and the liberal arts was like a light coming on — it provided the premise for my whole career." He also says that "learning why and how great literary writers are able to move an audience is probably the most durable part of my college education." Randy contributed to Fredonia's campus and community in several ways, including serving on the Interdisciplinary Studies Committee and organizing and moderating a campus-wide town meeting in the Williams Center that "helped lead to greater student participation in college governance."
Randy's education at Fredonia and in the English department was his gateway to career success, first as PR director at hospitals in Ohio and Connecticut and later as a vice president at one of the world's largest PR firms, Hill and Knowlton. He then served as a vice president for Regis McKenna, Inc., the renowned Silicon Valley tech-marketing firm, before founding greatwriting. Since then he has served over 270 technology-based organizations, writing white papers, web content, case studies, brochures, and blogs.
After graduation, Randy's passion for Fredonia only grew. "Fredonia has been and always will be one of the most important parts of my life," he says. Since 2011 he hired eight Fredonia interns as professional writers whom he has mentored at a distance over Skype. "It's an intense one-on-one learning experience," he says, "that helps both me and the intern become much more disciplined writers."
It was also Randy who encouraged two of his interns to start the English Works club on campus to promote greater engagement between students and English major alumni.
Randy shared his expertise with Fredonia's faculty, students, and community members as our first Writers @ Work speaker. Writers @ Work is an alumni writers-in-residence series featuring both well-established and emerging writers, editors, and publishers in a range of professional and creative genres. The series seeks to showcase the myriad of ways writing and the humanities make a difference in the world while also learning from our alumni's experiences and achievements.