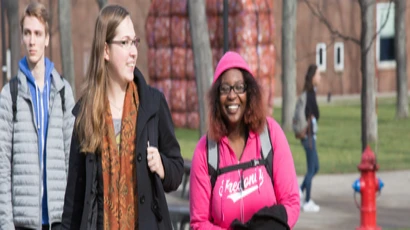 Alumni Recruitment
As a Fredonia graduate, you are part of a tradition of academic excellence and student success that goes back almost 200 years. Now you can have a hand in bringing the next Fredonia generation to campus by becoming a Fredonia Alumni Recruiter. for future Fredonians.
Alumni recruiters can give back and be part of the "Big Blue Family" by encouraging students to attend Fredonia. Working with prospective students is a fun and rewarding experience. For prospective students, a Fredonia graduate is a powerful voice of experience. You can help discover how they can achieve personal and professional success at Fredonia.
By becoming a volunteer, you can remain connected with your beloved Fredonia, enhance the value of your degree by attracting qualified students, and relive positive memories by sharing your story with future students. By connecting with students and other recruiters, you can also expand your professional and social network.
If you would like to volunteer please sign up here. You can help us reach the next generation of Fredonia students.