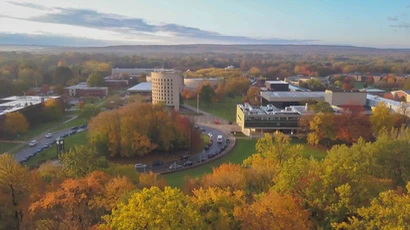 School Counselors
Important information for High School Counselors
Thank you for guiding and supporting students throughout high school. We also thank you for assisting them with the college application process, for the countless reference letters you have written, and for referring excellent students to Fredonia.
Interested in having a Fredonia Admissions Counselor visit your high school? Call or email us at 716-673-3251 or admissions@fredonia.edu.
School Codes:
FAFSA: 002 844
TAP: 915
CEEB: 2539
SAT: 2539
ACT: 2934
FAX 716-673-3249
---
Group Visits
If you are planning to bring a group of students to campus, we can arrange a special visit for your students. Check out our group visits page to learn more. 
 
---
About Fredonia 
---
The State University of New York at Fredonia is a comprehensive university which is currently ranked 10th in the North among public universities by U.S. News & World Report.
Founded in 1826, the campus is among the oldest in the State University of New York and is home to one of the system's premiere music programs. Fredonia's degree programs range among more than 100 fields of study in the liberal arts, professions, natural and social sciences, mathematics, education, and emerging fields of technology, service, and communication. The 249-acre campus is distinguished by a master plan designed by the firm of I.M. Pei and Partners, and most of the contemporary buildings were designed by Pei. The campus also offers an extensive athletic infrastructure which includes an outdoor track, an indoor fieldhouse, soccer stadium, baseball diamond, indoor ice arena, Natatorium, gymnasia, and tennis courts.
Fredonia is located in Chautauqua County, and is walking distance from Lake Erie beaches. The historic cultural center, Chautauqua Institution, is a short drive away and is a partner to Fredonia in cultural and intellectual programming. We hope that you are able to use this page to help guide your students through the college selection process. If you should have any questions please email admissions@fredonia.edu or call us at 716-673-3251.