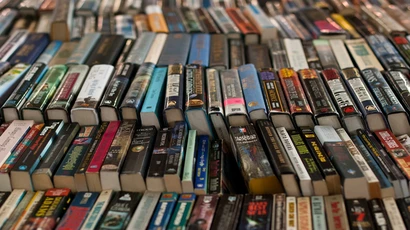 English B.A. Program at Fredonia
The English Department at Fredonia is committed to preparing students to achieve professional, civic, and personal success. Fredonia values the importance of studying literature across cultures; fostering lifelong readers and writers; engaging multiple forms of textual literacy; practicing the arts of creative and critical writing; and championing the key role of the humanities in higher education. Fredonia's English programs blend contemporary literary studies with critical, professional, and creative writing, and give students numerous opportunities for hands-on learning through community partnerships and internships.
The Fredonia Difference
As you build on the skills and knowledge developed in our foundational courses and explore options within crucial categories in English studies at Fredonia, you will personalize your pathway through the major in order to gain the most from our faculty. Outside the classroom, you may choose to actively participate in writing internships; community service learning projects; literacy campaigns; creative collaborations and field experiences with area schools; public readings of literature to area children, seniors, and the broader community; or collaborations with Visual Arts and School of Music students by pairing original writings with graphic design and/or musical accompaniment. And of course you'll read a whole lot of terrific literature!
Want to be an English teacher?  Check out Fredonia's English Adolescence Education B.A. and English Adolescence Education B.A./M.A. programs!
 
Career Opportunities for English B.A.
Editor
Creative director
Lawyer
Librarian
Publisher
News anchor
Pastor
Publicist
College professor
Graphic designer
$20,000 in scholarships
Increased student awards, scholarship, and support over the last six years, with more awards becoming available.
High demand skills
Employers seek out individuals who are strong communicators, excellent writers and researchers, and insightful critical thinkers.
$66,000 salary
Median salary (mid-career) of English majors. An English degree helps you advance further and faster in your career.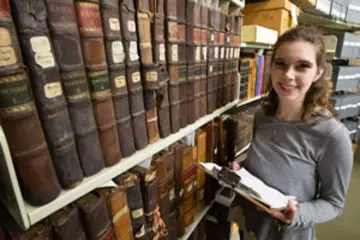 More than a classroom experience
Meaningful educational opportunities beyond the classroom, including internships and other applied learning experiences.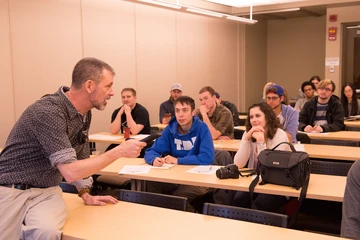 Visiting writers galore
Fredonia brings in cutting-edge writers from all walks of life for readings, workshops, and to critique student work. Three series focus on creative writing, critical writing, and professional writing.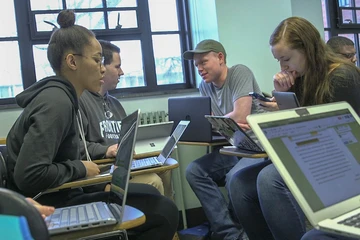 Versatility
Construct a major of courses that help you define, prepare for, and realize your career objectives.
Sample Courses
ENGL 215 Detective Fiction
A survey of mystery writers from Edgar Allan Poe to P.D. James, exploring their experiments with the genre and the methods of their detectives.
ENGL 375 Writing for the Professions
Focus on the development of students' ability to communicate in the business and professional world through the letter, memorandum, and in-house report.
ENGL 405 Page and Stage
This course will study drama as it is meant to be explored--on the page and on the stage. We begin our analysis of the drama with discussion on campus and then travel to see productions of the plays.
Program Additional Links
What does a 4-year degree look like?
What are all the required and elective courses offered to obtain this degree?