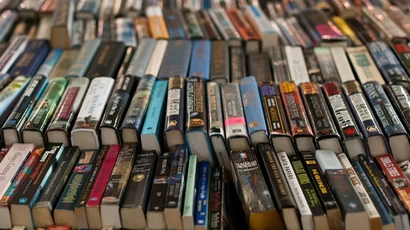 What YOU Can Do with an English Degree from Fredonia!
Let's bust some myths about the English degree...
Did you know that 96% of new Fredonia graduates report finding employment and/or enrollment in a graduate program within the first year of graduating?
Did you also know that English majors are "the hot new hires" that employers seek?
English majors have the most flexibility in career choices because of their strong skills in critical thinking and oral and written communication.
Here is just a small sample of the paths our recent English alumni have pursued:
Career Paths:
Content Creation Specialist
Domestic Violence Advocate
Creative Director
Freelance Artist/District Manager
Legal Assistant
Graphic Designer
English Teacher
Microsoft Recruitment Consultant
Program Specialist
Research Assistant
Graduate Programs:
M.L.S., Library & Information Science, University at Buffalo
M.A., Asian Studies, University of British Columbia
M.Ed., Literacy B-12, SUNY Fredonia
M.F.A., Architectural History, Savannah College of Art & Design
M.S., Global Gender Studies, University at Buffalo
M.S.Ed., Literacy, Syracuse University
Ph.D., English, University at Buffalo
M.S., Urban Policy & Management, The New School
M.S.Ed., Curriculum & Instruction, SUNY Fredonia
To explore further, visit the Career Development Office's English Career Pathways page. To talk to us about your interests and find out about faculty who can help you set and achieve your goals, please contact us.
Diversity of Careers for Fredonia English Majors 2018 through 2022.
Content Creation Specialist, Status Labs, Austin, TX
Content Writer, Now Media Group, CA
Corps Member, City Year Corps, New York, NY
Domestic Violence Advocate, Family Justice Center of Erie County, Buffalo, NY
English Teacher, Hinsdale Central School, Hinsdale, NY; Aldine ISD, Houston, TX;
Hillsborough County Public Schools, Tampa, FL; Sedway Middle School, Las Vegas, NV;
Rochester Prep Elementary School, Rochester, NY
Freelance Artist/District Manager, Observer Today/The Buffalo News, Dunkirk/Hamburg, NY
Graphic Designer, Synapse Group Inc., A Time Inc. Company, Stamford, CT
Legal Assistant, Mallery Law Center, Cobleskill, NY; William Mattar, Buffalo, NY
Microsoft Recruitment Consultant, Nigel Frank International, New York, NY
Office Coordinator, People, Inc., Amherst, NY
Overnight Counselor, STEL, Gowanda, NY
Program Assistant, US Navy Child & Youth Program, Newport News, VA
Program Specialist, Harlem Commonwealth Council, New York, NY
Project Assistant, The New School, New York, NY
Project Coordinator, Praxis Communication, Buffalo, NY
Research Assistant, University of British Columbia, Vancouver, BC
Student Library Assistant, University at Buffalo, Buffalo, NY
Supervisor, CVS, Albany, NY
Tutor Corps Member, Great Oaks Legacy Charter School/Americorps, Newark, NJ
---