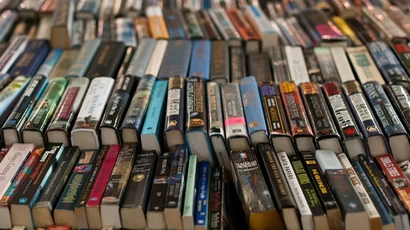 English Adolescence Education Courses
Students enrolled in the Adolescence Education - English undergraduate program or the Adolescence Education - English Multi-Award Bachelor and Master of Arts program take a variety of literature content, education, and pedagogy classes. Below is the list of English Education classes offered in Fall 2022. Please see the University Catalog for a complete list of courses offered by our department.
ENED 353
Reading and Writing Children's Literature

Prof. Jeremy Daly-Griffen


M 6:00-8:20

A study of children's picture storybooks and their use across the elementary school curriculum, combined with the craft of writing stories for children and the art of teaching story writing to them.

ENED 355
Adolescent Literature

Dr. Heather McEntarfer

Section 01
MWF 10:00-10:50

Section 02
MWF 2:00-2:50

We'll read works of YA literature addressing a range of identities and experiences. Then we'll discuss both how to work with them in the secondary classroom and what conversations they can open up for us related to diversity, identity, and equity. Possible texts include Felix Ever After, The Hate U Give, The Poet X, and Children of Blood and Bone.

ENED 357
Lit/Lang/Lrng Thry

Dr. Scott Johnston

TR 12:30-1:50

Study of philosophical, sociological, and psychological theories of language, linguistics, and learning theories used to explore the nature of the reading process, how people learn to read, how people make meaning from print and other media, and how teachers might help students become more capable readers.

ENED 358
Teaching Writing in the Intermediate Grades


Dr. Marie Davis

T 5:00-7:20

Analysis of the writing process as it applies to elementary students. Approaches to teaching writing as a means of learning throughout the elementary-school curriculum

ENED 450
Seminar for Teachers of English -Adolescence Education

Dr. Scott Johnston

TR 3:30-4:50

Workshop designed to immerse students in the processes of preparing high-school students to read literature. Emphasis on pre-reading activities, construction of discussion questions and classroom activities, development of units for teaching literature, and participation in activities. Students will also complete their E-Portfolio

ENED 451
Methods for English Education

Dr. Ann Seigle Drege

W 5:00-7:20

Principles, materials and methods for teaching English. Note: Must be taken before student teaching.

ENED 555
Topics in Teaching Writing (4th and 5th)


Dr. Heather McEntarfer

MWF 1:00-1:50

We'll focus on teaching creative writing (particularly poetry and fiction) in secondary schools. You'll gain experience both leading and participating in an Atwell-style writing workshop, and you'll consider how Vygotsky's theories might inform your teaching of creative writing and ELA more generally.

ENED 560
Graduate Seminar


Dr. Scott Johnston

TR 3:30-4:50

Workshop designed to immerse students in the processes of teaching in the secondary school, from learning outcomes in lessons to a philosophy of teaching. (Classes taught concurrently, with some additional requirements in assignments for students in ENED 560.)

ENED 561
Methods on English Education-Theory & Practice

Prof. Ann Siegle-Drege

W 5:00-7:20

Theoretical principles and practical methods for teaching English in the secondary school.

ENED 665
Topics in English Education

Prof. KimMarie Cole

M 5:00-7:20

Students will brush up their own grammar skills as we also engage with debates about the usefulness of teaching language forms and functions to student readers and writers. You will leave the course knowing how to build an effective grammar lesson in context.