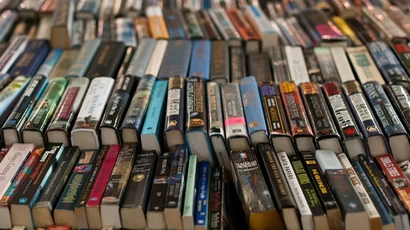 Transfer Students
Why Transfer into Fredonia English?
The restructured Fredonia English B.A. thoughtfully responds to fundamental shifts in our discipline, our student body, and our students' needs to achieve academic success. The major combines required foundational courses with a wide range of options among skills- and content-based course categories,
Fredonia's 42-credit customized English major allows you the freedom to:
add virtually any minor, including our Creative Writing or Professional Writing Minors
construct a major of courses that help you define, prepare for, and realize your career objectives
earn a double major with a B.A. or B.S. in another discipline
participate in one of the many practical internship opportunities offered through the department
study abroad for two weeks in January or the summer, or for an entire semester
The restructured English Adolescence Education B.A. is designed to parallel the English major's required categories, with up to 39 credits applicable to it if needed. The B.A. in English Adolescence Education combines required foundational courses in literature and pedagogy with a plethora of field experiences in order to open pathways for all students to develop the ideas and practices that will make them effective in the classrooms of an increasingly complex and diverse society.
Fredonia has developed an innovative English Adolescence Education B.A./M.A. program that reduces the number of years and the cost to earn a graduate degree. The English Adolescence Education B.A./M.A. is a five-year multi-award program leading to initial 7-12 certification and eligibility for professional certification (after meeting New York State requirements for classroom teaching experience following completion of the program).
Check out our Fredonia English profiles on Facebook, Twitter, and Instagram accounts!
How to Join Fredonia English:
Focus on completing general education requirements at your home institution:
Familiarize yourself with our website and the University Catalog's overview of the English Department:
Visit Fredonia to learn more about the university, the department, the faculty, and the students;
Apply to Fredonia, file your FAFSA, and consider applying for an Excelsior Scholarship;
Come to the Accepted Student Reception in April;
Decide that Fredonia English is the right fit for you!
Important Dates:
Fredonia Exploration Day:
TBA
English-Focused Signature Saturday:
TBA
Go Big Blue Day:
TBA
Transfer Student Organizations