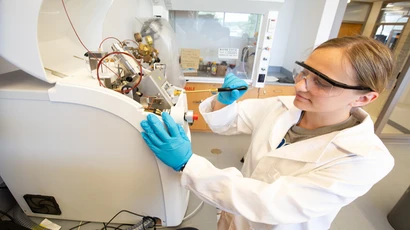 Cooperative Engineering Program at Fredonia
The Cooperative Engineering program takes its name from the academic cooperative agreements between the College at Fredonia and affiliated engineering schools. The program combines liberal arts and science at Fredonia with Engineering at another school, thereby maximizing the student's potential as a member of society and as an employer or employee. The agreements facilitate credit transfer and mutual recognition of general education requirements.
The Fredonia Difference
The Physics Department offers one of the largest cooperative engineering programs in the country. With 15 majors available, and 13 affiliated engineering schools, you have the opportunity to carve your own path to a career in engineering. Scholarships are available specifically for Cooperative Engineering students, making Fredonia an even bigger value. Active Physics and Engineering Clubs keep students engaged with science and each other.
Advantages of Cooperative Engineering at Fredonia include: 
Two degrees give decisive edge in shifting job market.
Lowers the cost of your education for at least 3 years.
Backed by unbeatable reputations of affiliated engineering schools.
Two scholarships available in addition to college-wide awards.
Physics courses tailored to meet engineering requirements.
Full complement of introductory engineering courses (Engineering Mechanics, Circuit Analysis, Thermodynamics)
Well tested program: 450 satisfied graduates.
Students report they are very well prepared for upper level engineering classes, compared to students who start at an engineering school.
Career Opportunities for Cooperative Engineering
Engineering fields like:
Aeronautical
Aerospace
Applied physics
Bioengineering
Chemical
Civil and environmental
Electrical
Environmental
Mechanical
Nuclear
3-2
Program
Pick a major, and take 3 years of that major here. In two more years, you can get a second undergraduate degree from an affiliated engineering school and lead into a master's program
Latest Technology
Cooperative engineering students have access to a variety of instruments including an extensometer which can be used for a variety of research projects.
13
Affiliated schools
Our connection to engineering programs for your graduate studies gives you a pipeline to a higher degree at a more affordable cost.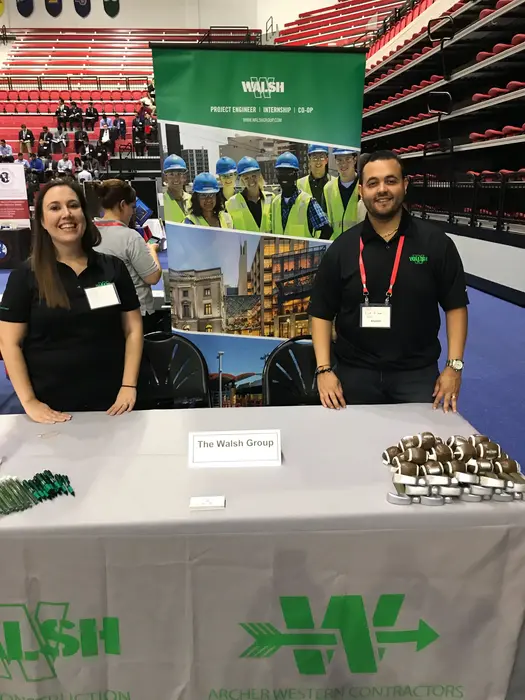 "After leaving Fredonia and entering the career market, I realized how prepared I was for the real world. The dedication of the staff there shaped me professionally by giving challenging and satisfying course work that helped me establish a hard work ethic, organizational skills, and drive to be successful that has carried over to my career."
Allison puts together pricing for Heavy Civil Construction in the NY/NJ Region for jobs ranging from $5 million to $4...
Allison Minerva
Physics
Class of 2007
Why Cooperative Engineering at Fredonia?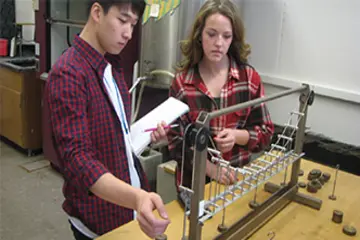 Affordability
It is more affordable to go through Fredonia's four or five year program than other bigger universities.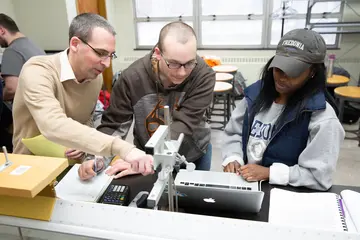 Faculty
You're not taught by grad students at Fredonia. You'll learn from faculty members who are accomplished scholars and enjoy involving you in their research.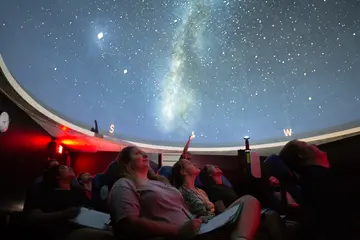 Facilities
Literally from top (State-of-the-art, 17" PlaneWave telescope on top of Science Center) to bottom (planetarium in basement of Jewett Hall), Fredonia's facilities rival those of bigger institutions.
Sample Courses
PHYS 321 Engineering Statics
A calculus treatment of statics applied to the equilibrium of rigid and elastic bodies, including fundamentals of mechanics, vector algebra, free body diagrams, equivalent force/moment systems, distributed forces, centroids and center of gravity, equilibrium of particles and rigid bodies, trusses, frames, beams, internal forces in structural members, friction, first and second moments of area and moments and products of inertia, and methods of virtual work and total potential energy.
PHYS 322 Mechanics of Solids
Continuation of PHYS 321 including stress and strain tensors, mechanical properties of solids, multidimensional stress-strain relations, section forces in beams, stresses in beams, deflection of beams, torsion, stresses and strain relations at a point, Mohr's circle, energy methods, elastic stability, and vibrations.
PHYS 323- Circuit Analysis
A development of network analysis including Ohm's and Kirchhoff's laws, dependent and independent voltage and current sources, circuit simplification techniques including node-voltage, mesh-current methods, Thevenin and Norton equivalents, energy-storage elements, operational amplifiers, natural and step response of RL, RC and RLC circuits, sinusoidal steady- state analysis, introduction to Laplace Transforms, passive filters.
Program Additional Links
What does a 4-year degree look like?
What are all the required and elective courses offered to obtain this degree?