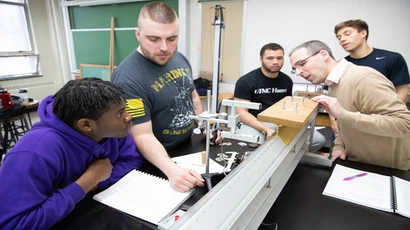 Physics Department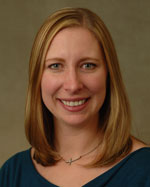 As the most fundamental of the sciences, physics offers insights into some of the most profound questions about our Universe. The quest to understand the laws that govern natural phenomena also drives practical advancements in technology and engineering. In fact it has been said that the physics of today is the engineering of tomorrow. At Fredonia, students learn the tools necessary for a diverse number of career paths including scientific research, engineering, and education.
The Physics Department offers a wide range of programs and advising tracks, which allows you to choose a path that best suits your strengths, interests, and career goals. For example, some of our most recent graduates have gone on to Ph.D. programs at institutions such as Stony Brook University, Rice University, the University of Rochester, and the College of William & Mary.  If you are interested in becoming a physics teacher, the rigor of our Physics Adolescence Education program is unique.  Nationally, most secondary ed certification programs in physics require only 2-3 semesters of physics preparation, which is hardly sufficient for teaching at the secondary level.  In requiring our students to have what amounts to a full physics degree, we prepare our prospective teachers to not only teach physics effectively at the secondary level, but also innovate in the classroom, and engage their students in meaningful coursework.
The Physics Department also offers one of the largest cooperative engineering programs in the nation.  With 15 majors to choose from, and 13 affiliated engineering schools, students have the opportunity to carve their own path to a career in engineering. 
Our faculty strive to provide our students with an academically rigorous education within a personalized and collaborative setting. Classes are small.  Our faculty have an open-door policy.  There are many opportunities for independent study and research with faculty. An active student club provides additional research experiences, travel opportunities to conferences, and social events. Some students also engage in internships with businesses and national laboratories.
By developing strong problem-solving and critical thinking skills, our graduates have traditionally done very well in finding good jobs and succeeded in graduate school in a variety of disciplines, including medicine and law as well as physics and engineering. We encourage you to contact and visit us.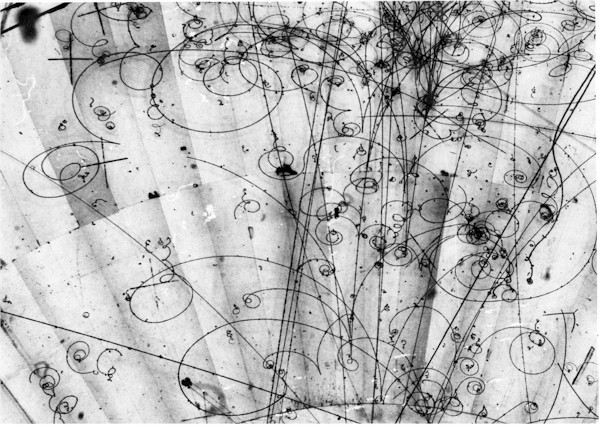 Bubble chamber photograph from the Fermilab 15 ft. bubble chamber. Spiral tracks show the paths of charged particles in a magnetic field.
Question: Which way is the magnetic field pointing? A high res. photo will help. Other hints available.