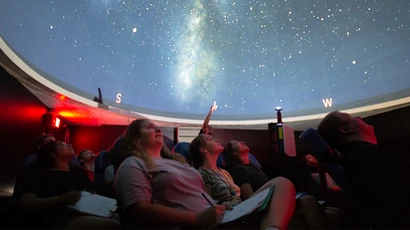 Fredonia Public Astronomy Nights
If you've ever wanted to explore space, this is your chance!
From April through October (weather permitting), Fredonia offers approximately weekly public astronomy nights at the Kelly Family Observatory on the roof of the Science Center.  You will experience a guided night sky tour and have the opportunity to view celestial objects through a telescope.  Reservations are required, as a maximum of 30 people can attend due to space limitations in the rooftop observatory.  Reservation details can be found below.
Please note that accompanying digital planetarium shows are currently on hiatus due to building renovations and will return at a later date.
Where, When, and What to Expect
---
For the 2023 season, public astronomy nights will occur on Tuesday nights, beginning on Tuesday, April 11, 2023.  Public astronomy nights begin at 8:00 pm in April, 9:00 pm in May, 10:00 pm in June and July, 9:00 pm in August, and 8:00 pm in September and October.
The Kelly Family Observatory is located on the roof of the Science Center on the Fredonia campus. The Science Center is oriented east-west, with elevators on both ends of the building.  You may use any entrance, but you must use the elevator on the EAST end of the building.  Go to the top floor, labeled "PH" for penthouse (if you don't see a button for this floor, you are in the wrong elevator). When the elevator doors open, exit the elevator and turn around to your right.  You will see an open door that leads out onto the rooftop viewing deck where the observatory is located.  If you have your own portable telescope, you are welcome (and encouraged!) to set it up on our viewing deck alongside the observatory.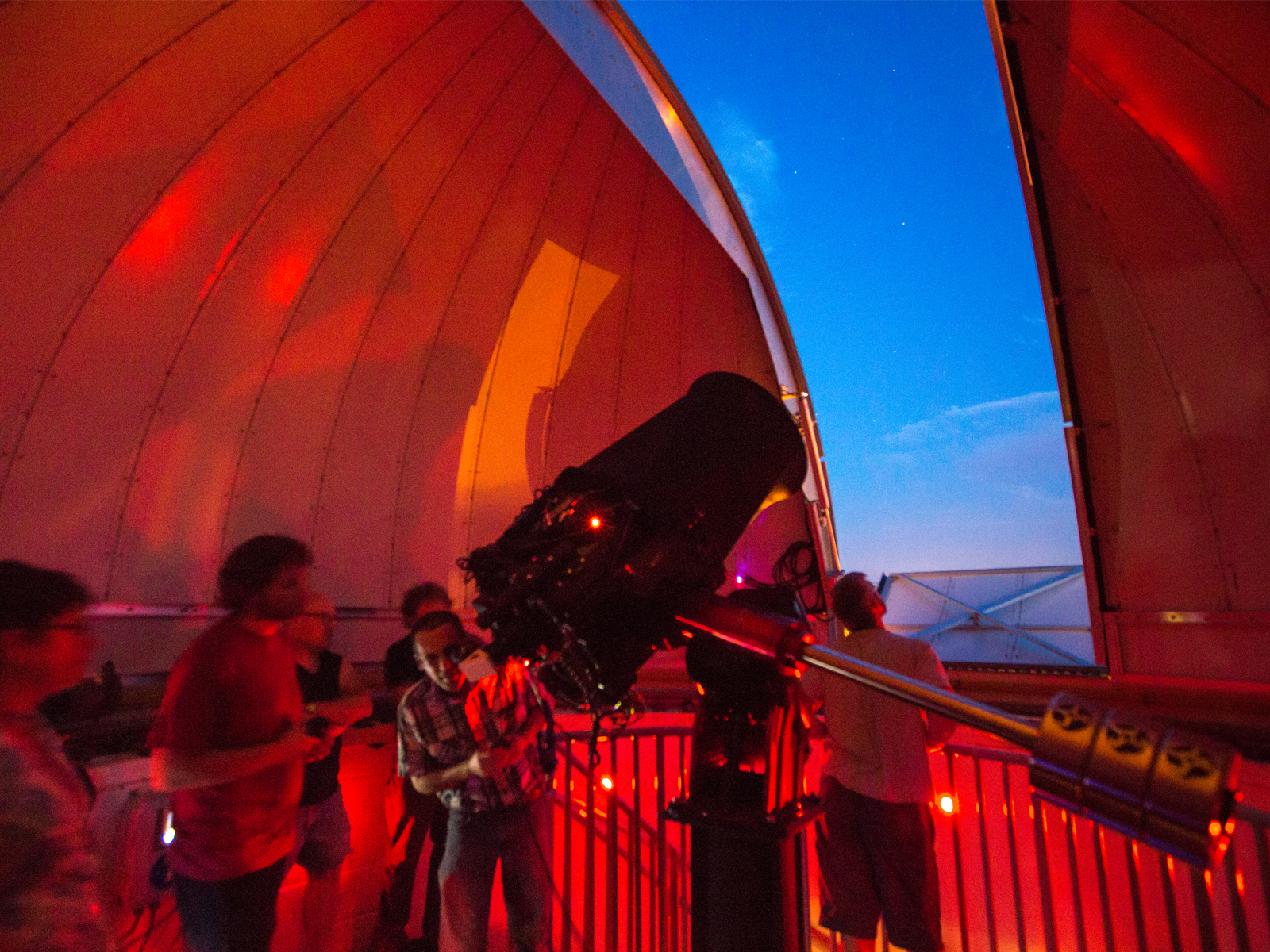 Please note that these events are dependent on clear skies and are subject to cancellation.  See below for details.
You can find campus maps, directions, and parking information here
Reservations
---
Due to space limitations in the rooftop observatory, we can only accommodate up to 30 visitors per night.  To ensure adequate space is available, advance reservations are required.  Before making reservations, use the link below to check the number of spaces available for each date (updated daily).
To sign up, send an email to dunham@fredonia.edu with your last name, the number of people in your group, and the date for which you wish to sign up.  Please check first to ensure there are enough spaces available on your chosen date, using the blue button above.  If you need to cancel or if the size of your group changes, please send another email with the revised information to ensure that unused spaces are made available to others, and to ensure that adequate space remains available for your group.
Please be aware that these events require clear skies and are subject to cancellation, with historical data showing that approximately half of all telescope viewings in Fredonia are cancelled due to poor weather.  A final go/no-go decision will be made no later than two hours before the event and posted on the Kelly Family Observatory Facebook and Instagram pages (account name "fredobs" on Facebook, and "fredonia.observatory" on Instagram).  Make sure to follow and check these pages before coming to ensure the event has not been cancelled.  There are no make-up nights for cancelled events.
Policies and Other Information
---
Except for water bottles, no food or drink is allowed in the observatory
Accessing the telescope and rooftop viewing deck both require walking up stairs.
You will be outside.  Please check the weather and dress accordingly!
Children are welcome, but please count them when making reservations.  There are no age restrictions, please use your own discretion as to whether or not you think your child or children would enjoy this activity.  All children under the age of 18 must be accompanied by an adult chaperone.