Fredonia Public Astronomy Nights
If you've ever wanted to explore space, this is your chance!
From April through October, Fredonia offers two free public astronomy nights per month. You will experience a digital planetarium show followed by a trip to the rooftop observatory to look through the telescope and gaze upon many celestial objects! Reservations are required as a maximum of 30 people can attend due to the amount of seats in the planetarium.
Where, When, and What to Expect
---
Public astronomy nights begin at 8:30 pm in the digital planetarium located in Jewett Hall. All visitors should gather in the lobby of Jewett Hall at approximately 8:15 pm, where you will be met by Dr. Michael Dunham or a student and shown into the planetarium. Late arrivals will not be granted entry, as opening the planetarium door will disrupt the show already in progress. You will experience an interactive, digital planetarium show lasting approximately one hour, focusing on what is visible in the night sky.
After the show concludes, weather permitting, you will be escorted to the rooftop observatory on the roof of the Science Center, where you will be invited to view various celestial objects through the telescope. If you have your own portable telescope, you are welcome (and encouraged!) to set it up on our viewing deck alongside the observatory.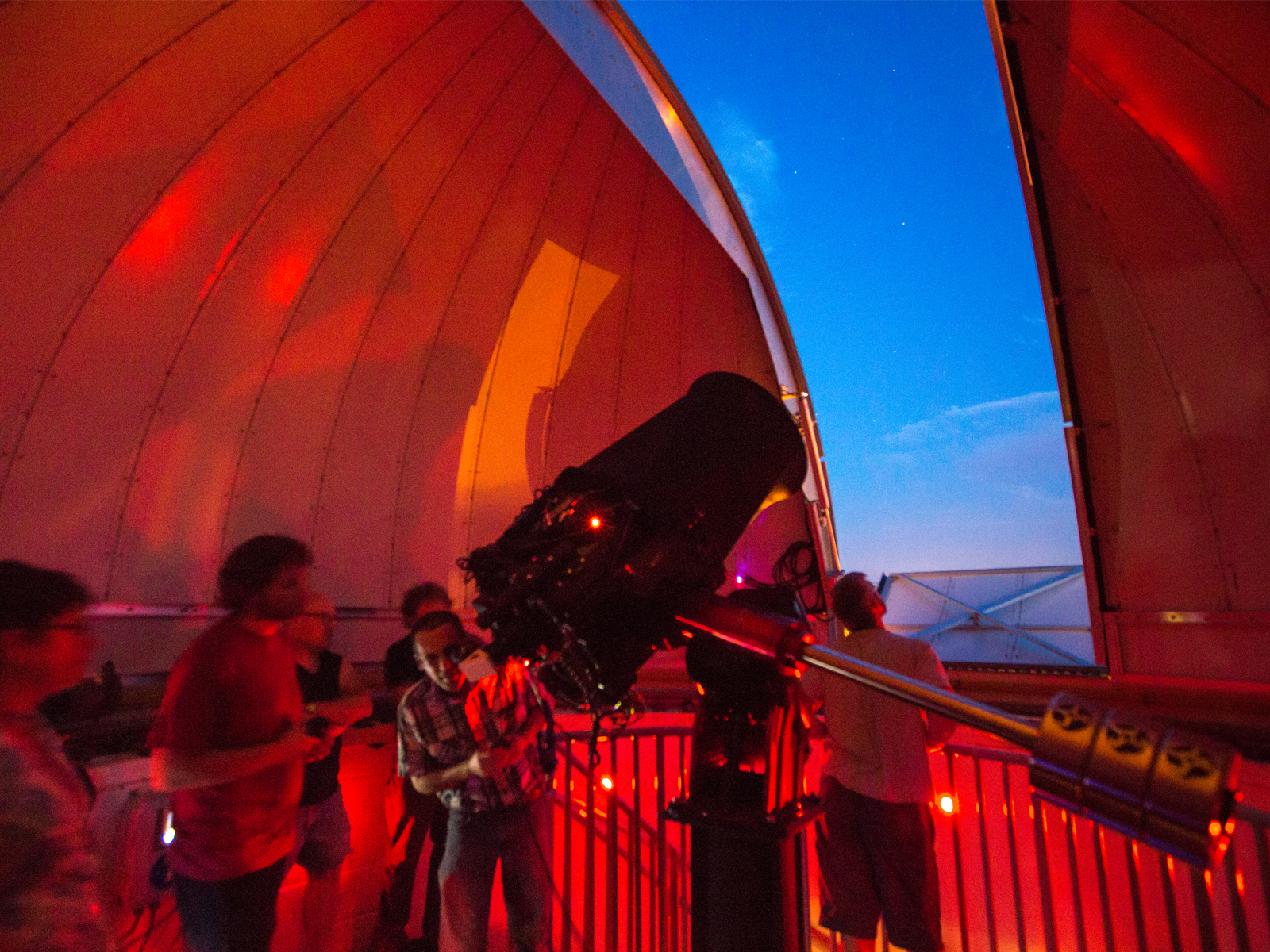 Should the weather not permit telescope viewing, an extended planetarium show will be presented to those interested in staying, incorporating one or more of the full dome educational films available in our content library. Fredonia students learning how to operate the planetarium may also use these nights as opportunities to gain experience giving public planetarium shows.
You can find campus maps, directions, and parking information here
Reservations
---
Due to planetarium seating and rooftop occupancy limitations, we can only accommodate up to 30 visitors per night. To ensure adequate space is available, advance reservations are required. We have adopted an informal reservation system - below is a link to a public Google Drive folder, with sign-up sheets for each night.  There are 30 spaces available per night. If you plan to come, simply edit the document to add your name (or your group name).
You don't need to enter the name of every person coming, but please copy either your name or your group name into as many spaces as necessary.  Please do not delete names already entered by somebody else - Google tracks all changes so it will be easy to determine if you have done this. If you change your mind and decide not to come, please delete your reservations so the spots can go to others. Please also include an e-mail address so you can be reminded on the day of the event.  Reservations that do not provide an e-mail address are subject to cancellation.
Policies and Other Information
---
Except for water bottles, no food or drink is allowed in the planetarium or observatory
The planetarium can be accessed without having to navigate stairs, but accessing the telescope does require walking up stairs.
Weather permitting, you will be outside, and in an observatory dome open to the outside.  Please check the weather and dress accordingly!
Children are welcome, but please count them when filling out the reservation form.  There are no age restrictions, please use your own discretion as to whether or not you think your child or children would enjoy this activity.