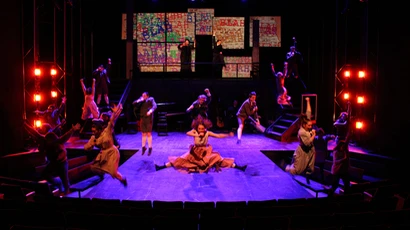 Musical Theatre Program at Fredonia
The Bachelor of Fine Arts in Musical Theatre is an interdisciplinary degree program between the School of Music and the Department of Theatre and Dance for students who demonstrate excellence or the potential for excellence in musical theatre careers. The audition for the program requires selections in voice, acting and dance. BFA-Musical Theatre students receive fours years of weekly 1-hour private lessons in voice, additional music coursework including music theory and piano, four years of acting instruction, including acting fundamentals, scene study, voice and movement, Shakespeare and electives in areas such as Meisner and Devising, as well as instruction in dance styles including jazz, tap, and contemporary. Students have the opportunity to participate in our mainstage season of at least one fully staged musical and three plays, as well as other opportunities in dance and opera.
The Fredonia Difference
The Bachelor of Fine Arts in Musical Theatre provides students with a strong foundation in the skills required for a successful career in Musical Theatre, emphasizing the acquisition of professional-level proficiency in acting, singing, and dance. The program also gives students numerous opportunities to explore additional interests in the wider realm of theatre. Acceptance to the Musical Theatre major is by audition.
Watch this video to see the opportunities that Fredonia's Theatre and Dance programs offer you!  
Career Opportunities for Musical Theatre
Actor
Dancer
Choreographer
Music Directors and Composers
Musicians and Singers
Producers and Directors
Why Musical Theatre at Fredonia?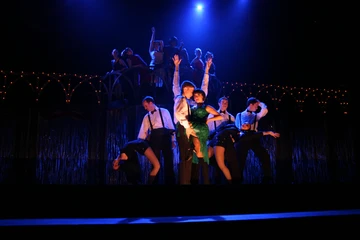 Successful alumni
Our alumni are employed in a wide range of arts fields. Broadway appearances include PHANTOM OF THE OPERA, ONCE, AVENUE Q, LION KING, and LES MISERABLES. National tours include HAMILTON and JERSEY BOYS.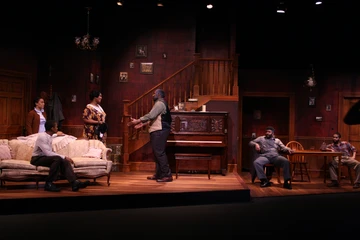 Amazing facilities
The Michael C. Rockefeller Arts Center features a 1,100-seat concert hall, proscenium and black box theatres, art galleries, and a dance theatre.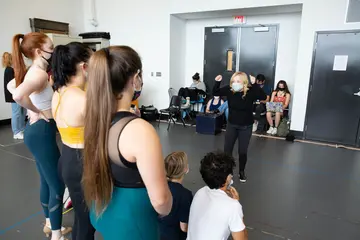 Access to guests artists
Guest artists have included successful Fredonia alums such as Jen Cody (above), Dave Ebert, Carl Cofield, head of graduate acting at NYU, and Qui Nguyen, playwright for "She Kills Monsters"
Sample Courses
DANC 213 Jazz Dance II
The course explores styles in jazz technique (e.g., Luigi, Giordana, Fosse) at the intermediate level. Emphasis will be on proper technique and performance, as well as vocabulary, and history.
THEA 382 Musical Theatre Styles I
The course, through scene study of musical theatre repertory, focuses on integration of song, dance and acting skills
THEA 432 Musical Theatre Styles II
Advanced scene study and techniques for integrating all resources of the singing actor in musical theatre. B.F.A.
Program Additional Links
What does a 4-year degree look like?
What are all the required and elective courses offered to obtain this degree?