Dance Program at Fredonia
Fredonia's Bachelor of Fine Arts in Dance prepares developing artists to successfully navigate the complexities of the contemporary dance field and to find their unique path to a satisfying and sustainable career in dance. By fostering the discovery and evolution of each student's singular creative voice, we encourage them to take their places as engaged, self-reflective citizens of the global arts community.
The Fredonia Difference
The BFA in Dance at Fredonia focuses its technical training on Modern/Contemporary and Jazz dance with supplementary training in Ballet, Tap, and somatic forms. Small class sizes allow for the personal attention and frequent feedback that aspiring artists need to fully develop their artistic potential as a dance major. The program's strong connection with the Department's numerous Theatre programs makes for a vibrant, multi-dimensional educational experience within a warm and supportive creative community. Students in Fredonia's Dance program may also combine their major in Dance with a second program, allowing them to pursue additional interests in a complementary field.
Career Opportunities for Dance
Dancer
Choreographer
Dance Teacher
Dance Scholar/Writer
Health Practitioner
Arts Administration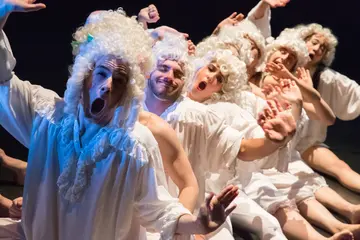 Fully Accredited
Fredonia is fully accredited by the National Association of Schools of Theatre, which establishes national standards for colleges and conservatories.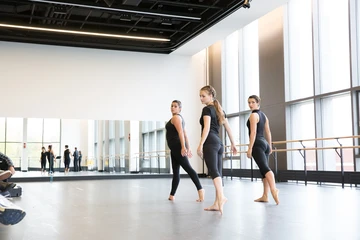 Rockefeller Arts Center
A $36 million expansion has tripled the Department's available teaching, rehearsal, and shop space.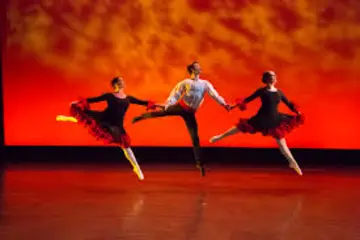 Learn from guest artists
Recent guest artists include: Taylor 2 Dance Company, Rosy Simas, Kista Tucker, Terry Beck, Debra Knapp & Ann Gavit , Tressa Gorman Crehan, Kerry Ring, and Cheryl Halliburton-Beatty.
Sample Courses
DANC 211 Modern Technique II
The course explores styles in modern dance technique at the intermediate level. It covers technique, vocabulary, and history, through participation and academic study.
DANC 264 Choreography I
An introduction to the content and structure of solo dance composition as an art form. Improvisation and compositional devices including rhythm, dynamics, space, design, phrasing, and production are covered.
DANC 102 Theatre and Dance Productions
Designed to give practical experience in all aspects of dance and theatre productions including rehearsals, lighting and costume design, crew work, and stage management.
Program Additional Links
What does a 4-year degree look like?
What are all the required and elective courses offered to obtain this degree?