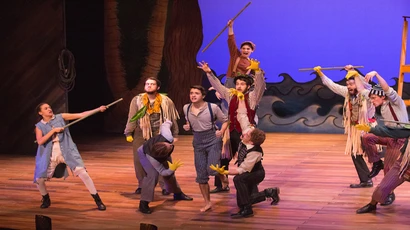 Acting Program at Fredonia
The Bachelor of Fine Arts in Acting offers pre-professional training in a variety of classical and contemporary acting techniques, while also providing students with practical, hands-on experience in many aspects of theatre, from performance to direction to production. The program prepares students for a wide range of professions within the theatrical and entertainment fields, and helps students find individual pathways to success.
The Fredonia Difference
Fredonia offers a supportive, collaborative, and creative environment. Students also receive the freedom to explore a wide variety of interests and focus on individual development and growth. Fredonia will show you there's more to life than Broadway.
Career Opportunities for Acting
Actor
Director
Dramaturg
Producer
Theatre Education
Creative Research & Development
Theatre Historian/Critic/Scholar
Full Accreditation
We're fully accredited by the National Arts Accrediting Associations in Music, Theatre, and Art and Design.
94%
Alumni recommend the program
94% of responding alumni said they would recommend attending Fredonia for Theatre and Dance.
Top level training
Training and performance on par with top conservatories and the core academics of a liberal arts institution.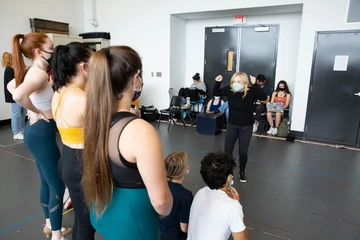 Access to guests artists
Guest artists have included successful Fredonia alums such as Jen Cody (above), Dave Ebert, Carl Cofield, head of graduate acting at NYU, and Qui Nguyen, playwright for "She Kills Monsters"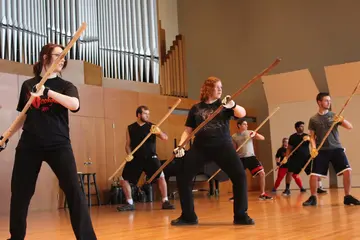 Stage combat training
Students can become certified in stage combat through the Society of American Fight Directors.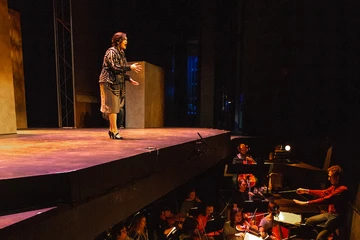 Amazing facilities
The Michael C. Rockefeller Arts Center features a 1,100-seat concert hall, proscenium and black box theatres, art galleries, and a dance theatre.
Sample Courses
THEA 424 The Business of Acting
Intensive study of skills needed by actors to increase their marketability in today's theatre.
THEA 242 Acting Studio: Introduction to Voice and Movement
Designed to support the actor in freeing the voice/body and imagination for creative response. Physical/vocal awareness and ability are enhanced through the exploration of relaxation, alignment, flexibility, strength, breath, sound, and resonance.
Program Additional Links
What does a 4-year degree look like?
What are all the required and elective courses offered to obtain this degree?