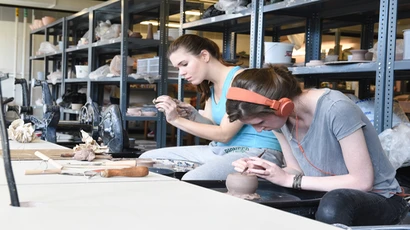 Ceramics Program at Fredonia
Fredonia's Ceramics program will expose you to both traditional and contemporary methods of creative expression with clay. You will develop extensive hand-building techniques and skill on the potter's wheel as well as the technical knowledge for managing ceramics glazing and firing. Natural gas, electric, and raku kilns are available for use at various temperature ranges for oxidation, reduction stoneware, and raku firing techniques. Hands-on studio experience is supported by abundant visual exposure to global, historical, and contemporary artworks in clay
The Fredonia Difference
Our program fosters a love of clay and promotes individual creativity among student artists/artisans, preparing you for life-long involvement in ceramics. New well-equipped studios totaling more than 10,588 sq. feet for ceramics and sculpture offer a significant resource for work in 3D media. The ceramics facility in Rockefeller Arts Center centers around a main instructional area with hand-building and wheel-throwing equipment, digital projector, large projection screen, and wi-fi access. Adjacent spaces include a kiln room, fully stocked glaze lab, clay mixing room, plaster room, an outdoor kiln patio used for primitive and atmospheric firings, a student exhibition/critique space, and multiple small, informal display areas. Nearby sculpture studios provide easy access to woodworking and metal fabrication shops. Fredonia has a competitive application process that requires the submission of an art portfolio.
Career Opportunities for Ceramics
Professional craft/fine artist
Art teacher
Art therapy
Gallery/museum positions
Historic restoration/conservation
Industrial design
22
Electric potter's wheels
The ceramics studio also has two 36" slab rollers, two clay extruders, five Bailey wedging tables, a Soldner clay mixer, a Dayton Grinder Stand, a Peter Pugger, a Shimpo Pug-mill, a Shimpo Ball Mill, and a Laguna Spray Booth.
Experiment with glazing treatments
Students can use premixed slips or creating unique formulations from mineral stocks in our dedicated glazing room.
Firings are done in various kilns for a variety of effects
Bailey 73-cubic-foot computerized Shuttle DownDraft Gas Kiln, Bailey 45-cubic-foot computerized DownDraft Gas Kiln, Bailey 23-cubic-foot and Bailey 17.5-cubic-foot Thermo Logic front-loading comp
Why Ceramics at Fredonia?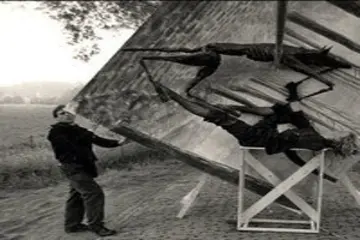 Visiting Artist Program
The Visiting Artist Program offers exposure to a variety of art and design professionals from around the country and world during special lectures and gallery openings.

Fully accredited
Fredonia's Ceramics program is fully accredited by NASAD, the National Association of Schools of Art and Design.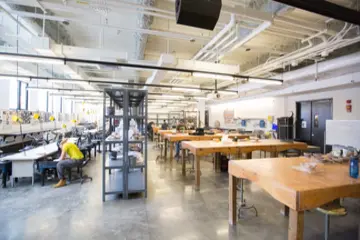 Scholarship opportunities
The Visual Arts and New Media Department distributes 13 scholarships each year to incoming and upper-level students, including the Fredonia Potter's Co-op Award, which is granted to a major in ceramics based on achievement and potential.
Sample Courses
ARTS 270 Foundations in Clay
The elements and principles of 3D design are explored through introduction to basic techniques for the construction of ceramic objects without the use of the potters wheel.
ARTS 271 Pottery on the Wheel
The rudiments of wheel forming pottery lead to the creation of bowls, vases, jars, and teapots in ceramics. Glazing and firing techniques for stoneware clay are covered.
ARTS 241 Figure Modelling
A beginning course in methods and materials appropriate for sculptural expression of the human form. Clay, plaster, mold making, and casting techniques are covered. Technical and conceptual development of form is stressed.
Program Additional Links
What does a 4-year degree look like?
What are all the required and elective courses offered to obtain this degree?