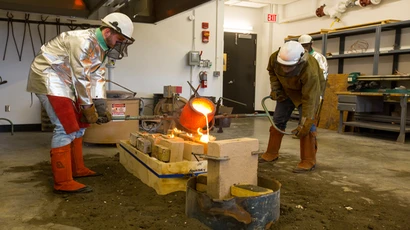 Sculpture Program at Fredonia
Fredonia's sculpture program fosters a working environment where contemporary innovations and formats can coexist with traditional approaches. Courses are structured to introduce students to methods and materials associated with modeling, mold making, foundry, welding, woodworking, as well as other alternative media approaches. Fredonia will push the limit of your aesthetic freedom, as you establish a strong professional perspective based on critical awareness and advanced problem-solving skills.
The Fredonia Difference
While time-honored techniques and craftsmanship are stressed, Fredonia believes materials and process should never compromise a student's vision. Therefore, the Sculpture program welcomes collaboration with other areas within the department or college that may lead to new and vital ways of expression. You will establish a strong professional perspective and unique artistic voice based on critical awareness and advanced problem-solving skills, supported by high-level technical, conceptual, creative, and aesthetic accomplishments. Fredonia has a competitive application process that requires the submission of an art portfolio.
Career Opportunities for Sculpture
Studio artist
Architectural restoration/design
Interior design
Furniture design
Exhibit design
Fine art restoration
Special effects technicians in film and advertising
Art teachers
Hard work will pay off
Define your own career pathways through an atmosphere of self-determination and professional preparedness.
Small studio classes
You are ensured personal connections with faculty.
Fully accredited
Fredonia's sculpture program is fully accredited by the National Association of Schools of Art and Design (NASAD).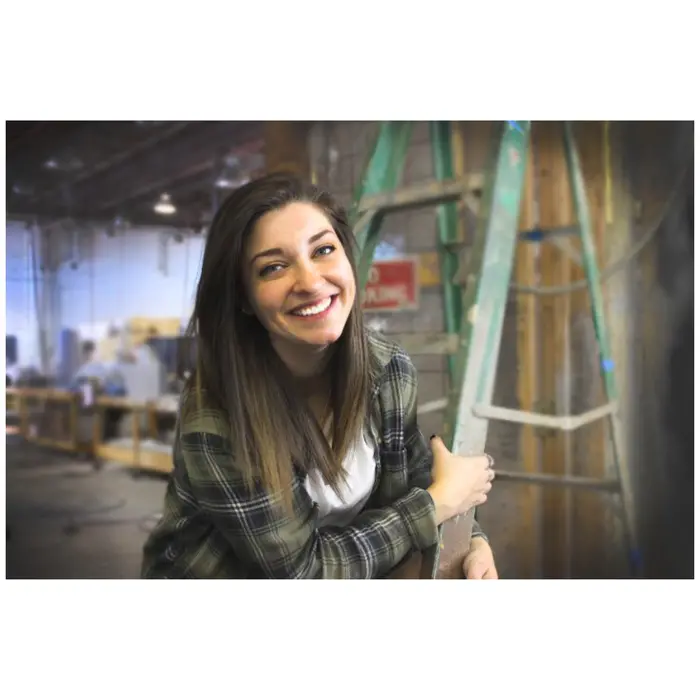 "The VANM department gave me the skills I needed for the career I love. Thanks to Fredonia, I'm now a Scenic Artist at MAD Creative Fabrication and living in Florida!"
Megan designs and builds scenery and props for theme parks like Disney and Universal Studios.
Megan Lewandowski
B.F.A. Visual Arts and New Media: Sculpture
Class of 2016
Why Sculpture at Fredonia?
Showcase your work
Students have opportunities to exhibit personal artwork in our Emmitt Christian student gallery as well as the professional Cathy and Jesse Marion Art Gallery.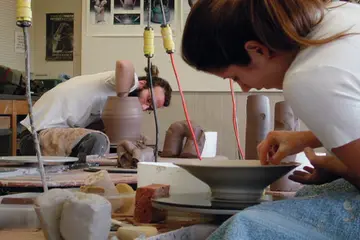 Keeping college affordable
The Visual Arts and New Media Department awards 13 scholarships each year to incoming and upper-level students.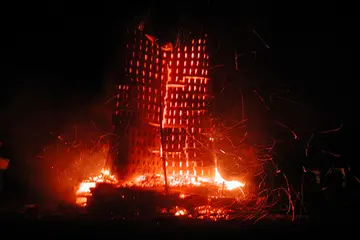 Visiting Artist Program
Visual Arts and New Media offers exposure to a variety of art and design professionals from around the country and world during special lectures and gallery openings.
Sample Courses
ARTS 240 Foundations in 3D Form and Content
An introductory course that explores basic design considerations, materials, and techniques relating to three-dimensional expression.
ARTS 340 3D Methods and Materials
This course offers an opportunity to investigate both traditional and innovative approaches to object making. Materials and processes may include hot and cold casting, welding, papermaking, and hand formed cement, among others.
ARTS 440 3D Objects and Ideas
An advanced sculpture course that allows students to define and develop a personal body of work representing a serious exploration in their chosen mediums.
Program Additional Links
What does a 4-year degree look like?
What are all the required and elective courses offered to obtain this degree?