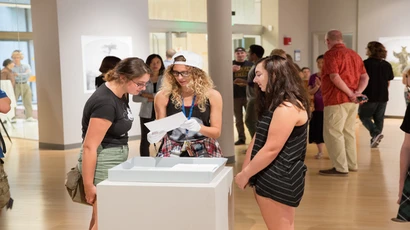 Visual Arts (B.A.) Program at Fredonia
Fredonia's Bachelor of Arts in Visual Arts and New Media is a 48-credit degree focused on the practice of studio art. This degree allows you the flexibility to choose a variety of courses as you build towards high-level work in one or more visual arts disciplines. The B.A. is a great option if you want to double major in art and another discipline. Fredonia has a competitive application process that requires the submission of an art portfolio.
The Fredonia Difference
Fredonia's Foundation Program establishes the visual groundwork you'll need to advance into upper-level work. You will work and learn in our beautifully-renovated Rockefeller Arts Center, which now has expanded studio space, allowing for larger projects. The Visiting Artist program offers access to a variety of art and design professionals from around the country, through thought-provoking speakers and opportunities to attend gallery openings each semester.
Career Opportunities for Visual Arts (B.A.)
Craft and fine studio artist
Art director
Art teacher
Art therapy
Designer
Museum professions
24
credit hour review
You'll be supported with extensive mentoring and feedback through studio critiques, regular advising sessions, and a review of your progress halfway through the program.
13
departmental scholarships
The Visual Arts and New Media Department awards 13 scholarships each year to incoming and upper-level students.
Choose your focus
Students can choose to focus their studies in animation and illustration, ceramics, drawing and painting, film and video, graphic design, photography, or sculpture.
Why pursue Visual Arts and New Media at Fredonia?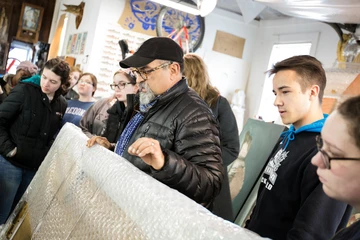 Talented Faculty
Students learn from talented faculty; practicing artists who exhibit their own artwork nationally and internationally.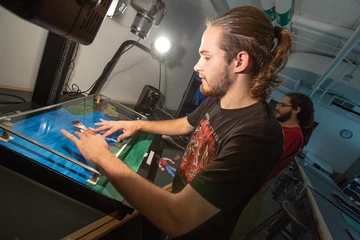 Fully accredited
Fredonia's Visual Arts and New Media program is accredited by NASAD, the National Association of Schools of Art and Design.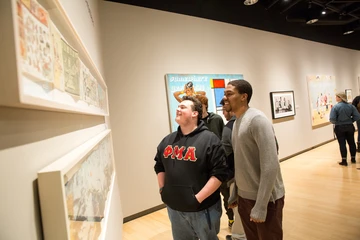 Visiting Artist Program
Visual Arts and New Media offers exposure to a variety of art and design professionals from around the country and world during special lectures and gallery openings.
Sample Courses
ART 100 Visual Concepts
The course is intended to introduce first-year visual arts and new media students to visual culture and the individual disciplines of the visual arts as well as develop and master personal study habits as they approach college-level learning. Topics will include art concepts, media techniques and terminology, and visual cultural analysis, as well as time-management, writing within the discipline, college resources and support networks.
ARTS 102 Foundations in 2D Form and Content
Introductory course investigating the principles and elements of visual design. Unity, emphasis, balance, scale, line, form, texture, rhythm and color are explored through two-dimensional studio problems.
ARTS 105 Foundations in Drawing
Theory and practice in a variety of graphic media. Conte, ink, pencil, and charcoal used in studio problems to acquaint beginning student with full range of drawing possibilities.
Program Additional Links
What does a 4-year degree look like?
What are all the required and elective courses offered to obtain this degree?