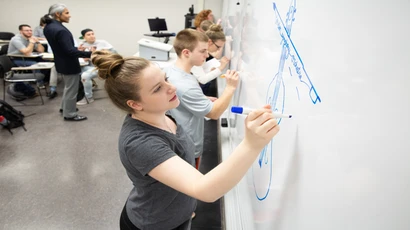 Marketing Program at Fredonia
If you enjoy working on creative ways to help a company, group or person get the public's attention, Fredonia's marketing program is for you. Fredonia's program includes instruction in survey research methods, research design, new product testing, exploratory marketing, consumer needs and preferences analysis, geographic analysis, and applications to specific products and markets. You will analyze consumer behavior in environments. Along the way, you will be supported by faculty with decades of professional experience.
The Fredonia Difference
Fredonia's Marketing program has the prestigious accreditation from the Association to Advance Collegiate Schools of Business (AACSB) demonstrating excellence in instruction and proactive community service. Internships are required in Fredonia's program. You will be active in a professional setting as early as your junior year. Students are also active in business clubs as early as their first year. The American Marketing Association offers students the opportunity to learn about current marketing trends through speakers and field trips.
Career Opportunities for Marketing
Marketing executive
Advertising executive/manager
Promotions director
Market research analyst
Sales executive/manager
213
Local internships
Internships performed by Fredonia business students for local and regional organizations
97%
placement for graduates
97% of business school graduates report being employed or pursuing advanced degrees within one year
Top 5% of business schools worldwide
Fredonia's AACSB accreditation means your degree is more valuable.
Why Marketing at Fredonia?
ENACTUS
National award-winning student group that works with the local community through economically, environmentally and socially supportive entrepreneurial projects.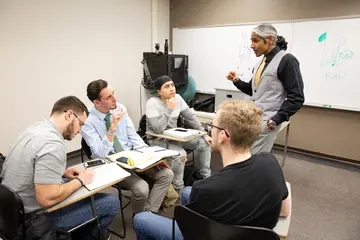 Qualified faculty
Faculty bring real world expertise to the classroom through lecture and group projects working with real clients.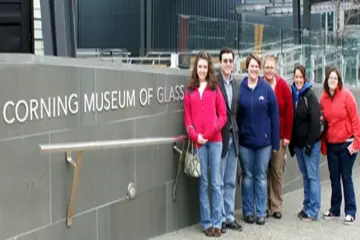 American Marketing Association affiliation
The SUNY American Marketing Association (AMA) Affiliation offers students the opportunity to learn about current marketing trends through various marketing events, case competitions, career-preparation workshops, and field trips.
Sample Courses
BUAD 410 Marketing Research & Analytics
This on-hand lab course is a study and application of the research methods and techniques applicable to problem solving in marketing. Using state-of-the-art technologies for research, students develop marketing career oriented skills in questionnaire design, data collection, data analysis, and in making recommendations.
BUAD 411 Strategic Marketing Management
This cornerstone marketing major course provides students with the opportunity to systematically apply the key marketing practices in a strategic way to meet organizational objectives by effectively creating, delivering, and communicating superior customer value to the target markets in a dynamic environment.
BUAD 445 Integrated Marketing Communications
This advanced marketing course will explore domestic and international consumer needs and wants, creating advertising and promotional messages, media strategy, and message strategy. Students will gain practical experience in developing a comprehensive marketing plan.
Program Additional Links
What does a 4-year degree look like?
What are all the required and elective courses offered to obtain this degree?