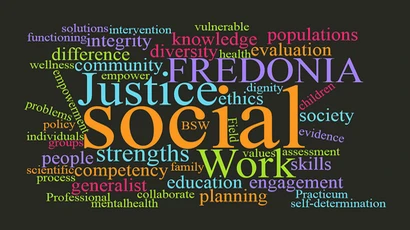 Social Work Program at Fredonia
Fredonia's social work program prepares you for a career as a social worker, both in practice and administration. You will be empowered to help individuals, families and communities deal with social issues and/or dysfunction. You will learn about social welfare policy, case work study, intervention, and administrative procedures.
The Fredonia Difference
Fredonia's Social Work program is accredited by CSWE-accredited undergraduate program, which means your undergraduate degree will qualify you for advanced standing admissions into accredited graduate programs.
Career Opportunities for Social Work
Child/family/school social worker
Substance abuse social worker
Mental health case worker
High placement rates
Fredonia graduates are well-prepared for success in graduate programs at distinguished universities.
15-20
Hours a week at internships
Social work majors intern 15-20 hours a week in a community-based, human service organization.
19%
projected job growth
Employment of social workers is projected to grow 19% through 2022.
Why Social Work at Fredonia?
Experienced Faculty
"Your learning/practical experience is guided by an agency-based field instructor who is an experienced, professional social worker with an array of social work backgrounds. "
Internships
Fredonia offers opportunities to intern at schools, hospitals, rehabilitation centers, and correctional facilities.
Research
Evaluation and assessment research is crucial in today's social work field. Students work 1-on-1 with faculty or on their own, conducting research as an undergrad that is typically only done in graduate school.
Sample Courses
SOC 218 Introduction to Social Work
Introduction to theoretical and practical foundations of social work. Examination of values, knowledge, and skills underlying a generalist approach to social work. Analysis of role of social workers in such settings as hospitals, schools, mental health agencies, and family and child welfare agencies.
SOCW 249 Social Welfare Institutions
Introduces students to the basic public and private sector mechanisms of social welfare policy and services through the lens of history. The importance of values/attitudes/beliefs in the political process and the concept of social justice are analyzed. The development of the social work profession is featured.
POLI 382 Social Welfare Policy
Examination of the politics and operation of the social welfare system in the United States. Emphasis on a policy analysis of current social welfare issues such as the Social Security crisis, welfare reform, the relationship between welfare and national economic policy, the functions of public welfare versus private charity, and the connections between direct service and social reform.
Program Additional Links
What does a 4-year degree look like?
What are all the required and elective courses offered to obtain this degree?