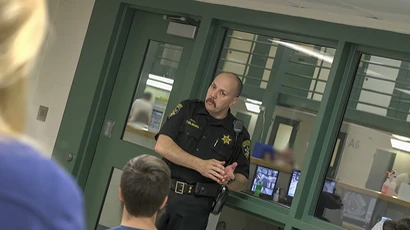 Criminal Justice Program at Fredonia
The Criminal Justice degree program at Fredonia features an interdisciplinary curriculum that offers broad based knowledge of crime and delinquency. The curriculum includes courses in criminal law and procedure, crime theory, human deviant behavior, police science, security, corrections, statistics and research methods.
The Fredonia Difference
Fredonia offers the rich exchange of diverse ideas, interests and projects. You will be able to combine a major with a minor offered through our department (Anthropology, Sociology, Criminal Justice and Public Health) or other minors such as Communications, Psychology, Geographic Information Systems, or any other one of Fredonia's outstanding programs to give you an edge in the competitive marketplace. A vast array of internship opportunities gives students real-world experience while working towards a Criminal Justice degree.
Career Opportunities for Criminal Justice
Juvenile justice
Court system administration
Law enforcement
Adult corrections
Rehabilitation
Probation and parole
Crime data analysis
Federal/state/local security
High placement rates
Fredonia graduate are getting jobs in security, intelligence, Secret Service and others specialities
Internships
Fredonia offers opportunities to ride along with local police, learn process and procedure methods, and learn how people move from incarceration back into society.
Specialized policing
Opportunities to study across disciplines to learn specialized police methods, such as environmental, mental health, and corrections.
Why Criminal Justice at Fredonia?
Alpha Phi Sigma
Students can be involved in the national honor society for criminal justice majors and be recognized for academic excellence.
Active student club
Active student-run group that engages in extra criminal justice activities, included training sessions on Narcan and prep sessions for police exams.
Exceptional faculty
Learn from well-versed and diversely-educated faculty, and professionals who bring years of practical experience into the classroom.
Sample Courses
CRMJ 333 Criminal Investigations
This course involves the study of crime scene investigations. Emphasis on the procedural structure and strategic steps to be taken in securing the crime scene in developing a checklist of factors to be considered in a comprehensive investigation.
CRMJ 332 Homeland Security
The course involves the study of homeland security, mission and composition. Students will examine the various methods and institutions implicated in the quest to increase security and defend against terrorism. Consideration of the methods and practices for border security in the United States will be included.
SOC 364 Juvenile Delinquency
An examination of delinquent behavior and its distribution in society. Topical issues discussed include the juvenile justice system, theories of delinquency, and methods of social control of this behavior.
Program Additional Links
What does a 4-year degree look like?
What are all the required and elective courses offered to obtain this degree?