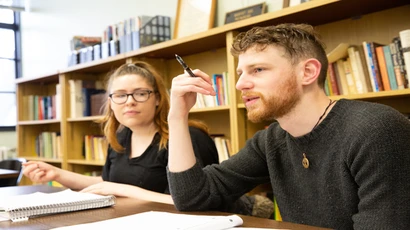 Philosophy Program at Fredonia
Leave your preconceptions at the door! Philosophy delivers highly marketable, highly transferable skills. If your ideal career requires thinking, talking, or writing, we'll help you prepare. Studying philosophy enhances your ability to think clearly, a gift that can be applied to any line of work. A program that focuses on ideas and their logical structure, including arguments and investigations about abstract and real phenomena. Includes instruction in logic, ethics, aesthetics, epistemology, metaphysics, symbolism, and history of philosophy, and applications to the theoretical foundations and methods of other disciplines. Studying philosophy exposes you to traditional issues that emerge from concerns shared by all humans; develops analytic and evaluative skills; encourages critical understanding of yourself and others; fosters independent and enduring contemplation of fundamental questions; and reveals the practical value of philosophical reasoning, including its role in exercising and improving mental powers and in enhancing human flourishing.
The Fredonia Difference
Many students choose to double-major in Philosophy and another program, while others choose to minor in Philosophy, Fredonia's Department of Philosophy is dedicated to helping you learn how to become your own best teacher, to view education as a continuing process, to reason effectively, to think critically, to write persuasively, and to speak articulately. Fredonia allows you to customize an education tailored to your professional goals and your life passions. With our unique approach, you can blend arts, science, business, and education into a customized curriculum that prepares you for your career and your life. Our nurturing, inclusive environment supports your individual passions and path. We will guide you to your vision of professional success, aligned to your values and enriched by service.
Career Opportunities for Philosophy
Tech design
Executive
Higher education
Lawyer
Any career that requires you to make an argument or think independently
Sample Courses
PHIL 223 Roman Philosophy
This course chronicles philosophy in action -- in historical and political contexts. We examine the crucial role Platonism, Aristotelianism, Stoicism, and Epicureanism played during major social upheaval as Caesar, Pompey, Cicero, Cato, Brutus, and Cassius struggle with the often conflicting demands of seeking personal salvation, honoring philosophical conviction, and fulfilling patriotic duty in the final days of the Roman Republic.
PHIL 345 The Meaning of Life
The course addresses the most fundamental questions of human existence in theistic, humanistic, and practical dimensions. Does life as a whole have inherent meaning? Does human life in particular have inherent meaning?
PHIL 432 The Age of Analysis: Philosophy Since 1900
Major currents and themes in 20th century analytic philosophy. Attention devoted to the work of such philosophers as Russell, Moore, Wittgenstein, Quine and others. A critical examination of analytic approaches to the philosophy of language, metaphysics, epistemology and other traditional areas of philosophy.
Program Additional Links
What does a 4-year degree look like?
What are all the required and elective courses offered to obtain this degree?