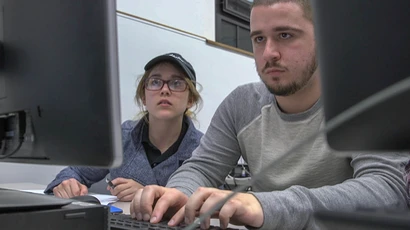 Computer Information Systems Program at Fredonia
If you want to supervise computer professionals as well as technology projects big and small, Fredonia has what you're looking for. The program prepares graduates for careers in information systems design and development for typical businesses and commercial computing sectors or for management and utilization of information systems and technology. System managers and developers are often called information technology (IT) managers or IT project managers, plan, coordinate, and direct computer-related activities in an organization in several companies such as banks and hospitals.
The Fredonia Difference
The Computer and Information Sciences program is one of the most popular programs at Fredonia. We have a long track record of placing graduates in high-paying jobs right after graduation, or in high-profile graduate programs across the country. Our innovative classes, dedicated faculty, and modern facilities make us one of the leaders in the computer science education field.
Career Opportunities for Computer Information Systems
Application developer
Computer support specialist
Database administrator
IT network engineer
IT sales
Network administrators
Project manager
Systems analysts
Web developers
1 million jobs
More jobs will be available in computing than graduates to fill those jobs by 2026!
Degrees lead to careers
Fredonia students have been hired by big-name companies such as IBM, General Dynamics, Google, Microsoft, Yahoo, and Lockheed-Martin the past three years.
$139,220
Median salary
Computer Information Systems graduates get higher-paying jobs (about double the average starting salary for all grads).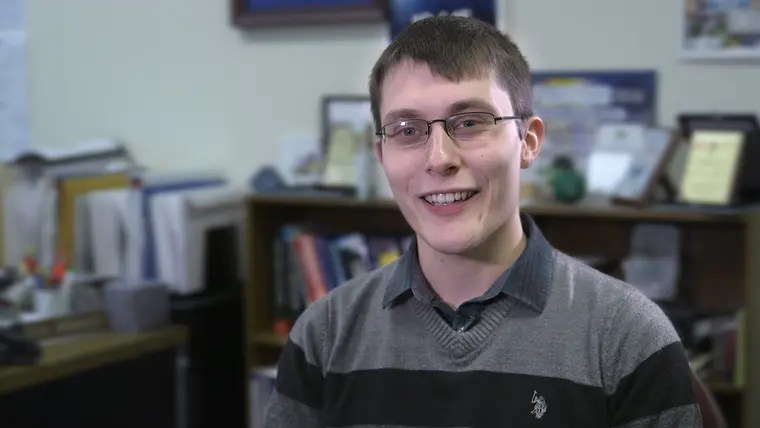 "I'm happy with my decision. Fredonia was a much more affordable option than other schools. I was able to push myself in my classes and course projects, and was involved on campus as president of the computer club."
Tyler Roesler
B.S. Computer Information Systems
Class of 2017
Why Computer Information Systems at Fredonia?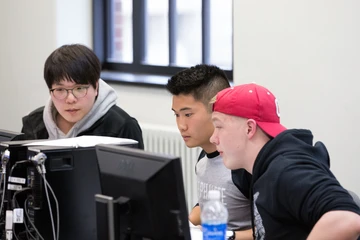 Facilities
State-of-the-art computer lab gives students access to the most up-to-date computer programming available. Our lab is also equipped with several servers that enable students to gain experience as system administrators.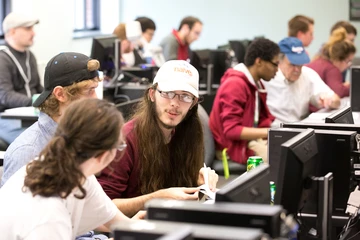 Activities
Student-run Computer and Information Sciences and Video Game Clubs; students compete in several student programming contests, such as the Association of Computing Machinery student collegiate competitions and the CCSCNE conference student competitions.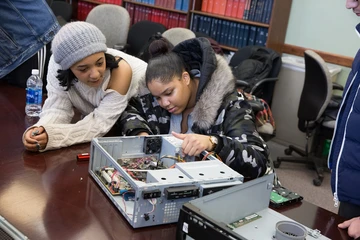 Success
"Our graduates have gained high-paying jobs immediately after receiving their degrees at high-profile companies like General Dynamics, Raytheon, Google, Lockheed Martin, IBM, Paychex, Yahoo, and HSBC."
Sample Courses
CSIT 208 Computer Game Design and Implementation
This course will provide an introduction to current and future techniques for computer game design and implementation. Topics will cover graphics game engines, motion generation, behavioral control for autonomous characters, layered game architecture, interaction structure, and interface issues of multi-user play. The course will emphasize a practical approach to the development of games. A variety of game development technologies will be considered. No programming background is assumed.
CSIT 333 Mobile App Development
This course introduces system development for the Android, iPhone or Windows mobile operating systems from both the practical software implementation and the theoretical software design perspectives.
CSIT 425 Software Engineering
Basic concepts and major issues of software engineering; current tools and techniques providing a basis for analysis, design, development, maintenance, and evaluation of software systems; structured walkthrough and software testing; verification and validation; technical, managerial, administrative, and operating issues; privacy, security, and legal issues; developing a team project using software engineering principles.
Program Additional Links
What does a 4-year degree look like?
What are all the required and elective courses offered to obtain this degree?